Former child star Jennette McCurdy made her acting debut in 2000 and has been hard at work since then to leave her footprints in the sands of time. Both professionally and personally, the actress is no stranger to the Hollywood gossip mill. While she is admired for being able to live the dream life from a very young age, the actress has actually faced some personal health struggles. In addition to McCurdy's journey toward loving her body, the talented actress is also now better positioned to make and feature in projects she is proud of. Here's what the former Nickelodeon star has been up to lately.
What Happened to Jennette McCurdy on Sam & Cat?
Between 2007 and 2012, Jennette McCurdy was best known for her roles as Sam and Melanie Puckett on the hit Nickelodeon teen show, iCarly. After the show's run ended, she got her own Nickelodeon spin-off — Sam & Cat, starring McCurdy and Ariana Grande's characters from their previous shows – iCarly and Victorious, respectively.
The show began in 2013 and barely a year later, reports emerged that there were some behind the scenes drama between McCurdy and the pop princess. It was alleged that Jennette was disgruntled with the showrunners for "unfairly" paying her less than Grande.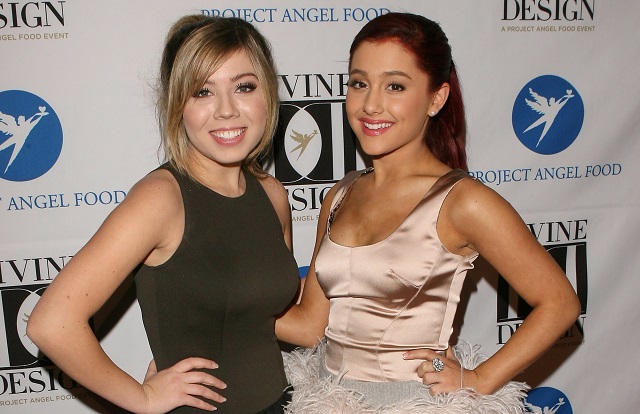 The speculations grew further when the show was unexpectedly canceled after just one season. It was alleged that the situation made the Sam & Cat co-stars not get along. However, a few years later, the iCarly star effectively put those McCurdy-Grande bad blood rumors to rest. Jennette McCurdy set the record straight in 2018 when she gushed about Ariana Grande and Pete Davidson's engagement and wished them well. Irrespective of the rumors surrounding the Sam & Cat co-star's relationship, McCurdy and Grande have seemingly moved on professionally.
What Is Jennette McCurdy Doing Now?
After leaving Sam & Cat, McCurdy returned to television the next year starring in the series Between (2015-2016). She also landed guest appearances on episodes of The Birthday Boys (2014), Comedy Bang! Bang! (2015), Robot Chicken (2016), and The Eric Andre Show (2016). Now out of Nickelodeon's space, McCurdy hopes to work more behind the scenes. She is mostly starring, writing, or directing short films these days.

Some of her big-screen credits after Sam & Cat include the short films Climate Change Denier's Anthem (2015), The Last Virgin in LA (2016), Pet (2016), and Security Deposit (2017). She starred, wrote, and produced two short films – 8 Bodies and Wine and Cheese in 2017. The following year, she starred in Little Bitches as well as the short film, The First Lady. McCurdy made her directional debut with the 2018 short film, Kenny, which was inspired by her mother's death.

In addition to staying active on social media, the actress is not just busy working on her own films these days. She recently went public about her years-long personal health battle that began since she was 11. In a powerful essay publication, Jennette McCurdy opened up about dealing with anorexia, bulimia and disordered eating for 13 years of her life. McCurdy who is now recovering and moving forward wrote the essay in support of 2019 National Eating Disorders Awareness Week. The actress has clearly come far since her Nickelodeon days. Jennette's decision to reveal her personal struggles was in order to spread a message of hope and resilience to people who might be going through the same thing.

Away from her professional life, details of the actress' relationship status have been a tough egg to crack for curious fans. Jennette McCurdy is known to be pretty private about her love life and in recent years, there are reasons to believe she has been single. However, the former Nickelodeon star who is not new to online gossip has been romantically linked to some high profile men in the past.

She was reported to have secretly dated her Between co-star, Jesse Carere from 2014 to 2016. Though some online pictures of them together suggested the obvious, the actors never confirmed the rumors. Prior to Carere, McCurdy dated Andre Drummond. The NBA star became her most famous ex as it was the first relationship the iCarly star ever publicly confirmed. Despite the public acknowledgment, the pair's romance did not last more than a month.

See Also: What Is Kristen Alderson Doing Now, Who Is She Married To?

Back in 2010, the actress was linked to Max Ehrich. The actors were reportedly an item for a year but later in 2016, Ehrich debunked the claim stressing that they were just friends. Graham Patrick Martin is one of the men Jennette McCurdy was speculated to have dated. Though their relationship was never confirmed, they were linked from 2004 to 2008.

Fact Check: We strive for accuracy and fairness. If you see something that needs updating,