Best remembered for her role in the 1966 film, El Dorado where she acted as Josephine "Joey" MacDonald, Michele Carey was a famous American actress and one-time model who gained lots of film roles in the 1960s and '70s. Carey was a great entertainer who from her very young age knew how to win people's hearts with her beautiful piano performance. Although she retired from acting in 1986, her impact in the industry cannot be forgotten in a hurry. Let's check out some interesting fact about the actress.
Michele Carey – Biography
Born Michele Lee Henson on February 23, 1943, Carey was a native of Annapolis, Maryland. She was the daughter of a wrestling instructor at the prestigious U.S. Naval Academy, Stanley Willard Henson Jr. and his wife, Thelma Burnell Henson. Carey and her parents relocated to Rochester, Minnesota, where she spent most of her early years and was known as a piano prodigy. She was even famous for performing with Rochester-based Philharmonic Orchestra after which she received an award at the age of 13. Subsequently, her family moved to Fort Collins, Colorado where Carey attended Fort Collins High School, and her father became Fort Collins' first surgeon.
Michele apparently did not further her education after high school. Instead, she sought after pursuing a career in entertainment. But first, she got married to her first husband and had a son. She then moved to Los Angeles where she pursued a career in modeling. On arrival, Michele signed up with Powers talent agency in 1964 and there, she was able to bring her dream to reality. While there, she also had an eye for acting and did catch the attention of notable personalities in the industry.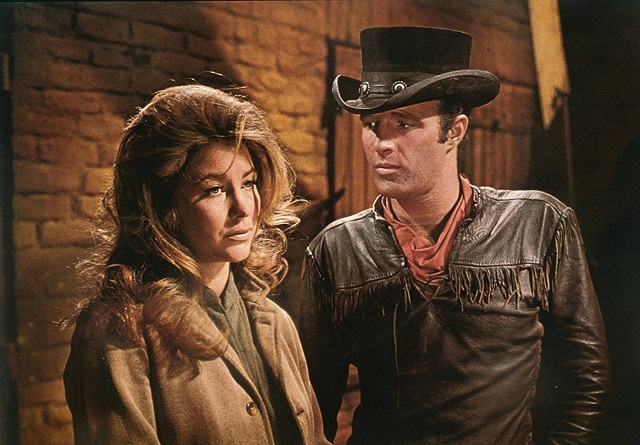 In 1965, Michele Carey got her first acting role in the Pathécolor beach party film How to Stuff a Wild Bikini. Her major breakthrough in the movie industry came when she appeared as the high-spirited troublemaker, Joey MacDonald in the western film, El Dorado. She shared the screen with great actors like Christopher George, John Wayne, Arthur Hunnicutt, and Robert Mitchum. The film which was released in America on June 7, 1967, was first released in Japan in December 1966 and it was very successful at the box office.
The film which was made on a budget of $4,653,000 grossed over $5,950,000 in box office returns. The success of the film also affected Michele's acting career positively as it further gained her more notable roles in films like Live a Little, Love a Little, Dirty Dingus Magee, and The Sweet Ride. In TV shows, she starred in The Man from U.N.C.L.E., The Wild Wild West, It Takes a Thief, Mission Impossible, and much more. Unfortunately, none of her roles in these TV series and films earned her as much wealth and public recognition as El Dorado. 
What is Her Net Worth?
Michele Carey was active as an actress from 1966 to 1987. In fact, her career in the industry began to decline from the late '70s with just a recurring female computer voice role in the adventure series, A Man Called Sloane, that aired between 1979 and 1980. She later made a brief comeback in the late 1980s with a role the 1986 horror film, In the Shadow of Kilimanjaro. Despite leaving the industry in her mid-40s, the actress garnered quite a lot for herself mainly from her role in the critically acclaimed film, El Dorado. That said, Michele Carey has her net worth estimated at $5 million.
See Also: Nell Tiger Free – Biography, Age, Facts About The Game of Thrones Actress
Where is She Now?
Michele's disappearance from the big screen left a huge gape in the hearts of her El Dorado fans who wished she stayed longer in the industry. Worst of it all is that the beautiful actress left the world on November 21, 2018, at the age of 75. Michele Carey died in Newport Beach, California, with her cause of death stated as natural causes.
Michele was married to her second husband, Fred G. Strebel in 1999, but she lost him to the cold hands of death on December 28, 2011. The couple lived together for some years at their house in Hillsborough and Rancho Mirage.
The news about her death was first confirmed on her Facebook page. She also lost her father, Stanley Willard Henson Jr. earlier in 2018. Upon her death, Michele left behind her only child Kevin Troy Schwanke and her three siblings including George Henson II, Stanley Henson III, and Janine Robberson.
Michele Carey's Body Measurements
Michele Carey is notably one of the dazzling queens we had in the modeling industry. She was largely recognized for her mesmerizing dark brown hair and a pair of beautiful hazel eyes that captured the attention of people across the globe. However, details about her height, weight, and body measurements are currently unavailable.

Fact Check: We strive for accuracy and fairness. If you see something that needs updating,