Dubbed the 'Blonde Bombshell', Jillian Grace earns a living as an entertainer with specializations in modeling and acting. The former Playboy Playmate who was first discovered by a legendary radio broadcaster had her prime career days in the mid and late 2000s.
In addition to her professional accomplishments, Grace is also recognized for her high profile relationships, particularly her romance with fellow actor David Spade. The actors are no longer an item and many have been curious about Grace's whereabouts in recent years. Learn more facts about the beautiful model and actress below.
Who Is Jillian Grace?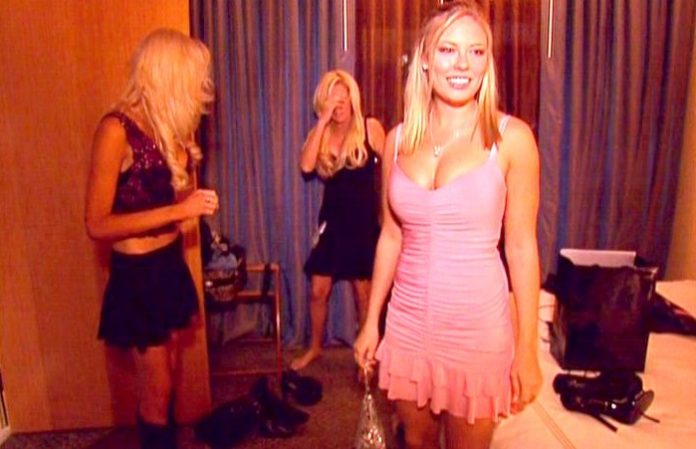 Jillian Grace is a native of Arkansas who was welcomed into the world on December 20, 1985. The actress and model has been quite discreet regarding details about her parents, family background, and early life. While her father's identity has not been disclosed, she is the daughter of a doting and ambitious mother, Katharine Walter, who raised her in Washington, Missouri. For her academic endeavors, the names of the schools Jillian attended and her field of specialization have also not been made public knowledge.
Grace began her career as a model, thanks to her mother who discovered her innate talents early enough. Katherine sought for opportunities for her daughter by contacting industry bigwigs such as Howard Stern, who ultimately became instrumental in Jillian's success journey. On receiving Grace's photos and the note sent by her mom, the legendary radio broadcaster offered the model a golden opportunity to feature as a guest on his show.
Thereafter, the naturally endowed model also caught the attention of famous Playboy showrunners and she was offered a chance to do a test shoot for the adult publication. Jillian Grace apparently impressed the Playboy audition crew and eventually made it to one of the magazine's monthly editions in 2005. The Playboy gig became the pedestal Grace needed for subsequent works in her modelling career. In addition to featuring in The Girls Next Door, the model has done some lucrative jobs with other popular magazines and brands.
As an actress, Grace also featured in the 2005 Playboy documentary, Hef's Halloween Spooktacular. The next year, she landed a role in the Howard Stern on Demand series. The year 2007 was quite a busy one for Jillian as she featured in some popular movies including The Agonist, Epic Movie, and The Comebacks. Fans can also recognize her from the 2008 movie, The House Bunny. Grace also has impressive voice skills. Among her other musical talents, she is honing her skills in yodeling.
Her Family Details
The blonde beauty has unsurprisingly been in some high profile relationships. Her most prominent yet is perhaps the romance with actor David Spade. Details regarding when and how the pair first met are quite sketchy but they reportedly became an item in October 2007. However, the actors' relationship was shortlived as they parted ways barely three months later. Jillian Grace and David Spade's brief romance produced a daughter named Harper; she was born on August 28, 2008.
Prior to Spade, Grace also had brief relationships with other stars. She was first romantically linked to David the Mechanic between 2003 and 2004. Next, she dated actor and comedian Pauly Shore sometime in the year 2004 and between March and November 2005, Grace was romantically linked to another thespian, David Gallagher.
The actress prefers to keep details of her personal life private, as such, not much is known about her relationships. However, sources reveal that it is only her romance with David Spade that produced a child. The actress is speculated to be more pre-occupied with other interests including family demands and raising her beautiful daughter, Harper. Her family life, to the best of our knowledge, revolves around Harper and her mother, Katharine Walter.
Where Is David Spade's Ex Now?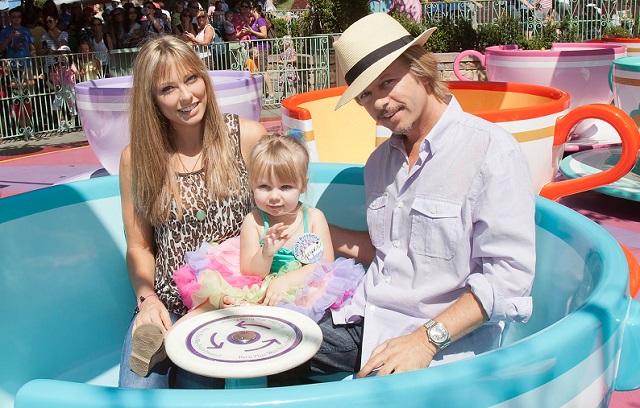 Jillian Grace has been less active onscreen in recent years. On a personal note, the former Playboy playmate is not yet married and is presumably single at the moment, given that she has not been romantically linked to anyone after David Spade. Grace and her baby daddy have seemingly maintained a cordial relationship for the sake of their daughter. For instance, the former lovers as pictured above were spotted together celebrating Harper's birthday at Disneyland in 2011.
Her ex-boyfriend has since moved on. Before and after his baby mama, the actor has dated several women, mostly his Hollywood colleagues. Prior to Jillian Grace, it is believed that the actor dated Kelli McCarthy, Jennifer Rubin, Bobbie Phillips, Teri Hatcher, Kristy Swanson, Lara Flynn Boyle, Stacey Hayes, Krista Allen, Caprice Bourret, Julie Bowen, Sarah Foster, and Jillian Barberie, among others. After Grace, Spade was romantically linked to Nicky Whelan, Jasmine Waltz, and more recently, Naya Rivera.
While it has been busy for David, hardly can anyone tell what's been up with Grace, although it has been widely assumed that she is focusing on raising her daughter.
See Also: Is Kelly Monaco Married To Anyone? What is Her Relationship With Billy Miller?
Details of Her Body Measurements
#MSND was an awesome time loved seeing my @Playboy family! pic.twitter.com/MB4v7vxB

— Jillian Grace (@JillianGrace05) August 7, 2012
The Blonde Bombshell has amazing and complementary physical attributes. Jillian is 5 feet 5 inches tall and maintains a bodyweight of about 53 kg. Her other body statistics are bust (36 inches), waist (24 inches), and hips (36 inches).
Grace is also a fitness enthusiast; the actress and model is a certified personal trainer who helps others achieve their fitness goals.