In her breakout show, Gossip Girl, Blake Lively's character, Serena van der Woodsen had a sisterly relationship with Blair Waldorf, played by Leighton Meester. While their relationship was a whirlwind of drama, Blake Lively has had a more relatively quiet relationship with her real-life sisters, Robyn Lively and Lori Lively.
The actress has been able to maintain a high degree of privacy in her life, but due to her background and her sisters' relationship with the entertainment industry, we have been able to learn a great deal of information about the sisters of The Sisterhood of the Traveling Pants actress. Check out our article about Blake Lively's sisters below.
Who is Blake Lively?
Before taking a look at Blake Lively's sisters, here is a quick look at who she is and her background.
Prior to becoming Blake Lively, the Gossip Girl actress was Blake Ellender Brown born on the 25th of August, 1987 in Los Angeles, California. She hails from an entertainment family that includes her parents, Elaine McAlpin and Eric Lively. Her father is an actor while her mother identifies prospective actors as a talent scout.
She began her career at the age of 10 in the film, Sandman, but she made her professional debut in 2005, at the age of 18, as Bridget in The Sisterhood of the Traveling Pants. Since then, she has appeared in over 20 movies and TV shows, many of which have been commercially successful. She has also received a couple of awards and nominations for her performances, including the Teen Choice Awards, Saturn Awards, and People's Choice Awards.
Blake Lively is married to the Canadian actor, Ryan Reynolds and they have two children.
Now, a look at Blake Lively's sisters.
Does Blake Lively Have a Sister?
Blake Lively has one biological sibling, a brother, but she gained two sisters, Lori Lively and Robyn Lively from her mother's previous marriage. As members of a family with deep roots in the entertainment industry, they have been a part of the industry at one point or the other.
Lori Lively
Lori Lynn Lively is the oldest sister among Blake Lively's two sisters, having been born on the 9th of November 1966. Being a half-sibling, her father is Ronnie Lively, Elaine Lively's first husband.
Like Blake Lively, she made her debut appearance in front of the camera as a teenager, at the age of 13. She appeared in the film, The Double McGuffin and has appeared in over 25 films and TV shows, including notable titles like Melrose Place, Two and a Half Men, The Defenders, and The Mentalist.
Aside from her career as an actress, Lori Lively is also a television co-host and designer as well as an acting coach. While she might not be the most popular Lively in the Lively family, Lori Lively has carved a successful modest career for herself and has been known to make occasional appearances with Blake.
Robyn Lively
Robyn Lively and Lori Lively share the same parents, meaning their father is Ronnie Lively. She shares a mother with Blake Lively, and she was born on the 7th of February 1971, making Blake the youngest female Lively.
Blake Lively's second sister was born in Powder Springs and like the rest of her family, began her career when she was a child at the age of six in the TV show, Summer of My German Soldier. Since then, she has racked up a long and extensive filmography, including appearances in major titles like Quantum Leap, Chicago Hope, Simon Says, The X-Files, 30 Rock, and several others.
Robyn Lively is also a married woman, to Bart Johnson who is also an actor. They both share three children Baylen, Wyatt, and Kate.
See Also: Are Blake Lively And Ryan Reynolds In Any Movies Together?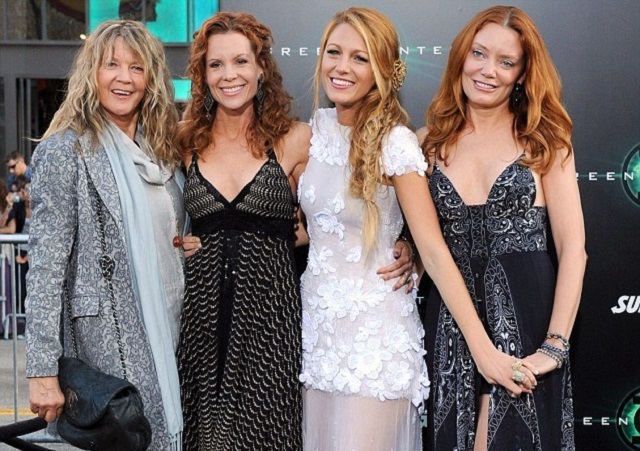 Facts about Her Parents and Family
1. Her father, Ernie Lively has played her father in a movie twice. He played the role in the films, The Sisterhood of the Traveling Pants and its sequel.
2. Her mother, Elaine Lively was born in Tarzana, California to James Olin McAlpin and Willie Inez Thrash. She has one brother.
3. Her parents got married on the 12th of December 1979.
4. Aside from their basic careers as talent scout and actor, Blake Lively's parents are also acting coaches.
5. Just like her sisters, Blake Lively's brothers also have experience in the entertainment industry. Her brother, Eric Lively is a former actor. He appeared in 16 movies and nine TV shows during his career. Her other brother, Jason Lively is a part-time actor who has appeared in over 15 movies and TV shows.