For seven years, Chloe Bennet has been playing the superhero, Daisy Johnson, aka Quake, on the ABC show, Agents of SHIELD. Over the course of those seven years, she has grown in popularity, and her career has also seen her appear in a couple of significant movies. During this time, we have come to learn more about Chloe Bennet's personal life, including details about her parents and family members. And so, we have compiled everything we have learned about her family below, including details about her background and other facts you will need to know.
Who are Chloe Bennet's Parents?
Only hardcore fans of Chloe Bennet would know this, but the Hollywood actress was born as Chloe Wang on the 18th of April, 1992 to Bennet Wang and Stephanie Crane.
Her father, Bennet Wang, is Chinese while her mother, Stephanie Crane, is a Caucasian. They gave birth to her in Chicago, Illinois, as the second child of seven siblings and Chloe is the only daughter.
Chloe Bennet's parents are working-class people. Her father, Bennet Wang, is an investment banker, while her mother, Stephanie, is an internist (she is a medical doctor who specializes in internal medicine). As a doctor, Stephanie is an accomplished one, as she is known not just for her work in Chicago but across the globe. She is notably one of the doctors who helped save earthquake victims in Haiti in 2010.
Not much is known about her parents' background or their marriage. So far, all we know is that her father was born on the 8th of October 1960 while her mother was born on the 12th of October, year unknown.
A scroll through the actress's social media pages shows she has a strong and close relationship with her parents, especially her father. Though she was born and raised in Chicago, Chloe is very fluent in Mandarin, and she moved to China in the early days of her career in show business to pursue a singing career, living with her father's parents in Shanghai.
Her close relationship with her father raises questions about why her professional name does not bear his last name. According to the actress, she decided to use her father's first name because she had trouble booking roles in Hollywood because of her Chinese roots, and because it lets her avoid typecasting as an ethnic Asian American.
Who are Her Family Members?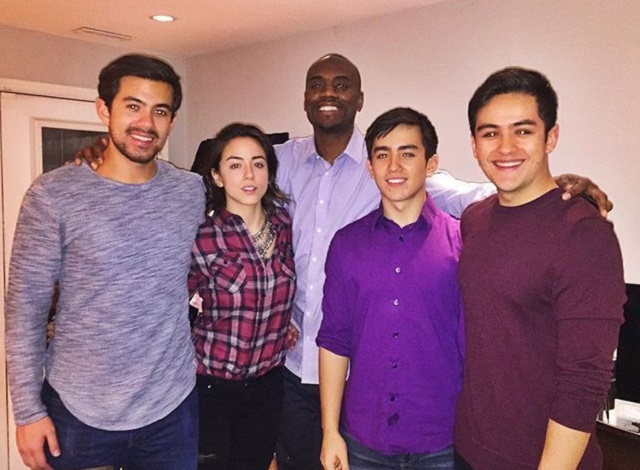 We have talked about Chloe Bennet's parents, let's take a look at her family members, which consist primarily of her siblings, all of whom are male.
With the exception of her extended family members, such as grandparents on either side of her family, she has seven known family members, who are her brothers. She has four biological brothers, two foster brothers, and on adopted brother. Here is a look at each of them.
Stephen Wang
The first known family member of Chloe Bennet outside of her parents is Stephen Wang, her older brother, who was born on the 2nd of August 1989. He is a graduate of Santa Clara University with a bachelor's degree in science, and professionally, he works as an enterprise account executive. He is also a married man and has a close relationship with his only sister.
Lincoln Wang
The year of his birth is unknown, but the third biological child of Chloe's parents was born on the 8th of September. He is a graduate of political science from the University of Illinois and professionally works as a political organizer. Like his older brother, he has a close relationship with Chloe Bennet and has featured in several of her Instagram posts.
Zachary Wang
The third sibling of Chloe Bennet and fourth biological child of her parents, Zachary Wang, was born on the 23rd of April 1996. He is a student at the University of California, Los Angeles, where, according to his Instagram page (zachwang22), he takes advantage of the proximity and spends a lot of time with his sister.
Awvee Storey
Awvee Storey is the adopted brother of Chloe Bennet. He was born on the 18th of April 1977. He was adopted after her father met him while he managed the city's basketball league. Awvee attended Arizona State University on a basketball scholarship and spent three years in the NBA, playing for the New Jersey Nets. He retired from the sport in 2010 and currently works as a basketball coach and sports commentator.
See Also: Chloe Bennet Net Worth Since She Starred In Marvel's Agents Of S.H.I.E.L.D?
Johnny Jones and Matthew Alvarado
The two foster brothers adopted by Chloe Bennet's parents are Johnny Jones and Matthew Alvarado. One of her foster brothers is an African American, while the other is a Mexican-Filipino.
Luca Wang
The last known family member of Chloe Bennet is Luca Wang, the youngest biological sibling in the family. Luca was born when her mother, Stephanie, was 53 years of age.