For over a decade and counting, Hollywood star, Jensen Ackles, has endeared himself to many around the globe with his portrayal of the demon-hunter, Dean Winchester, on the hit TV series, Supernatural. Even prior to landing that iconic role, Ackles had already cemented a reputation as a TV star thanks to unforgettable parts on shows such as Days Of Our Lives, Dark Angel, and Smallville.
The mercurial actor is however not content to settle down for the status of a TV heartthrob and keeps on reinventing himself. He has tried his hands at directing and has floated his own production company known as Chaos Machine. He has also turned his sights to the business world and has a thriving brewery to his name.
With all these pursuits, it comes as no surprise to discover that Jensen Ackles has a net worth estimated at an impressive $14 million.
A Breakdown of the Sources of Jensen Ackles' Net Worth
He has starred in several TV series including Days of Our Lives, Dark Angel, and Smallville.
The primary source of Jensen Ackles' wealth is his acting career. The Dallas native first got his head start in the industry as a teen model. He subsequently switched to acting and made his debut in one episode of the children's live-action show, Wishbone, in 1996. Jensen was about 18 at that time and since then, he has not looked back. He has featured in about 14 TV projects and has been well remunerated for them.
Some of them are The Boys, Smallville, Dark Angel, Blonde, Sweet Valley High, Mr. Rhodes, Cybil, and Days of Our Lives. In the long-running daytime soap, Days of Our Lives, Ackles portrayed a former coll-headed priest-turned-photographer/social worker named Eric. He also embarked on a passionate affair with a lady named Nicole and they eventually got married.
Ackles appeared on Days of Our Lives for three years (1997-2000) during which he featured in hundreds of episodes. It is not known how much he was paid but estimates have it that actors on the show earn from $1,500 – $3,000 per episode meaning that he would have earned about $390,000 – $780,000 each year (assuming that he appeared in about 260 episodes each year).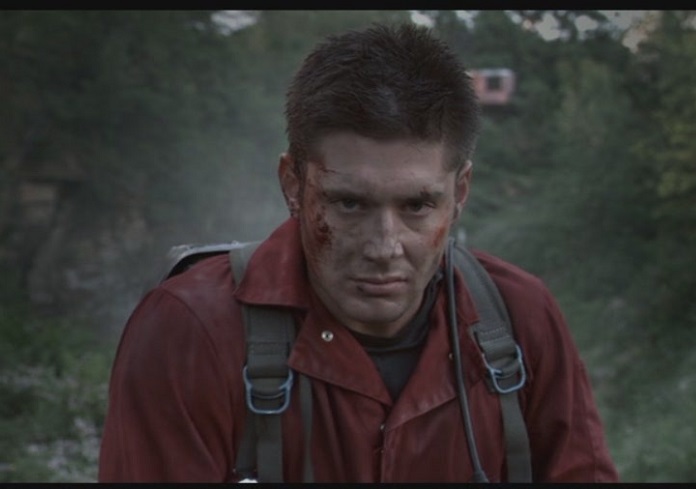 Jensen Ackles portrayed the lead role of a serial killer in the 2009 horror film, My Bloody Valentine 3D.
On the big screens, Jensen Ackles has featured in movies such as Devour, Ten Inch Hero, and Batman: Under The Hood (voice role). His biggest movie role however remains the 2009 horror film, My Bloody Valentine 3D. In the movie, he portrayed the lead role of Tom Hanniger, a young man who turns out to be a killer.
My Bloody 3D Valentine was both a critical and commercial success. It received praise for effectively combining elements of old-school horror stylings and 3D technology. It also grossed about $100.7 million at the box office on a budget of $14 million. There are no specific details on what Ackles earned but given that he was the lead star, his salary would have reached the seven-figure or possibly eight-figure realm.
He Earned about 175K per Episode of Supernatural.
Another major money-spinner for Jensen Ackles is his career-defining role on the CW series, Supernatural. Supernatural revolves around two blood brothers who go around the U.S. battling demons, evil spirits, and other supernatural characters. They rely on some odd supporting cast, including an old man, an angel, and a deceased demon, to achieve this purpose.
Supernatural featured Jensen as one of the brothers, named Dean, and he has been on the series since its debut in 2005. The Dallas native played a pivotal role in making the show quite popular and was consequently handsomely rewarded. Ackles earned as much as $175k per episode of Supernatural. The show has more than 300 episodes meaning the actor has potentially made tens of millions from the show.
The Actor and His Wife Co-Own a Brewery Known as Family Brewing Co.
The supernatural star is the co-owner of a thriving brewery known as Family Brewing Co. Co-founded with his wife, Danneel, and brother-in-law, Gino Graul, the company came into existence in 2018 and is located in Dripping Springs, Texas. It produces a changing variety of beers, IPAs, lagers, sessions, and barrel-aged stouts. It also has a stage for live music as well as a southern-food truck.
The gross revenue of the brewery is not known but there is no doubt that it is profitable. It has a 4.5-star rating online and its owners have been able to open a second location. The second place is located in St. Elmo Public Market South Austin and opened its doors for business in 2019.
Sources of Jensen Ackles' Net Worth
TV series – $1.17 million to $2.34 million est.
Movies – N/A
Supernatural – $175K per episode
Family Brewing Co. – N/A
Jensen Ackles Net Worth Has Grown By $12 Million over the Past Two Decades
Ackles' career dates back to the mid-90s but he only made his first millions in the 2000s, thanks to his run on the soap opera, Days of Our Lives. He featured in hundreds of episodes of the daytime soap and reportedly made from $1.17 million to $2.34 million. This was then complemented by his paychecks from minor roles in TV series such as Smallville and Dark Angel as well as the 2005 movie, Devour.
Jensen Ackles' net worth subsequently received a significant boost thanks to his casting in the lead role of Dean Winchester on the TV series, Supernatural, in 2005. The actor earned tens of thousands of dollars per episode in his first few years on the show but by the turn of a new decade in the 2010s, his per-episode-paycheck grew to $175K thanks to how popular the show had gotten. Ackles then supplemented the paycheck with his other acting gigs and business ventures which is how he arrived at his present worth of $14 Million.
The Supernatural star and his Family Reside in a Massive Lake-Side Home in Austin.
Jensen Ackles and his family previously made their home in Los Angeles. However, in 2018, they decided to head back to Austin and successfully bid on a 7,500 square feet five-bedroom residence located near Lake Austin. The actor and his wife subsequently enlisted the help of an architect, Paul Lamb, and interior designer, Fern Santini, to bring the house in line with their vision of a residence that pays homage to their passions for music and 60s aesthetic.
What resulted is a free-spirited Austin-style Lake House rich in a diverse array of artwork, both musical and non-musical related. The home has been profiled in several magazines including Architectural Digest. The exact price of the property is not known but houses in that area typically start from $665k, meaning that Ackles would have shelled out something similar for his own house.
When it comes to wheels, Jensen owns quite a few but none has caused quite the stir as the 1967 Chevrolet Impala which he got off the set of Supernatural in 2020. The car is an iconic part of the show, being the vehicle that the brothers travel in, and Ackles had begged for it for years. Following the decision to wrap up the show in 2020, the producers finally decided to let him take it. The car may not be worth much in terms of money, about $20k to $50k, but to Ackles, it is his baby.
How Much Does Jensen Ackles Make A Year?
Ackles makes at least $3.7 million per year and this is thanks to his starring role on Supernatural. Supernatural averages about 21 episodes each season and the Dallas native almost entirely appears in every episode. This means that he makes about $175k multiplied by 21 which would give you $3.7 million. Sadly, Supernatural would be wrapping up with a 15th season in 2020 and this will result in a major loss of income for Ackles. The actor is not fretting though as he has an Amazon Prime series, The Boys, in the works.
Ackles has also made efforts to diversify his portfolio beyond acting. Whilst featuring on Supernatural, he directed several episodes of the show. Fast-forward to 2020, he and his wife co-founded a production company known as Chaos Machine Productions. The company is still in infancy but they scored a major coup in October 2020 following a deal with Warner Bros for the development of original TV programming for broadcast, cable, and streaming networks.
Jensen Ackles' Top Grossing Movies
My Bloody Valentine 3D
Year of release – 2009
Budget – $14 million
Box office gross – $100.7
Ackles' paycheck – seven-eight figures est.
Devour
Year of release – 2005
Budget – N/A
Box office – N/A
Ackles' paycheck – N/A
Batman: Under the Red Hood
Year of release – 2010
Budget – N/A
Box office – N/A
Ackles' salary – N/A
Between Jensen Ackles and Jared Padalecki, Who Has a Higher Net Worth?
For those who may not know, Jared Padalecki is Jensen Ackles' on-screen brother, Sam, on Supernatural. It is the duo that carries out the never-ending task of Hunting malevolent supernatural beings all throughout America. Just like Jensen, Supernatural has been a career-defining role for Padalecki. It has also been a major money-spinner for him as well as he earns about $125K per episode. Given this lesser paycheck, it does not come as a surprise that Padalecki has slightly-lesser net worth than Ackles estimated at $13 million.