Rick Ross is an American rapper, record executive and businessman who has a net worth of $40 million.
What is Rick Ross' net worth?
Net Worth:

$40 million
Salary:
Unknown
Income Sources:
Music, businesses including several different Wingstop restaurants, lucrative endorsement deals.
Age/Date of Birth:

47 years old (January 28, 1976)
Height:

In feet: 5 feet 11 inches
In centimeters: 180.3 cm
In meters: 1.80 m.

Nationality:
American
Last Updated:

2021
Born William Leonard Roberts II, Rick Ross is the owner of Maybach music record label which he started in 2009, as a part of the Warner Brothers. He has signed a number of artists like Meek Mill, Omarion, French Montana, and Wale. Interestingly, women hold executive positions in Ross' company, Maybach Music Group. Read more to find out all there is to know about the rap star including his net worth and details of his relationship.

Rick Ross was born on January 28, 1976. He spent his childhood in Carol City Florida and schooled in Miami Carol City High School. Ross furthered at Albany State University on a football scholarship.
Inspired by Tupac Shakur and Notorious B.I.G., Rick Ross, also known as Rozay released his debut single, 'Hustlin' in 2006 which was certified gold, a great achievement for a new artist. This hit saw his album; 'Port of Miami' get to number one on the Billboard 200. His instant success attracted numerous labels looking to sign future stars.
Ross signed to Russell Simmons' Def Jam Records, which offered a highly publicized record deal. His subsequent three albums also peaked at the top spot on the charts. Rozay began by writing music that romanticized the money he got from drug dealing, a theme that still cuts across his music today.
Analysis of Rick Ross Net Worth

As a result of the illegal activities he promotes in his videos, many have questioned the real source of Rozay's income, attributing it to illegal criminal activities. His moniker "Rick Ross" is in homage to Freeway Ricky Ross, an 80s infamous narcotics kingpin in L.A. California. However, there's no base fact to support this claim as the rapper has never been convicted of any felony charge.
See Also: These Are Currently The Richest Guys In Hip Hop
Interestingly, Ross was a corrections officer in South Florida for about a year before he got into music. Music is probably the best way he can express his passion for the 'gangsta' life that he grew up seeing all around him.
However, Roick Ross involved himself with other non-music ventures which in a way averts the rumours of his crime involvements. In 2014, he was involved in talks with Stephen M. Ross, the majority owner of the Miami Dolphins. Rick wanted to become part owner of his hometown NFL team.
Rick Ross also banks from his Wingstop brand of restaurants which opens an average of 1 outlets yearly. In 2016, the business was the major contributor to the $10 million he earned. Rozay also benefits from lucrative deals with the likes of Luc Belaire rose and mCog e-Cigarettes.
The rapper has an average annual income of $7 million (he made $10 million in 2016) most of which stems from music sales. As of 2017, he has made $13 million from album sales. Additionally, he makes money from performing live shows and concerts. He signed to Diddy's Bad Boy management in 2010. In January 2016, he signed a solo record deal with Epic records. In total, Rick Ross net worth is estimated at $40 million
Highlights of Best Performing Albums:
My Kinda place (2004)
Port of Miami (2006)
Trilla (2008)
Deeper than Rap (2009)
Teflon Don (2010)
Ashes to Ashes (2010)
No Boys Allowed (2011)
Rich Forever (2012)
Mastermind (2014)
Black Market (2015)
Black Dollar (2015)
Rather You Than Me (2017)
Highlights of His Career Earnings:
We've been following the career earnings of Rick Ross for some time now, here's a breakdown of how much he has earned from 2007.
2007 – $2 million
2008 – $3 million
2009 – $6 million
2010 – $5 million
2011 – $6 million
2012 – $9 million
2013 – $6 million
2014 – $7 million
2015 – $9 million
2016 – $10 million
2017 – $11 million
2018 – $4 million
2019 – $5 million
Total earnings so far: $83 million
He Bought a $5.8 Million Mansion That Once Belonged To Evander Hollyfield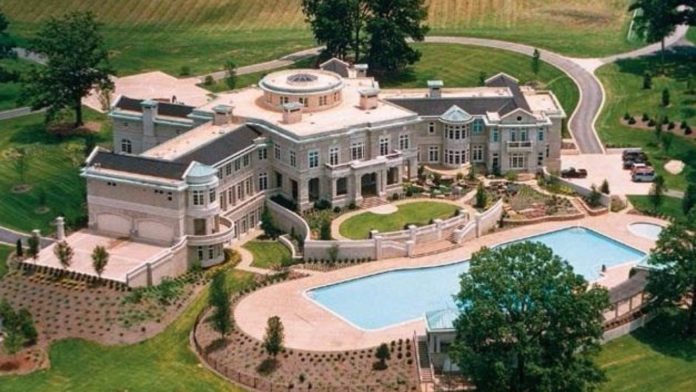 Rick Ross net worth is sufficiently huge, so we expect him to live in a lavish home. The rapper once lived in a 4500 square feet Florida home worth $1.2 million. The house offered him four bedrooms and five baths with a pool and jacuzzi.
But it seems the rapper needed more space and a massive one at that. He recently bought a $5.8 million house that belonged to the heavyweight champion Evander Holyfield. Just in case you are wondering how much space he has now or if he gets the worth of his money, here's what the house offers.
The house sits on 235 acres of land and it contains 109 rooms which include 12-bedrooms, and beautiful 21 bathrooms. It also offers a bowling alley, beautiful interior, awe-inspiring paintings, 350,000-gallon outdoor pool and a home theatre.
For $5.8million you bet it doesn't end there, the house additionally offers a baseball field with proper lighting and scoreboard, recording studio, guest house, indoor pool, a seven-stall barn and a boxing gym.
The 54,000 square feet home is said to be the biggest single-family house in the state of Georgia. Evander had to get rid of the house to save himself from some financial burden. He sold to a bank at a public auction as part of foreclosure for $7.5 million in 2012 before Rick Ross snapped it.
As you might expect, the house's yearly maintenance cost is almost as big as the space it offers. The ex-owner, Evander opened up in an interview that it took him $1 million every year to maintain the mansion.
Woes
Rozay has had his fair share of highs and lows. In 2009, during a child support case filed against him, it was revealed that he had 3 cars worth $105,000 and jewellery worth $45,000. Also, his mortgage payments were $9,700. The rapper claimed that he spent $7,000 more than he earned every month.
As typical of celebrities, especially rappers, Ross has been involved in a couple of publicized feuds, most notably with 50 Cent. It began in 2008 at the BET Awards when 50 gave Ross a "look". The feud has led the duo to release diss tracks at each other. 50 went as far as releasing a YouTube cartoon series, 'Officer Ricky' and a sex tape of Lastonia Leviston, Ross' baby mama. 50 cent was ordered to pay her $5 million.
Is Rick Ross Married or Dating Anyone?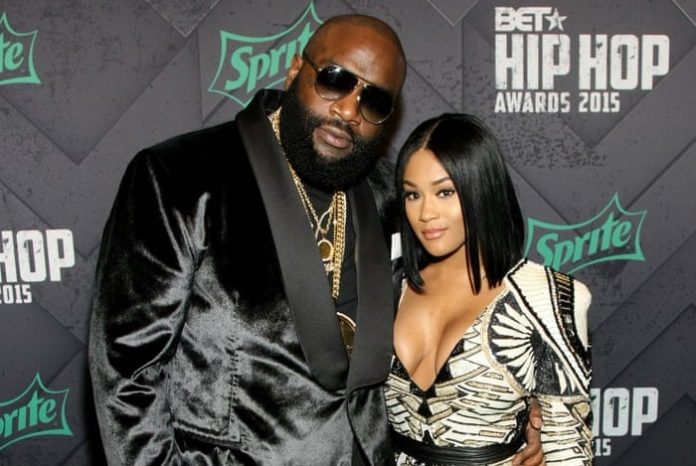 Most people believe the rapper deserves a medal for having several baby mamas. So far, he has three children from different women. The first, a daughter was with Lastonia Leviston. Her name is Toie Roberts and she was born on March 22, 1999. Since she was born to a star, she is certainly, already living the life of a star, gaining thousands of followers on Instagram due to her dad. Apart from her Instagram fame, Rick Ross does big things for her. During her 13th birthday celebration, the hip-hop star made it the talk of the town inviting superstars like Ace Hood, Rich Homie and K camp to perform at her Chanel Paris themed party.
Lastonia, Rick Ross' first baby mama remains loyal to him. One time during the rapper's fight with 50 Cent, she got into a legal fight with 50 Cent for sharing her sex tape which featured her and her ex-boyfriend who obviously wasn't Ricky. She later won the case with huge damage payout from 50 Cent that later pushed him to declare bankruptcy.
Rick Ross' second child, a boy, goes by the name William Roberts III. Ross shares William with Tia Kemp who was supportive of 50 Cent's camp during his fight with Ricky. The star's youngest child happens to be his second daughter. She was birthed by Briana Camille, a model. The latest addition to the family was born in 2017.
Rick Ross is neither married to Briana Camille nor any other woman and it is unclear the type of relationship he has with Camille. There are also speculations going around suggesting that he is currently engaged to Liz Hagelthorn, an executive at Twitter after dating her for two months. But then, none of the two has confirmed or denied the report.
Details of Rick Ross' Weight Loss and Height
Marathon pic.twitter.com/31tqZenLAJ

— Yung Rénzél ???? (@RickRoss) January 11, 2020
Best known as a big guy in the rap game not just for his money but also for his body size, Rick Ross has always performed with his stomach bulging out. However, he recently took on a weight loss journey that has changed his life for good.
He decided to let go of the fats which got his weighing up to 350 pounds after he had several seizures. Fortunately, his mission has been successful through the years as he has managed to reduce his weight to just 75 pounds. He accomplished this through workouts and slight changes in his diet. One can tell that the rapper is determined to stay fit. Nonetheless, he once expressed that his diet change does not mean him not munching on some of the things he used to like.
Speaking of height, Rick Ross is a tall man. He stands at 1.83m (6′.0″) which is well above the average height for an adult American male.
Profile Summary
First Name:
William
Last Name:
Roberts II
Estimated Net Worth:

$40 million
Salary:
Unknown
Music, businesses including several different Wingstop restaurants, lucrative endorsement deals.
Last Updated:

2021
Also Known As:

Rick Ross, Rozay, The Boss, Renzel, Teflon
Sex/Gender:

Male
Profession:

Rapper, Music Producer, and Businessman
Famous For:
being a rapper, songwriter, entrepreneur, record executive, and actor. He is a 6 times Grammy nominated act.
Colleges/Universities Attended:

Albany State University
Educational Qualifications:

None
Religion:

Christianity
Birthday & Zodiac

Age/Date of Birth:

47 years old (January 28, 1976)
Zodiac Sign:
Aquarius
Birth Place:

Clarksdale, Mississippi, U.S.
Nationality:
American
Ethnicity/Race:

African American
Country of Residence:

The United States of America
Physical Attributes

Height:

In feet: 5 feet 11 inches
In centimeters: 180.3 cm
In meters: 1.80 m.

Weight:

In pounds: 220 lbs
In kilograms: 101 kg
Eye Colour:

Black
Hair Color:

Black
Other Body Measurements:

Shoe size‎: ‎12 (US)

Relationships

Marital Status:

Dating
Spouse/Partner:

Dej Gabrielle

Family and Relatives

Father:

William Leonard Roberts
Mother:
Tommie Roberts
Children:

Toie Roberts (Born on March 17, 2002)
William Roberts III (Born in 2006)
Berkeley Hermes Roberts (Born on September 2017)
Billion Leonard Roberts (Born on November 6, 2018)
Siblings:
Tawanda Roberts (Sister)

Other Relatives:

None yet