Chris Brown Net Worth is $35 Million
Christopher Maurice Brown was born on May 5th, 1989 in Tappahannock, Virginia. He is an American musician who has majored in the R&B genre. Aka Breezy, he is also an actor and dancer. To justify Chris Brown's net worth, here is a breakdown of some of his assets.
Chris Brown Net Worth: Endorsements, Clothing Line, Businesses
In August 2015, Chris Brown revealed in a US Weekly post titled "25 Things You Didn't Know About Me" that he owned 14 Burger King Restaurants. Some of the requirements to make it as a BK franchise includes having a net worth of not less than $1.5 million and liquid assets worth $500,000. Burger King as of 2015 has a total revenue of over $4 billion.
Like most celebrities, Breezy boasts a clothing line called Black Pyramid Clothing. Also BLKPYRMD, it is mainly a street wear line comprising tees and snapbacks. He revealed that in the first year of launching his clothing line, he made over $4 million in profits. The line launched a new collection in 2016 that retails for $70 upwards. Chris Brown is also an ambassador for luxury clothing line Philipp Plein.
Chris Brown owns a record label CBE which he founded in 2007.
See Also: Rihanna Net Worth
Chris Brown Net Worth: Music Sales, Tour Earnings, Movies
Chris Brown's record sales have hit the roof with most of his albums going platinum. He has sold over 16 million albums worldwide. His single "Beautiful People" from his fourth studio album, F.A.M.E sold over 2.5 million by January 2014. The fame F.A.M.E (2011) became was Chris Brown's first album to top the Billboard 200. It earned him a Grammy Award for the best R&B Album. His 2012 album "Fortune" became his second Billboard #1 album. The album included hit singles like "Turn Up the Music" "Sweet Love" and  "Don't Judge Me".
Chris Brown has supported each of his albums with a corresponding tour. His Between The Sheets Tour co-headlined with Trey Songz grossed over $6 million from 22 shows in North America.
In addition to music and business ventures, Chris Brown have been active in the movie industry. He made his feature film debut in Stomp The Yard, alongside Columbus Short. He has made appearances in other movies such as  Takers (2010), Think Like a Man (2012), and Battle of the Year (2013).
On the average, Chris Brown makes around $4 million yearly from all endeavors.
See Also: Tyga Net Worth
See Also: Lil Wayne Net Worth
Chris Brown Net Worth: Car Collections
Chris Brown is one of those celebrity car enthusiasts. The Deuces singer has been spotted with over a dozen super cars since his rise to fame. His favorite is unsurprisingly the Lamborghini. Here's a look at some of his latest car collections.
2016 Lamborghini Aventador SV
The Superveloce (SV) as the name implies is a superfast luxury vehicle with the ability to reach the 60 MPH in 2.8 seconds and a top speed of 217 MPH. The loyal singer reportedly purchased this in September 2015 for at least $400,000. Breezy also owns another Lambo Aventador which he bought for $397,000. He customized it to a baby blue and black theme. (pictured)
2016 Porsche 911 Turbo S
Breezy bought this car as a replacement for an all-black version he crashed in LA. The rise is from Russian aftermarket tuning company, TopCar. The company is famed for customizing European luxury vehicles. The Porsche features a Stinger GTR body kit and thanks to TopCar's fixes to its 3.8-liter six-cylinder engine, it can move to 60mph before 3 seconds. This new toy set Breezy back around $280,000.
Rezvani Beast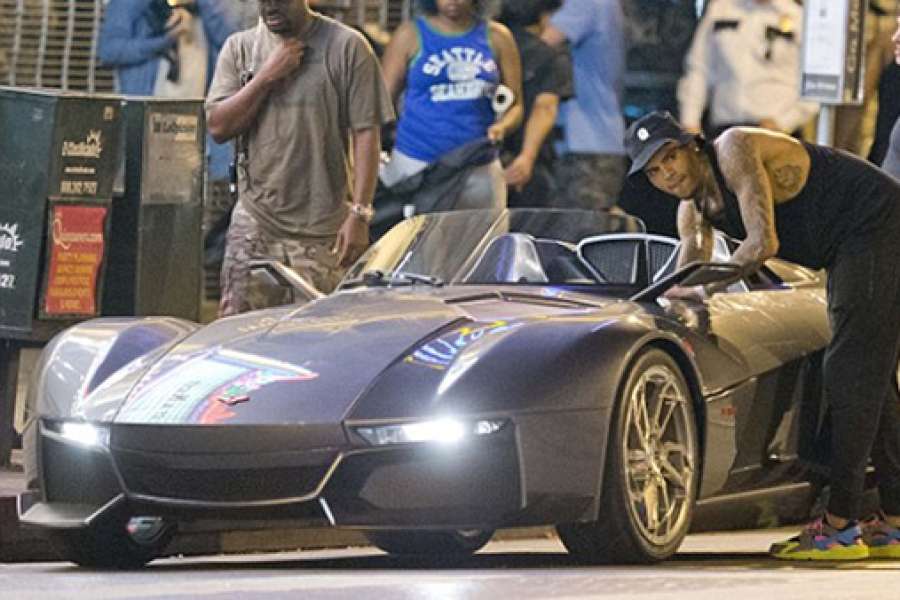 Breezy in August 2015 became the first owner of this beast car. He reportedly bought it for $200,000. Its 2.4-liter 4-cylinder engine gives it the ability to reach the 60 mph mark in just 2.7 seconds.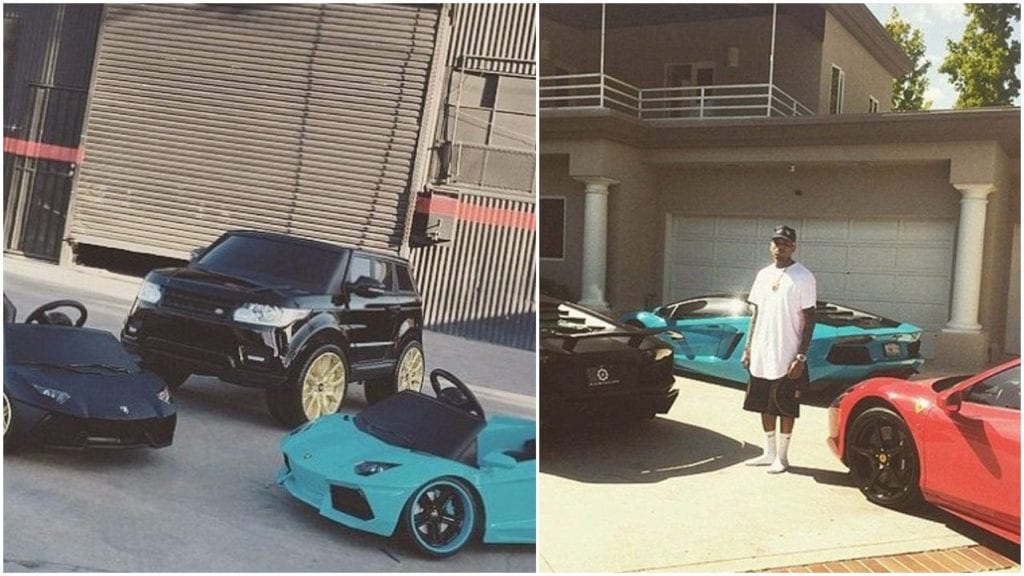 Interestingly, Breezy has already introduced his two-year-old daughter, Royalty to the fine life of luxury living. Breezy makes customized miniaturized versions of his luxury cars for his baby and they reportedly cost $2,500 each.
Chris Brown Net Worth: House
Chris Brown in 2015 purchased an 8,317 sq. ft. pad in San Fernando Valley Tarzana, Los Angeles for the price of $4.35 million. The house which sits on a three-quarter-acre includes 6 bedrooms, 8 bathrooms, and a sound proof home theater with 14 recliners for loud parties.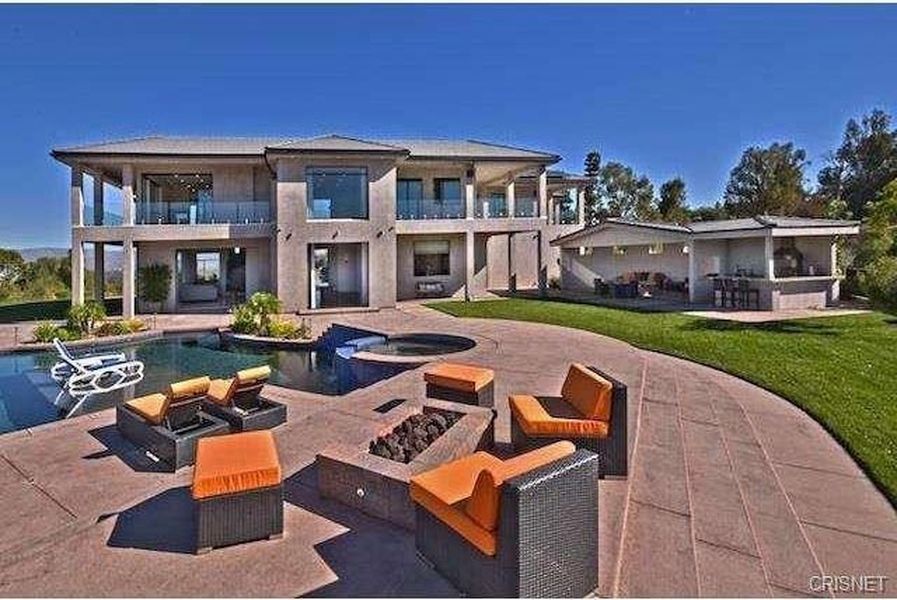 The exteriors feature an outdoor kitchen, a 10 car motor court, 3 fire pits and of course a saltwater pool. The grounds are complimented with an expansive lawn hosting a waterfall.
Surrounded by 16 security cameras, the house also offers stunning views of the Santa Monica Mountains.
Breezy turned one of the 6 bedrooms to his closet, and it still didn't seem to be enough room for all his clothes and shoes.
Other Topics: 
bow wow net worth, rick ross net worth, rihanna net worth, ja rule net worth, shaq net worth, most expensive house in the world, gisele bundchen net worth, dmx net worth, french montana net worth, terrell owens net worth, ray j net worth, drake bell net worth, plies net worth, ludacris net worth, ellen degeneres net worth, gucci mane net worth, tupac net worth, nick cannon net worth