Deontay Wilder and Anthony Joshua are two of the most accomplished active heavyweight boxers in the world. Wilder is famed for holding and successfully defending the WBC heavyweight title ten times, from 2015 to 2020, while Joshua reigns as the unified world heavyweight champion. The British boxer held the IBO, WBO, IBF, and WBA (Super) titles from 2016 to June 2019 when he suffered a shocking loss to Andy Ruiz Jr. He regained the titles in December that year and holds it to date.
The world of boxing has been anticipating a clash between Deontay and AJ. The Bronze Bomber had many believe AJ was scared to face him as he claimed several times that the Brit and his manager, Eddie Hearn, were avoiding making a deal that would have him fight Joshua. Time exposed the truth as Deontay Wilder tweeted in October 2020 that he was offered more money to fight AJ but he opted for a rematch with Tyson Fury. While Wilder and Joshua are yet to face each other, it hasn't stopped fans and pundits from comparing their ages, net worths, and career record in a bid to determine who is the better and more successful heavyweight fighter between the two.
Anthony Joshua is $50 Million Richer Than Deontay Wilder
If one must decide the most successful boxer between the two based on the financial reward of their careers, then Anthony Joshua is far ahead of Deontay Wilder as he is $50 million richer than the American boxer. Wilder's net worth as estimated on various quarters is a massive $30 million. But then, AJ is twice as rich with a net worth estimated at $80 million. The heavyweight fighters accumulated a large portion of their wealth from the guaranteed purses they were paid in all of their fights and their share of the revenue generated from pay-per-view.
Based on that, and the number of fights they have had in their careers, one would expect Deontay Wilder to be richer than AJ. The Bronze Bomber has fought almost twice as many fights as Anthony. He has had a total of 44 professional fights thus far whereas Anthony Joshua has stepped into the ring 25 times. The Brit is $50 million richer as he has been the biggest earner in heavyweight boxing for years. He has been the unified world heavyweight champion for years, so it has always been a huge payday for him whenever he gets to defend the titles.
The Brit reportedly pocketed $19 million when he fought Wladimir Klitschko in April 2017. His next fight was with Carlos Takam in October of that same year and he earned $12.5 million. Thereafter, he fought Joseph Parker which is believed to have earned him more than the $12.5 million Parker pocketed. After Parker came Alexander Povetkin, a fight that earned AJ around $25 million. He made around the same figure when he suffered a loss to Andy Ruiz Jr. in June 2019 and his biggest payday thus far was his rematch with Andy which saw him earn upwards of $60 million.
Deontay Wilder's biggest payday, on the other hand, was his second fight with Tyson Fury which earned him over $25 million.
AJ Also Makes More Than The Bronze Bomber From Endorsements
Deontay Wilder and Anthony Joshua are two of the most popular active boxers in the world. Now, boxing is the most popular combat sport with millions of followers scattered across the globe. Popular brands understand this and strive to reach fans of the sport through a partnership with popular boxers. Because of this, Deontay Wilder and Anthony Joshua get to make good money from sponsorship and endorsement deals.
Joshua also makes more money than Wilder through this avenue. He is regarded as one of the most marketable athletes in the world, a status that has earned him lucrative endorsement deals with brands like Lucozade, Beats By Dre, Under Armour, and much more.
In 2020, Forbes named Deontay and Anthony on its list of highest-paid athletes, respectively at the 20th and 19th positions. The American made a total of $46.5 million and only $500,000 came from endorsements. Meanwhile, Joshua made $11 million from endorsement deals and a total of $47 million.
Dontay Wilder Is Almost Four Years Older Than Anthony Joshua
Deontay Wilder is in his mid-30s while Anthony Joshua is in his early-30s. The American boxer is almost four years older than the unified world heavyweight champion. To be precise, Wilder is 3 years, 11 months, and 23 days older than Joshua. The Bronze Bomber was born on the 22nd of October 1985 making him 38 years old. His place of birth was in Tuscaloosa, Alabama. Anthony Joshua, on the other hand, is also an October baby but was born on the 15th of the month in 1989 making him 34 years old. His place of birth was in Watford, Hertfordshire, England.
Born to a Nigerian mother and a Nigerian father of Irish ancestry, Joshua began boxing at the age of 18 in 2007. The Brit was introduced to boxing by his cousin, Ben Ileyemi, who is also a professional boxer. AJ embraced boxing but was initially unwilling to build a career out of it. In fact, it is said that he rejected a £50,000 offer to turn professional. He would later change his mind for reasons that are not certain and make his professional debut in 2013 at the age of 23. His first fight was at the O2 Arena in London where he defeated Emanuele Leo in the first round of the fight via TKO.
As it is with AJ, Deontay Wilder is also a late starter in the sport. It is known that he began boxing in October 2005 when he was 20 years old. He began his training at a boxing gym in Northport, Alabama, and quickly rose to fame for his formidable punching power. He picked up his nickname – The Bronze Bomber – at the 2008 Olympics where he won a bronze medal. Wilder was set to make his professional debut thereafter and it came to pass on the 15th of November 2008, at the age of 23. The American heavyweight boxer had his first professional fight at the Memorial Gymnasium in Nashville, Tennessee. He defeated Ethan Cox via TKO in the second round.
Boxing Records and Body Measurements of The Heavyweight Fighters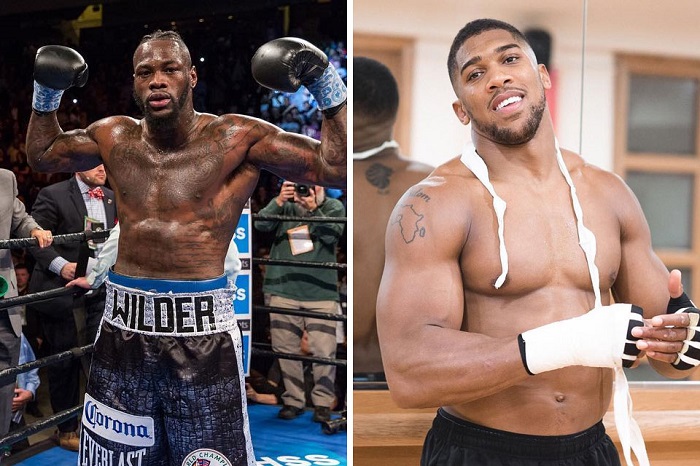 Deontay Wilder and Anthony Joshua are considered to be the finest heavyweight boxers in the world because of their outstanding records. They both had a long run without suffering any loss and have both been defeated only once since their professional careers took off.
Wilder went undefeated in 40 fights before he drew with Tyson Fury in December 2018. He won his subsequent matches against Dominic Breazeale and Luis Ortiz before suffering the first loss of his career against The Gypsy King on the 22nd of February 2020. Anthony Joshua's first and only loss was in his 23rd fight against Andy Ruiz Jr. on the 1st of June 2019. In all, Deontay has won 42 of his 44 fights while AJ has won 24 of his 25 fights.
Height, weight, and reach are important in boxing. But if Deontay and Anthony ever get to fight, none of that would matter much as they have almost the same body measurements. Wilder is 6 ft 7 in (201 cm) tall with a reach of 83 in (211 cm) and weighs 231 lb (104.8 kg). AJ is 6 ft 6 in (198 cm) tall with a reach of 82 in (208 cm) and weighs 240.8 lb (108 kg).
Deontay Wilder vs Anthony Joshua – A Comparison Table
| | | |
| --- | --- | --- |
| Deontay Wilder | vs | Anthony Joshua |
| $30 Million | Net Worth | $80 Million |
| $46.5 Million | Earning In 2020 | $47 Million |
| October 22, 1985 | Date of Birth | October 15, 1989 |
| 38 | Age | 34 |
| November 15, 2008 | Professional Debut | October 5, 2013 |
| 44 | Total Fights | 25 |
| 42 | Wins | 24 |
| 1 | Draws |  – |
| 41 | Wins By Knockout | 22 |
| – | Wins By Decision | 2 |
| 1 | Losses | 1 |