What is El Chapo's Net Worth?
Net Worth:
$1 billion
Age/Date of Birth:

66 years old (4 April 1957)
Height:

5 feet, 5 inches (1.64 m)
Ethnicity/Race:

Spanish
Nationality:
Mexican
Wife or Girlfriend:
Emma Coronel Aispuro
Also known to be married to: Alejandrina María Salazar Hernández (1977)
Estela Peña (date unknown)
Griselda López Pérez (mid-1980s)
Parents:
Father: Emilio Guzmán Bustillos
Mother: María Consuelo Loera Pérez
Joaquin Archivaldo Guzman Loera, popularly known as El Chapo Guzman is is a Mexican drug lord and former leader of the Sinaloa Cartel who has a net worth of $1 billion
He was born on April 4, 1957, making him 66 years old. The Mexican drug lord became popular after his arch-rival, Osiel Cardenas was arrested. This created room for him to emerge as a top drug kingpin in the 2000s.
Known for his stout 1.68 m stature, Guzman has through his criminal exploits, earned himself the notorious reputation of the "Most Powerful Drug Trafficker in the World", according to the US Department of Treasury. Among other notorieties, he is famous for his several prison escapes.
In addition to operations in his home country, Guzman has his networks all-around American nations with his criminal network in Chicago being the strongest outside Mexico. Despite no evidence of him to have ever stepped in the city, the Chicago Crime Commission in 2013, surprisingly named him 'Public Enemy Number One'.
Intriguing Details of El Chapo's Arrests and Escapes
Although El Chapo had been on the wanted list of the Government of Mexico and that of the United States, laying hands on him seemed almost impossible. This is because of his ability to vanish into thin air without any trace. However, a military official whom he had bribed with US$1.2 million to allow him to hide south of the Mexican border let security into arresting him for the first time in Guatemala. That was in 1993.
El Chapo was that same year extradited and sentenced to 20 years in prison for murder and drug trafficking. However, the drug lord escaped his cell in 2001 after he bribed prison officials who allowed him to get away through a laundry basket.
Even though the Mexican and US government named him one of the most wanted people in the world with over $5 million-worth bounty for just any information about his location, it was 13 years later that they laid hands on him again! The Mexican authorities captured him this time around. They caught him on the 4th-floor of his condo in Mazatlan, Sinaloa on February 22, 2015.
Soon after his second arrest, El was able to make yet another escape. This time around, he made away from his Altiplano prison cell through a tunnel that measured 1.5km (1 mile) dug in the showers. Nonetheless, he only stayed put for barely a year before officials apprehended him once again in January 2016.
El Chapo Acquired a Net Worth of over $1 Billion by Selling Drugs
With a net worth estimate of $1 billion, El Chapo Guzman became the 10th richest person in Mexico. He has also surpassed the likes of Pablo Escobar to become the 'biggest drug lord of all time'. Since 2009, the drug kingpin has been making it to the list of Forbes' "Most Powerful People in the World". As of 2016, Guzman's wealth grew to an estimated $2-$4 billion.
El Chapo started his criminal works as a drug dealer in the late 1970s. He later founded Sinaloa Cartel in 1988 which remained one of the biggest drug trafficking chains that he ran. His business mainly involved the transportation of multi-tons of cocaine from Colombia to the US through Mexico.
Starting from 1999, El Chapo also began dealing in methamphetamine alongside cocaine. He managed large laboratories of the substance scattered across the mountains of Mexican states including Sinaloa, Nayarit, Durango, Michoacan and Jalisco. He also expanded his smuggling business to include marijuana, MDMA, and heroin, making him the 'King' of the drug world. Chapo's crew exploited every possible means of transport on land, sea, and air in moving their goods.
According to The New York Times report on the estimations of the quantities of drug El Chapo has traded in his thirty years in the drug business, he has sold approximately 600,000kg of cocaine (worth more than $11 billion), and 200kg of heroin (worth more than $11 million). He has also sold at least 420,000 kg of marijuana (worth about $846 million). From the above estimations, his prosecutors allege that he has altogether, earned the sum of $12,666,181,704 from drug sales.
Where is El Chapo Guzman Now and is He Still Rich?
As earlier mentioned, El Chapo ran out of luck on 8 January 2016 when the Mexican Federal Police arrested him. The Police intercepted him in his attempt to escape arrest in one of his houses in northern Sinaloa. They then flew him in a Navy helicopter back to the maximum-security prison from where he escaped in July 2015.
The drug magnate was subsequently extradited to the USA on 19 January 2016 to face charges. However, on 20th January 2016, he pleaded not guilty to the 17-count charges in a New York court. But after his trial in February 2019, Chapo was convicted of all the charges, thereby earning himself a life sentence at ADX Florence, the US's most secure supermax prison.
Per the US court judgment, El Chapo will also have to pay back the over $12.6 billion he made from his drug business. This simply means that the drug convict will still be in huge debt even after all his assets are confiscated and auctioned.
Meanwhile, the Mexican government has put six of his houses on the market and as of the time of writing this article, they have sold three for a surprising total price of $227,960. The auctioned homes include houses in Culiacán, Sinaloa. One of them is the house El Chapo escaped from using a tunnel hidden under a bathtub as cops tried to arrest him in February 2014 as well as the house Chapo bought for one of his ex-wives.
Everything We Know about Guzman's Marital Life and Family
El Chapo married at least three times while he had his freedom. His first wife is Alejandrina Maria Salazar Hernández, a Mexican social worker born in 1960. He married her in 1977 and they gave birth to four children – three sons and a daughter, namely: Cesar, Alejandrina Gisselle, Ivan Archivaldo, and Jesus Alfredo. Owing to his criminal lifestyle, the exact time and reason behind the end of Chapo's marriage with Hernandez is rarely a topic of public interest.
About three years after his union with Alejandrina hit the rocks, El married Griselda López Pérez. With Lopez, he had four children – another three sons and a daughter, namely: Edgar, Joaquin, Ovidio, and Griselda Guadalupe. The drug lord's marriage once again, did not last with Perez and they called it quits at a time that is not specifically available on the media.
It is also on record that between his marriage with Alejandrina Hernández and that of Griselda Perez, El Chapo had a short-lived union with one Estela Peñ, a bank clerk from Nayarit, Mexico. The reports have it that El kidnapped Estela to have sexual relations with her after he fell in love with her. The duo later tied the knot but the union did not last. The escape expert would go on to give marriage a try once more in 2007. That was when he tied the knot with Emma Coronel Aispuro.
El's Latest Wife, Emma is Facing Drug and Conspiracy Charges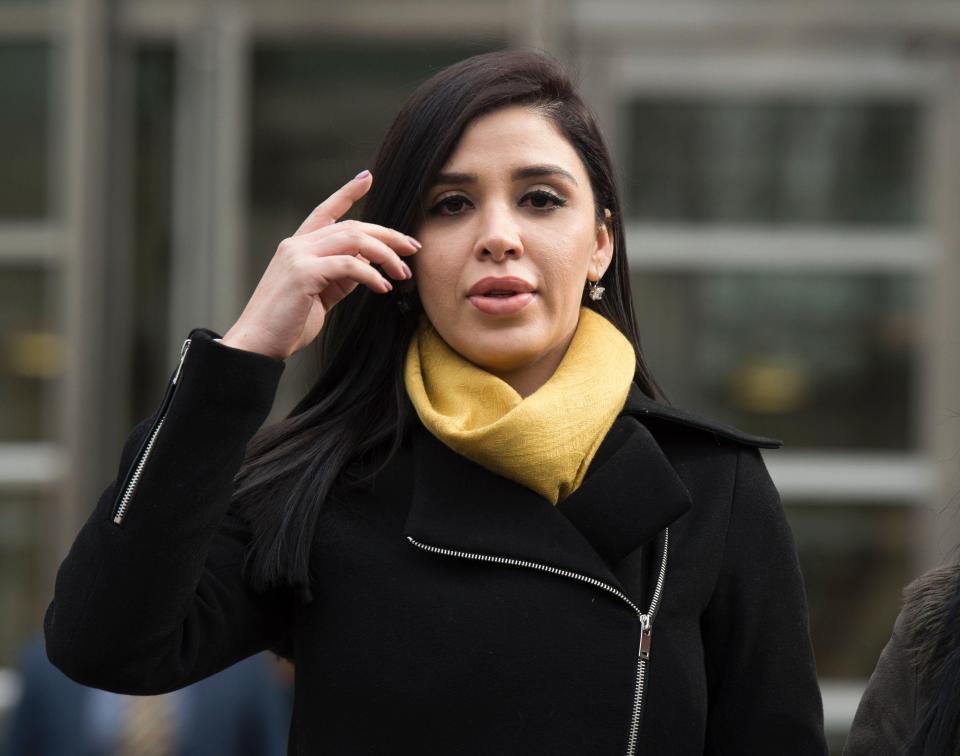 El Chapo's current wife, Emma Coronel Aispuro (b. July 3, 1989) is a former beauty queen. She entered the beauty pageant during the 2007 coffee and guava festival when she was seventeen. Her father, Inés Coronel Barreras was one of Chapo's top deputies in Canelas, Durango. Inés Coronel (who began serving a 10-year jail sentence in 2017 over drug-related offences) introduced his daughter to the drug dealer during a party back in 2006. El subsequently proposed to Emma during a party held in honor of her candidacy in the beauty pageant. They later married in November, 2007, precisely on Emma's 18th birthday. In August 2011, the couple welcomed twin girls Maria Joaquina and Emali Guadalupe. 
When El Chapo was arrested in 2016, Emma Aispuro claimed that she did not know her husband is a drug lord at the time she married him. Howebeit, she did not abandon her El in his time of need as she was always present in the court during his trials. However, on Monday, February 22, 2021, Aispuro was arrested at the Dulles International Airport in Virginia, US over conspiracy and drug trafficking, precisely for allegedly playing a part in El Chapo's 2015 escape and for assisting him to run his cartel.
While she is yet to appear in court as of the time of filing this report, Emma's brother, Edgar Coronel Aispuro has been a prisoner at the Aguaruto prison, Sinaloa since 2015. El Chapo's two ex-wives, Maria and Lopez have also at one time or the other been indicted in his drug business.
El Chapo's Children a.k.a Los Chapito Now Run His Drug Business
Joaquín "El Chapo" Guzmán has a total of ten children (six sons and four daughters) from his three marriages. While the drug lord once admitted he has up to thirteen children (including the ones from his mistresses), some reports claim his kids could be up to twenty! Whatever the number, the sad fact is that most all Chapo's children take after him in drug trafficking. Some of them who go by the nickname, Los Chapito are now running the Sinaloa Cartel following their father's incarceration. These include:
Ivan Archivaldo a.k.a El Chapito
Ivan is El Chapo's second son with his first wife, Alejandrina Hernández born on August 15, 1983). He is the leader of Los Chapito and holds the reputation of being El Chapo's most powerful son. He lives a lavish lifestyle and his Instagram confirms it. In 2005, Ivan landed behind bars after he earned a five-year sentence for money laundering. He however, did not complete the jail time as he was subtly released in April 2008 over lack of evidence.
Jesus Alfredo a.k.a El Gordo
Jesus is the third son of Chapo and Hernandez born on May 17, 1986. He is Ivan's immediate younger brother and partner in the Los Chapito-run Sinaloa Cartel. In 2016, the Jalisco New Generation Cartel kidnapped El Gordo alongside his brother, El Chapito but they released them soon after.
Edgar Guzman Lopez (†)
Edgar was the first son of El Chapo and his second wife, Griselda Perez. Unfortunately, Edgar died back in 2008, precisely on the 8th of May during an attack launched at the parking lot of a shopping center in Culiacán, Sinaloa. Aside from Edgar's killing, rival drug cartels have on different occasions, taken hostage of El's other children.
Joaquin Guzman Lopez
Joaquin is El's second son with Perez and late Edgar's immediate junior. He is among Guzman's sons that work very hard in the drug business.
Ovidio Guzman Lopez
Ovidio is the third son of Chapo and Perez born on March 29, 1990. He is the immediate younger brother of Joaquin and is part of the Sinaloa Cartel's financing system. Ovidio joined his father's drug business right from his teens and has grown to become very prominent. With the help of a fierce attack launched by the Sinaloa Cartel, Ovidio escaped the bars in October 2019 and has since been at large. He remains on the 'Wanted List' of the FGR, FBI, and DEA as of the time of filing this report.
Owing to their criminal records, Guzman's kids scarcely make their photos available on the internet.
Meet Guzman's Kids Who Aren't into Drugs
It's quite good to know that there are actually some of El Chapo's children who have taken reputable career paths. Among them are:
Cézar Guzman Salazar
Cezar is El Chapo's first child and son. He had him in the late 70s with his first wife, Alejandrina Maria Salazar. Per reports, Cezar is a real estate entrepreneur and is not a part of the drug business. He reportedly launched a clothing line, El Chapo 701 in his dad's honor following his incarceration in 2016. Some sources however, claim that Cezar was murdered in 2012.
Alejandrina Gisselle Guzmán Salazar
Also following Cesar's example in taking a noble career path is El Chapo's first daughter, Alejandrina Gisselle. She was born on October 15, 1981 and has been a Surgeon since 2005.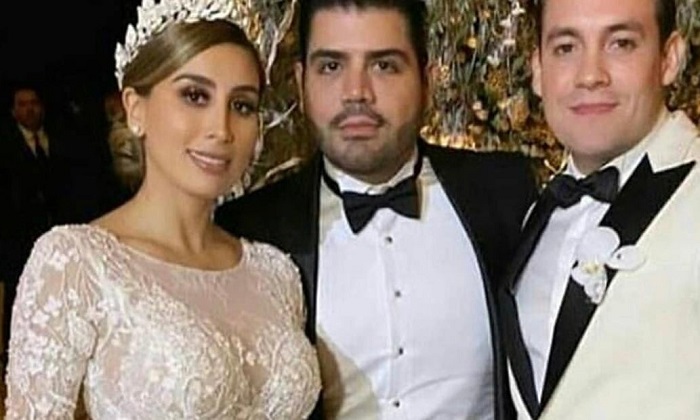 Alejandrina first came to light as El Chapo's child back in 2012 when immigration officials arrested her for entering the US, precisely San Diego with a false visa. She was subsequently deported to Mexico. The reports had it that she was pregnant for her then husband, Dr. Juan Carlos Magana Jimenez and wanted to have her child in the US.
Giselle later came to a more prominent media notice in 2020 when she tied the knot in a closed-door but lavish ceremony held in the cathedral of Culiacán on the 25th of January. Alejandrina however, appears to maintain close ties with her brothers who are in the drug business, considering the presence of heavy cartel security at her wedding. Besides, she wedded the nephew of another Mexican drug/money laundering cartel lord.
Meanwhile, there are hopes that Guzman's twin girls, Maria and Emali will grow up to chose genuine and legal professions. They were just four years old in 2016 when their dad eventually landed behind bars for life.
Here's a quick list of El Chapo's known children:
Cesar Guzman Salazar
Alejandrina Gisselle Guzmán Salazar
Ivan Archivaldo Guzmán Salazar
Jesus Alfredo Guzman Salazar
Edgar Guzman Lopez (deceased)
Joaquin Guzman Lopez
Ovidio Guzman Lopez
Griselda Guadalupe Guzman Lopez
Maria Joaquina
Emali Guadalupe
Other alleged offsprings of El Chapo include Victor Arael Hernandez Lopez, Rosa Isela Guzmán Ortiz, Kim Guzman Dolci, and Laisha Guzman.
Profile Summary
First Name:
Joaquín
Last Name:
Loera
Also Known As:

"El Chapo", El Rápido
Sex/Gender:

Male
Profession:

Drug lord, Former leader of the Sinaloa Cartel
Famous For:
Most powerful drug trafficker
Colleges/Universities Attended:

N/A
Educational Qualifications:

N/A
Religion:

N/A
Birthday & Zodiac

Age/Date of Birth:

66 years old (4 April 1957)
Zodiac Sign:
Capricorn
Birth Place:

La Tuna, Badiraguato Municipality, Sinaloa, Mexico
Nationality:
Mexican
Ethnicity/Race:

Hispanic
Country of Residence:

Mexico
Physical Attributes

Height:

5 feet, 5 inches (1.64 m)
Weight:

80 kg
Eye Colour:

Brown
Hair Color:

Brown
Other Body Measurements:

N/A
Relationships

Marital Status:

Married
Spouse/Partner:

Emma Coronel Aispuro
Also known to be married to: Alejandrina María Salazar Hernández (1977)
Estela Peña (date unknown)
Griselda López Pérez (mid-1980s)
Family and Relatives

Father:

Emilio Guzmán Bustillos
Mother:
María Consuelo Loera Pérez
Children:

13 children:
Son: Cesar, Ivan Archivaldo, Jesus Alfredo, Edgar, Joaquin, and Ovidio
Daughters: Maria Joaquina, Emali Guadalupe, Griselda Guadalupe, Rosa, Alejandrina, Kim, Leisha
Siblings:
Brothers: Miguel Ángel Guzmán Loera, Arturo Guzmán Loera, Aureliano Guzmán Loera, Emilio Guzmán Loera, Ovidio Guzmán Loera
Sisters- Armida Guzmán Loera, Bernarda Guzmán Loera
Other Relatives:

N/A
Net Worth
Estimated Net Worth:

$1 billion
Salary:
N/A
Source of Wealth:

drug cartel (Sinaloa Cartel)