Long ago, shoes were made to protect One's feet for those long walks. Any comfortable, durable and quality pair of shoes is already good enough. However, today, shoes have become a fashion statement. You can find shoes of different styles and colors and some are even encrusted with precious stones for those rare and special moments. If you have the fetish for shoes -branded signature shoes – take a look at these 10 most expensive shoes in the world right now:
 Stuart Weitzman's "Diamond Dream" Stilettos (US$ 500,000)
Diamonds are girl's best friend and if you can wear shoes embellished with bright diamonds, it is like walking on cloud nine. Stuart Weitzman created the Diamond Dream stiletto which was embellished with 1,420 precious diamonds. This famous creation was first worn by Anika Noni Rose during the 2007 Academy Awards.
 Original Ruby Slippers from the Wizard of Oz (US$ 666,000)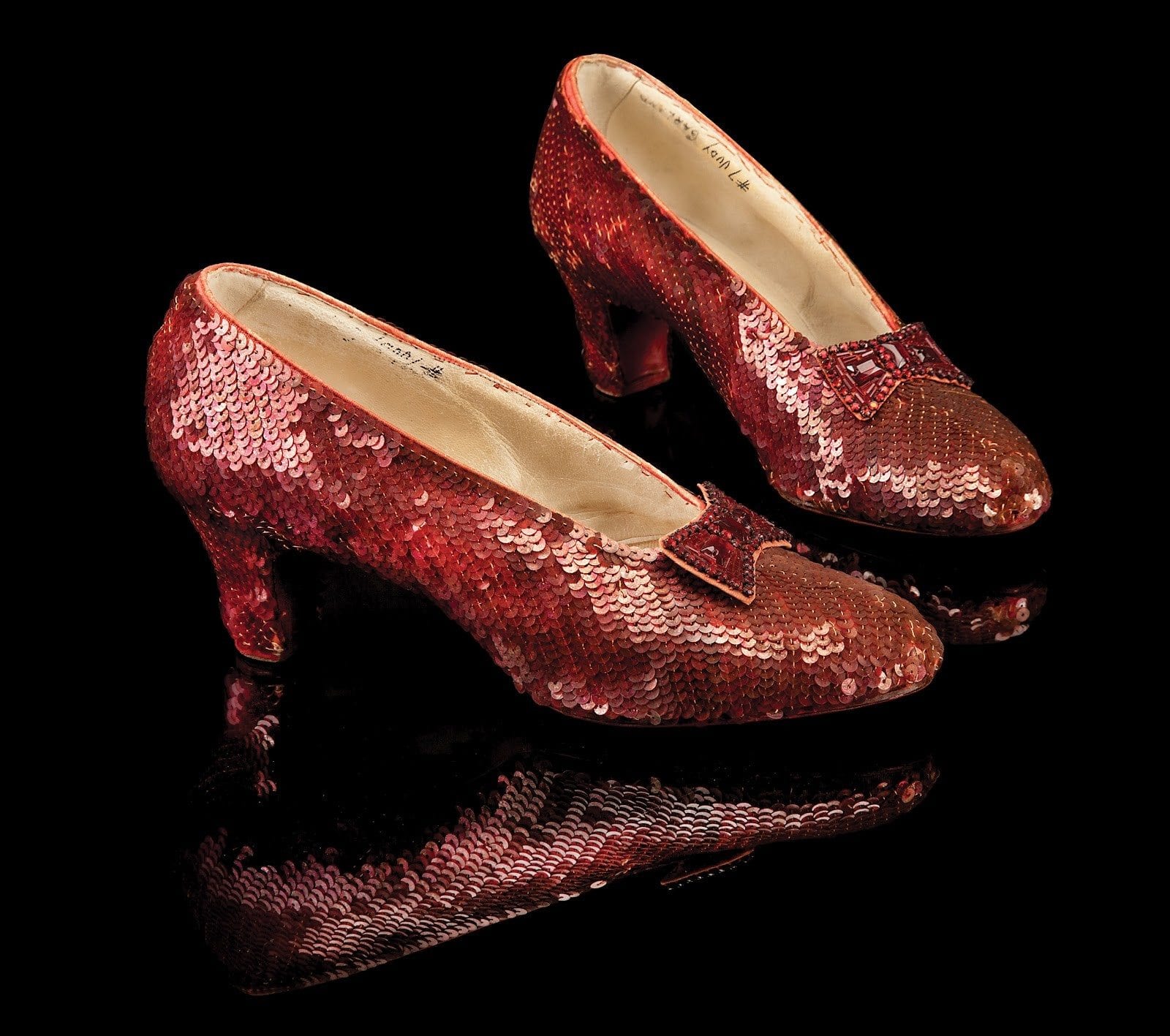 Dorothy's magical ruby slippers were certainly worth a fortune. Auctioned by Christie's in 2000 for US$ 666,000, the famous red shoes are embellished with red sequins, emerald-shaped crystals, red glass rhinestones and large bows accent. Another pair is displayed at the Smithsonian's National Museum of History in Washington, D.C.
 Stuart Weitzman's "Retro Rose" Pumps (US$ 1 million)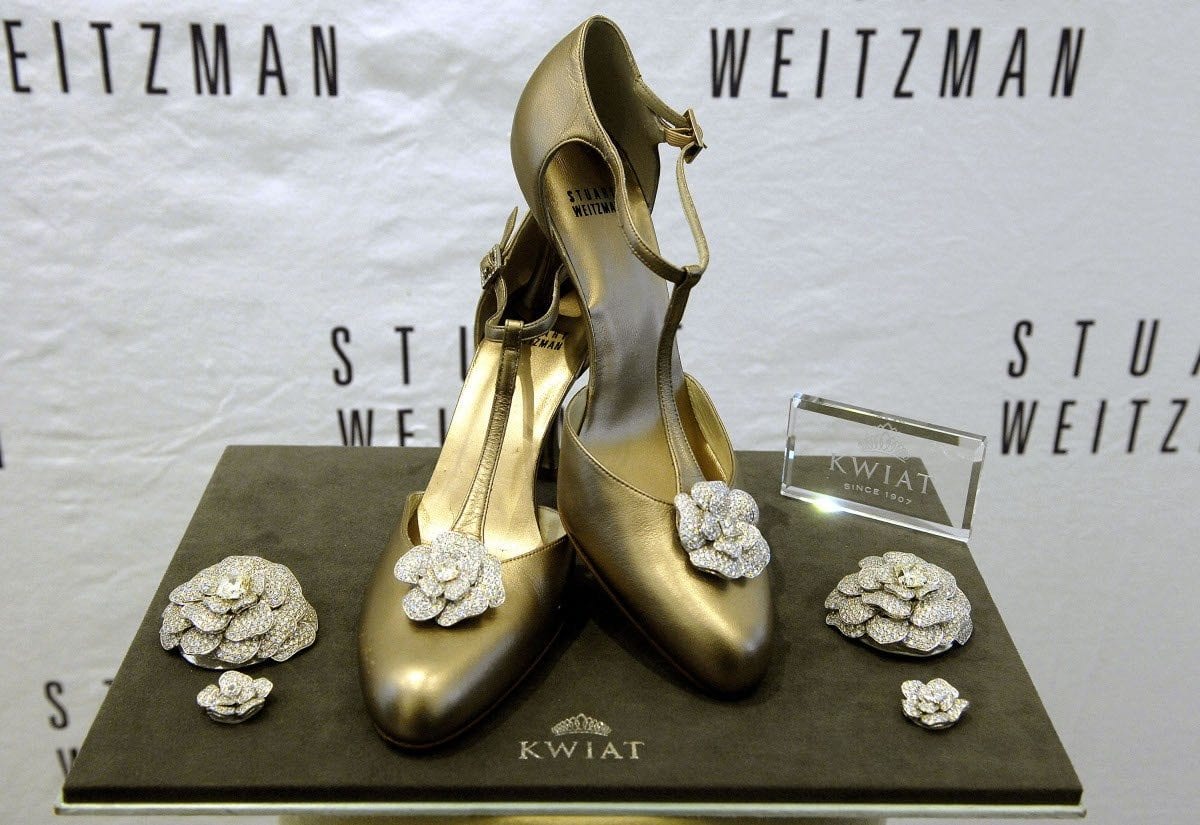 Another creation of Stuart Weitzman is this whopping 1 million dollars Retro Rose Pumps decorated with 400 Kwiat diamonds on the shoes and 1,800 Kwiat diamonds on the roses that were placed close to the toes. The "Juno" screenplay writer Diablo Cody was asked to wear this pair to the 2008 Oscars but refused the offer.
 Stuart Weitzman's "Marilyn Monroe" Heels (US$ 1 million)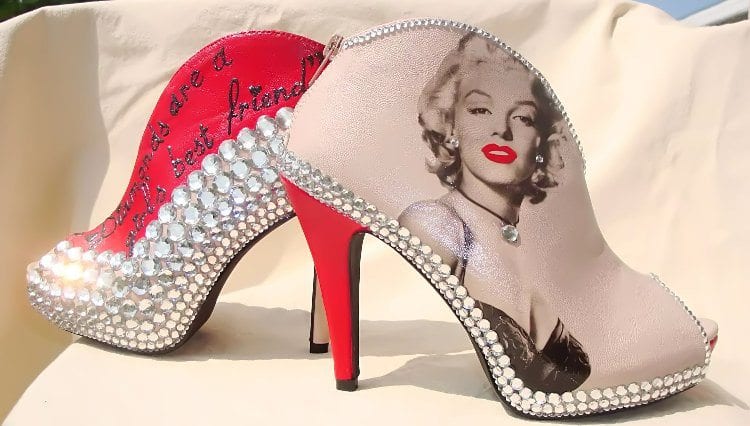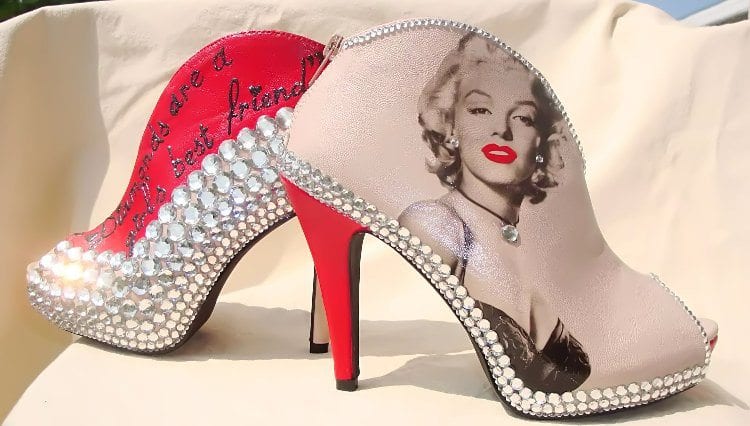 Another pair of heels in the top 10 most expensive shoes was inspired by Marilyn Monroe which is made up of glittering Swarovski crystals and elegant satin and was originally accented with the legendary actress' pair of earrings. The pair was worn by Regina King during the 2005 Academy Awards. The earrings were then replaced with replicas and the shoes were auctioned during the Celebrity Rags 4 Charity Riches auction and sold for US$ 1 million.
 Stuart Weitzman's "Platinum Guild" Stilettos (US$ 1.09 million)
Worn by actress Laura Herring to the 2002 Academy Awards, the US$ 1.09 million worth strappy "Platinum Guild" stilettos is made up of platinum fabric and adorned with 464 Kwiat diamonds which can be removed to be worn as necklace or bracelet.
 Stuart Weitzman's "Ruby" Slippers (US$ 1.6 million)
Inspired by Dorothy's red shoes in The Wizard of Oz, the famous Stuart Weitzman created this extremely expensive pair called "Ruby" slippers. Worth US$ 1.6 million, the heels are designed with course, cherry red insoles and embellished with 642 oval and round Burma rubies in red satin. The total carat count is 123.33. It was supposed to be worn during the 2003 Academy Awards but the dispute in Iraq halted the public appearance of this creation. It was then displayed for sometime in Tokyo, Japan and then at Harrods in London.
 Stuart Weitzman's "Tanzanite" Heels (US$ 2 million)
In collaboration with jewellery designer Eddie Le Vian, Stuart Weitzman created yet another expensive and stunning pair of heels made of silver leather with an ankle strap that resembles a necklace adorned with 185 carats bright blue tanzanite gemstones and 28 carats diamonds. The centrepiece is 16 carat tanzanite stone that makes the complete pair an unmatched splendour and a real-show stopper.
 Stuart Weitzman's "Cinderella" Slippers (US$ 2 million)
If the Prince used the glass slippers to find his Princess, then it was certainly worth it. Inspired by the fairy tale of Cinderella and her glass slippers, this pair of stilettos is definitely every girl's dream and maybe a way of finding her Prince. Crafted with the highest quality Italian leather, it is decorated with 565 pieces of 5 carat Kwiat diamonds. The straps look like lace that creates a nude effect. The first pair made its first appearance at the 2004 Oscars by Alison Krauss on the red carpet and during her onstage performance.
 Stuart Weitzman's "Rita Hayworth" Shoes (US$ 3 million)
Hollywood legend Rita Hayworth inspired Stuart Weitzman's most expensive shoe creation in this 3-million dollar-worth pair of rust colour heels. Adorned with sapphires, rubies and diamonds on a satin ruffle, this over-the-top creation by Weitzman made its public appearance on the 2006 Academy Awards by Kathryn York. After the awards, this pair is now owned by Rita Hayworth's daughter, Princess Yasmin Aga Khan
 House of Harry Winston's Ruby Slippers (US$ 3 million)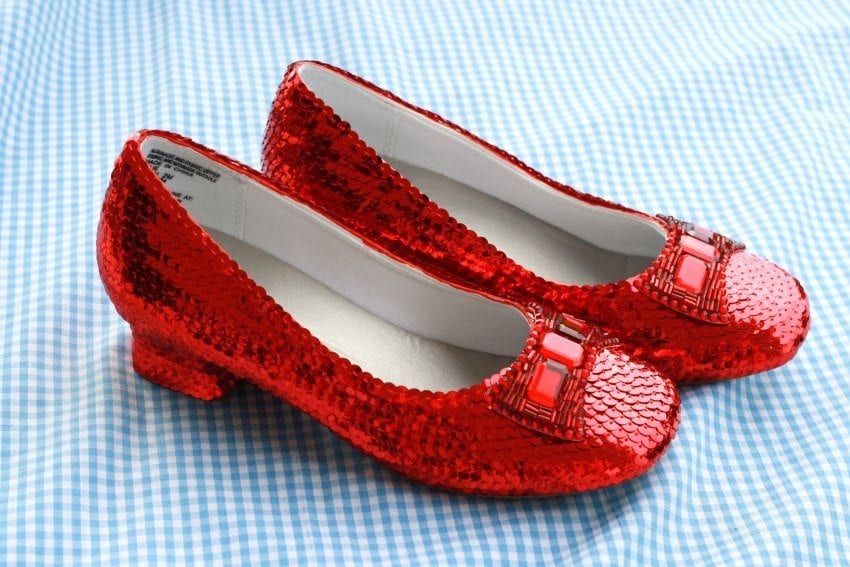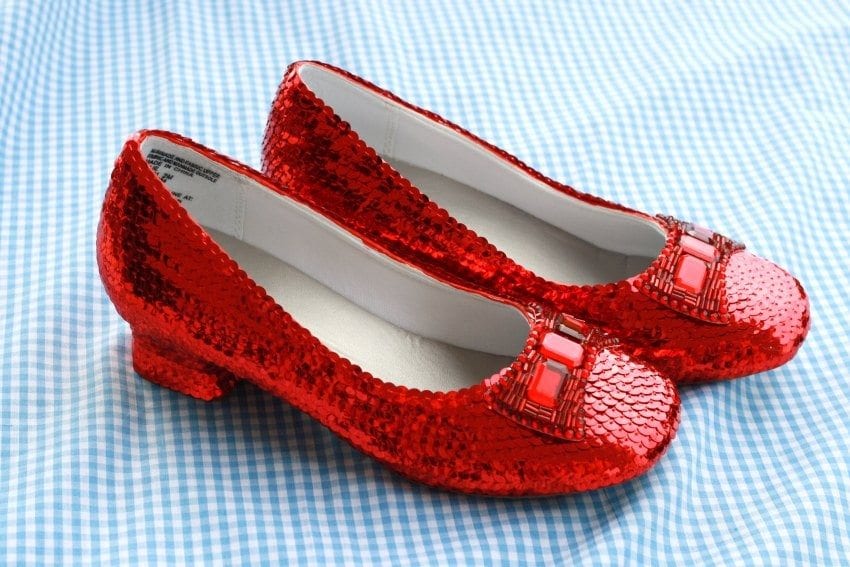 Dorothy's ruby slippers inspired another famous shoe designer and created this staggering 3 million dollars pair of shoes. Harry Winston's son Robert created a design in commemoration of the 50th anniversary of "The Wizard of Oz". It took him two months to carefully design and craft 4,600 rubies with a total of 1,350 carats and another 50 carats of diamonds to complete the pair. It was then displayed at the House of Harry Winston in 1989. This is definitely the number 1 in the top 10 most expensive shoes in the world. Shoes are not just for protecting your feet; these 10 most expensive shoes were also made to display elegance, beauty and luxury. If you own one of these shoes or any signature shoes, you will be the talk of the town or even become instantly famous overnight.