Long ago, shoes were made to protect one's feet for those long walks. Any comfortable, durable, and quality pair of shoes are already good enough. However, today, shoes have become a fashion statement. You can find shoes in different styles and colors and some are even encrusted with precious stones for those rare and special moments. For those who have the fetish for shoes and the pocket to back it up, getting the most expensive shoes available is something one can do with just a snap.
For such people, we have collected some of the most pricey shoes that ask for almost more than many people all over the world can walk in.
These Are The Most Expensive Shoes Ever Made
20. Air Jordan Silver Shoes – $60,000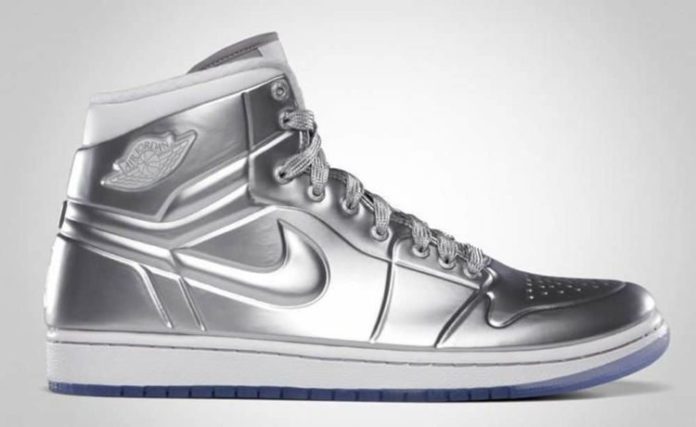 The Air Jordans have been around for a very long time; 1985 to be precise. But the Silver ones are a little different. Not only do they weigh way too much, but the price tag is also on the weighty side of things. The vintage shoes are signed by none other than the legendary Michael Jordan himself. With all that said, they are not the most comfortable shoes your legs can take because the sterling silver made sneakers are 10-pounds heavy.
19. Air Jordan 12 (Flu Game) – $104,000
Unlike others on this list, this pair is not a freshly made shoe. It is the sneakers worn by legendary NBA star, Michael Jordan during the unforgettable Flu Game in 1997. The shoe is not only expensive, but it also has an interesting story.
Before the famous Flu Game, Jordan was not feeling too well and so he was in a room with an IV pumped fluids while Preston was alone with him. The Jazz ball boy who had a special connection with the superstar basketball player made a bold move to ask him if he was doing anything with the shoes after the game to which Michael Jordan replied in the negative asking him if he wanted them. After the game, the equipment manager John Ligmanowski collected the shoes from under a table to pack but Jordan told him to leave the shoes as they were for Truman. That was how the ball boy came to own the priceless shoe, at least until it went for $104,000.
The first time someone attempted to buy the shoe when Truman was still in college, he rejected the $11,000 offer. He kept it safe for 16 years before deciding to let go of it in an auction since he had another Jordans given to him by Michael in the 1998 finals.
18. 100MM Buscemi Diamond – $132,000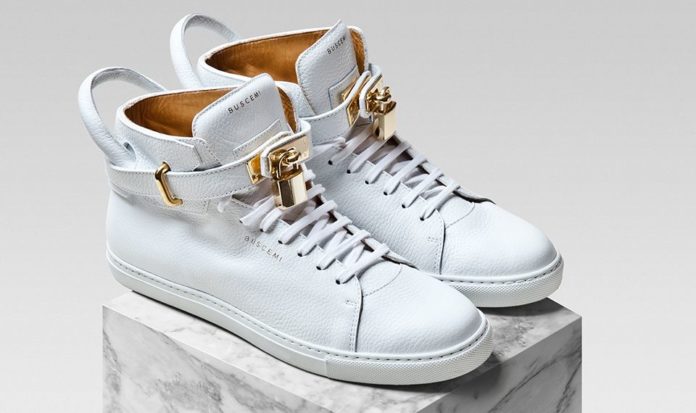 Buscemi has been known for some great and pricey sneaker shoes in the past, but nothing like its 100MM Diamond Sneaker which has a price tag of over $130,000. The premium wears are designed with top-notch material. Also with the 11.5 carats of diamonds, it features the brand's signature padlocks that have 18 karat gold.
17. Nizam Sikandar Jah Shoes – $160,000
In the reign of Nizam Sikandar Jah, the kingdom of Hyderabad, India was left in serious financial woes as a result of extravagant spending and unhinged borrowings. This makes it easy to understand how we came about the Nizam Sikandar Jah Shoes which are valued at over $160,000 today.
The shoes which look like something worn by Aladdin are designed with everything that defines royalty willing to squander the wealth of his kingdom; gold thread, rubies, and diamonds, as well as rare gemstones like emeralds. The almost impossible design of the shoe is a testament to how much time was put into the creation. After his reign, the shoes were moved from one ruler to the next, and finally, it ended in the Bata Shoe Museum and insured for $160,000. It was stolen in 2006 but was later found and returned to the museum.
16. Michael Jordan's Game-Worn Converse Fastbreak – $190,373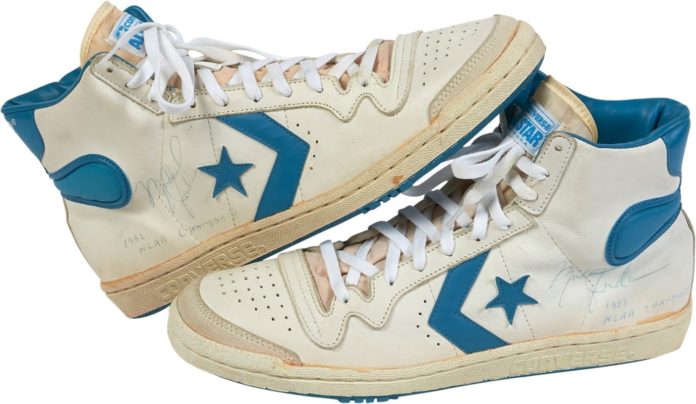 One could pass by these sneakers on any day because they do not look anything to earn a place among the most expensive shoes. On the contrary, they have a spot on the list, being sports memorabilia that were used by none other than legendary basketball star, Michael Jordan. He used the shoes when he was still in college during the 1984 Olympics. It was worn by the legendary basketball star during his amateur days before he signed it and gave it to a ball boy.
15. The Diamond Shoe by Kathryn Wilson – $418,450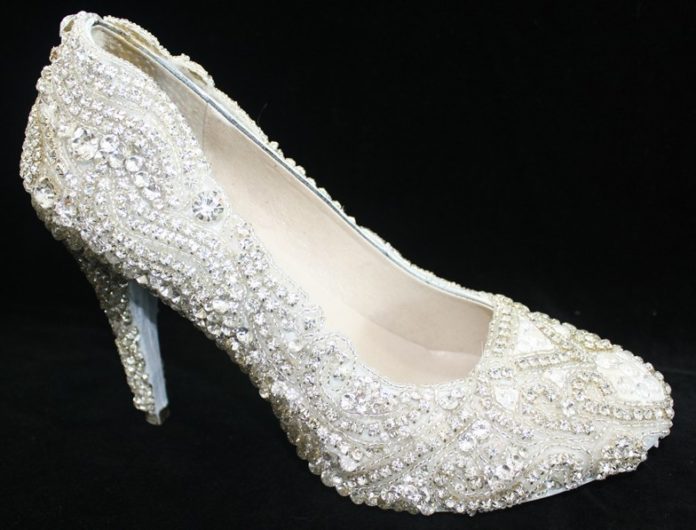 This is a creation of New Zealand's top shoe designer, Kathryn Wilson. Just as one would expect of a diamond shoe, it is well pumped with a lot of bling. The 2012 shoe which is a collaboration between the famous shoe designer and Orsini Fine Jewelry's Sarah Hutchings features a massive 21.8 carats value of diamonds covering every part of the shoe including the heel.
A shoe simply out of one's dream, it was sold in Auckland in an auction and the fund raised was donated to the Ronald McDonald House. The name of the buyer of the shoe has remained hidden.
14. Stuart Weitzman's "Diamond Dream" Stilettos – $500,000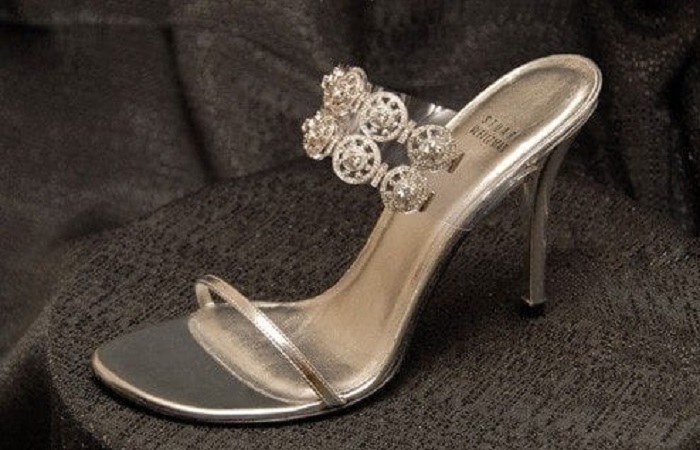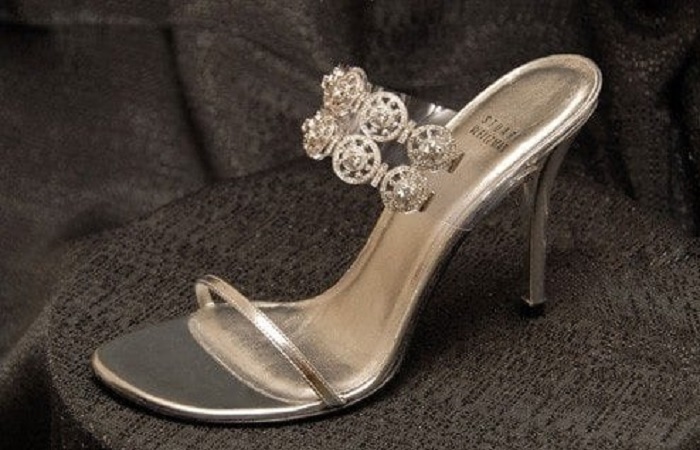 Diamonds are girl's best friend and if you can wear shoes embellished with bright diamonds, it is like walking on cloud nine. Stuart Weitzman created the Diamond Dream stiletto which was embellished with 1,420 precious diamonds. This famous creation was first worn by Anika Noni Rose during the 2007 Academy Awards.
13. Original Ruby Slippers from the Wizard of Oz – $666,000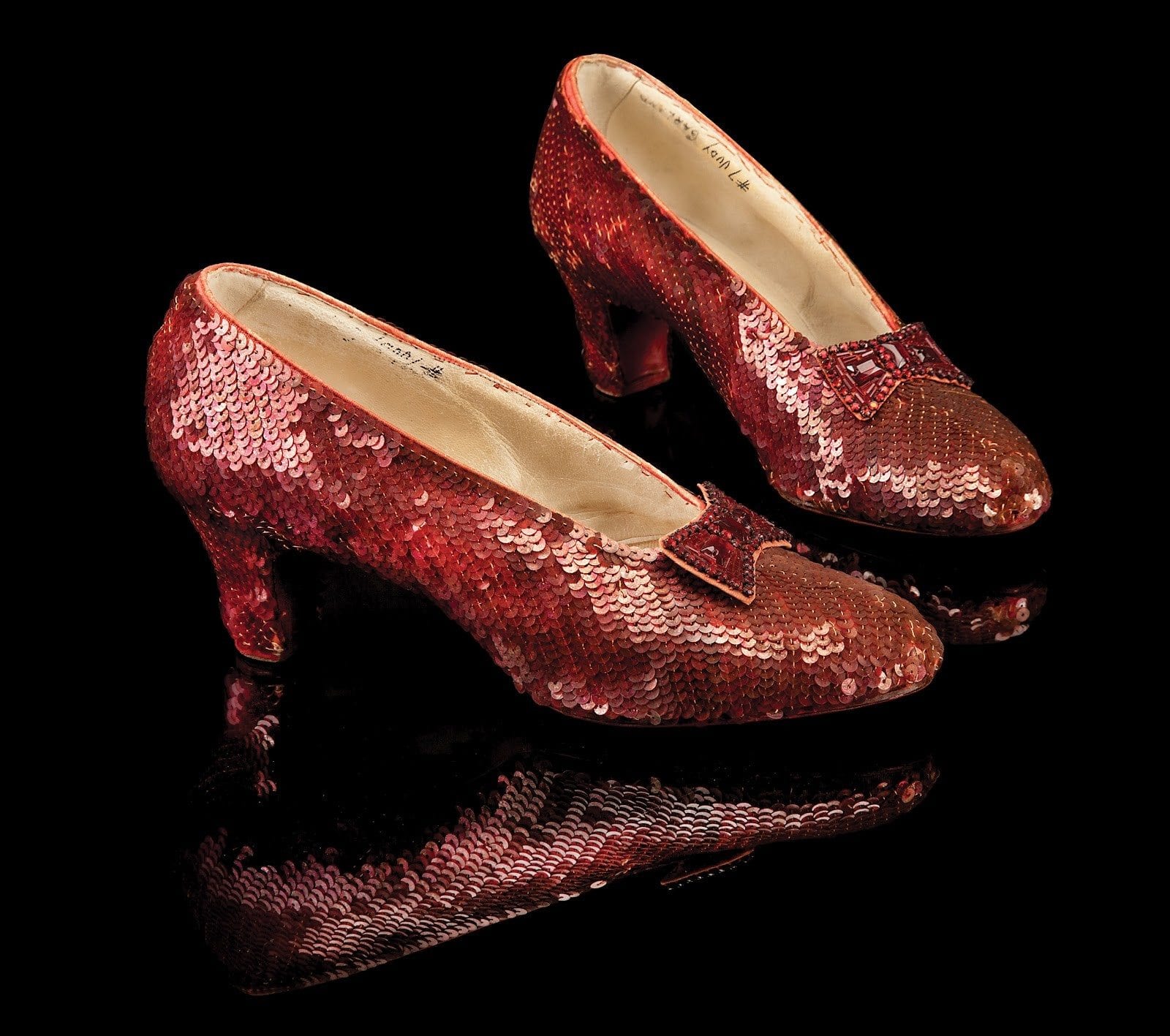 Dorothy's magical ruby slippers were certainly worth a fortune. Auctioned by Christie's in 2000 for US$ 666,000, the famous red shoes are embellished with red sequins, emerald-shaped crystals, red glass rhinestones, and large bows accent. Another pair is displayed at the Smithsonian's National Museum of History in Washington, D.C.
12. Stuart Weitzman's "Retro Rose" Pumps – $1 Million
Another creation of Stuart Weitzman is this whopping $1 million Retro Rose Pumps decorated with 400 Kwiat diamonds on the shoes and 1,800 Kwiat diamonds on the roses that were placed close to the toes. The "Juno" screenplay writer Diablo Cody was asked to wear this pair to the 2008 Oscars but refused the offer.
11. Stuart Weitzman's "Marilyn Monroe" Heels – $1 Million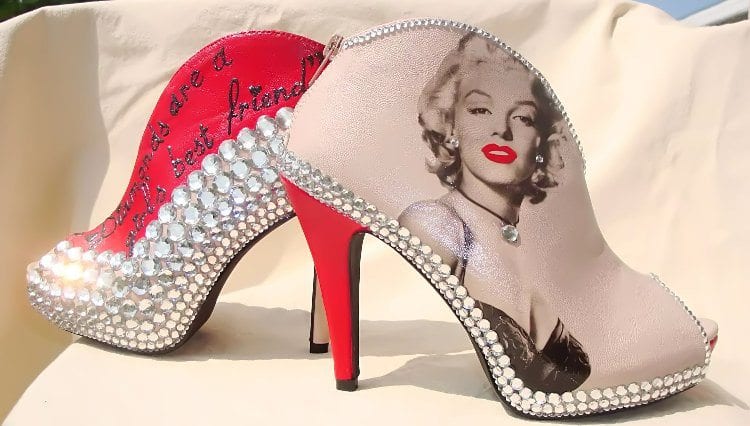 Another pair of heels that can't be left out in this list of most expensive shoes was inspired by Marilyn Monroe. The shoe is made up of glittering Swarovski crystals and elegant satin, it was originally accented with the legendary actress' pair of earrings. The pair was worn by Regina King during the 2005 Academy Awards. The earrings were then replaced with replicas and the shoes were auctioned during the Celebrity Rags 4 Charity Riches auction and sold for $1 million.
10. Stuart Weitzman's "Platinum Guild" Stilettos – $1.09 Million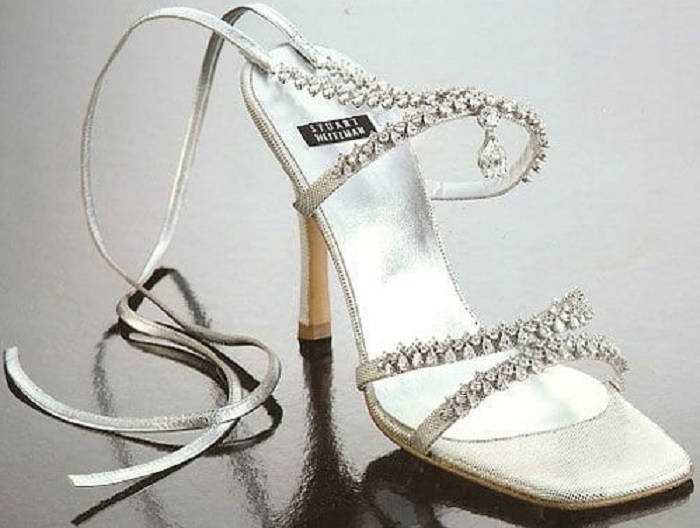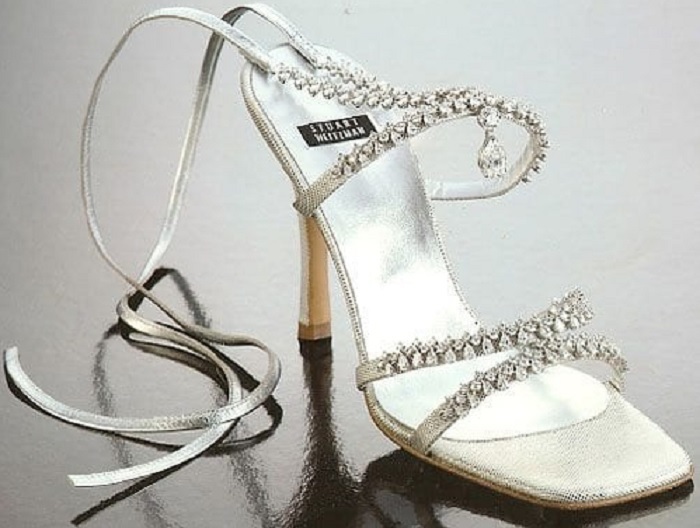 Worn by actress Laura Herring to the 2002 Academy Awards, the $1.09 million worth strappy "Platinum Guild" stilettos are made up of platinum fabric and adorned with 464 Kwiat diamonds which can be removed to be worn as necklace or bracelet.
9. Stuart Weitzman's "Ruby" Slippers – $1.6 Million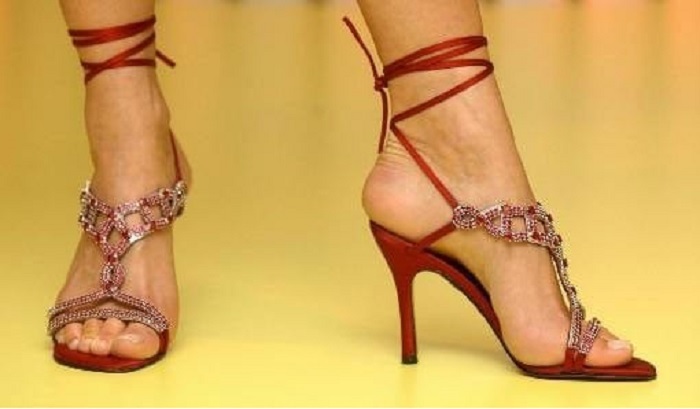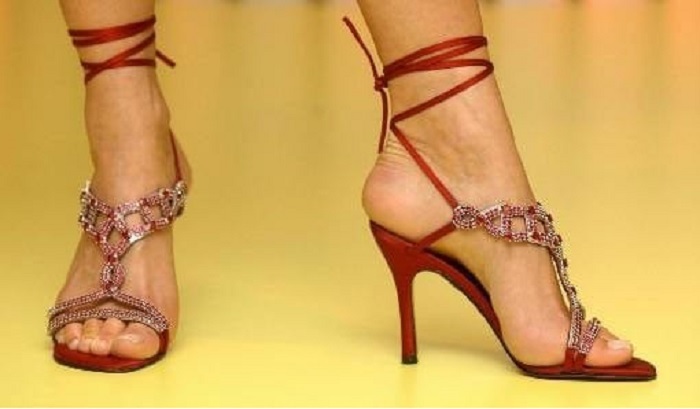 Inspired by Dorothy's red shoes The Wizard of Oz, the famous Stuart Weitzman created this extremely expensive pair called Ruby slippers. Worth $1.6 million, the heels are designed with cherry red insoles and embellished with 642 oval and round Burma rubies in red satin. The total carat count is 123.33. It was supposed to be worn during the 2003 Academy Awards but the dispute in Iraq halted the public appearance of this creation. It was then displayed for some time in Tokyo, Japan, and then at Harrods in London.
8. Solid Gold OVO x Air Jordans – $2 Million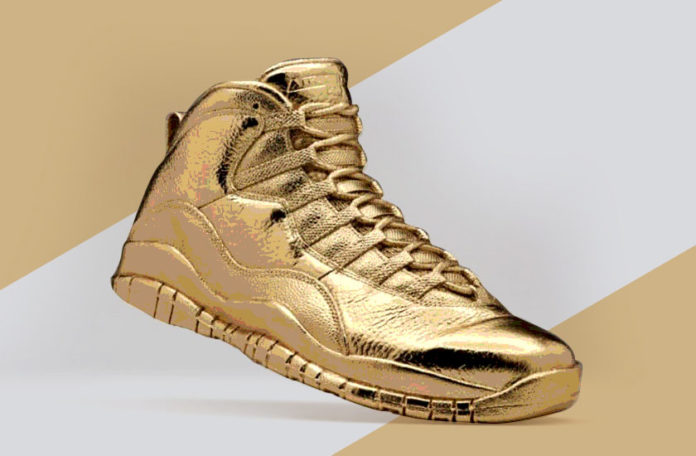 Good Jordans do not come cheap but when you have to sneeze out an outrageous $2 million to get them, it becomes something entirely different. Drake did just that.
The OVO Jordans is a pair of sneakers designed by Matt Senna. It comes kitted in 24 Karat solid gold. More than just a shoe, this is a work of sculptural art that was created with the Hot Line Bling singer in mind. Considering the weight of the shoe and the idea behind its creation, the pair of sneakers were not designed as something to be worn but instead, as something to be displayed.
7. Jason of Beverly Hills x Tom Ford – $2 Million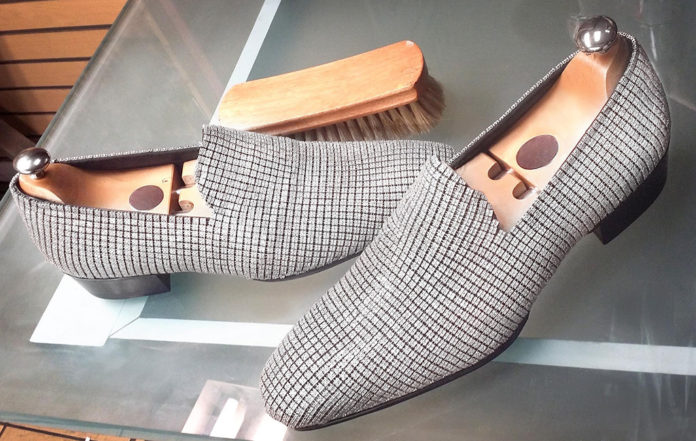 Like other out of this world shoes, this is not created for the general market but instead for a particular client; Nick Cannon. Tom Ford may not be among the oldest brands in the business but with the Jason of Beverly Hills x selling among the most expensive shoes the market has seen, the brand has made a statement loud enough.
The shoe which is the most expensive loafers you will find anywhere in the world has 340 carats of diamond slapped on both sides. The featured full-cut round diamond is well placed on white gold. It has an impressive 14,000 perfectly cut diamonds customized on the loafers by Jason Aresheben who has come to be regarded as one of the top jewelers for celebrities.
6. Stuart Weitzman's "Tanzanite" Heels – $2 Million
In collaboration with jewellery designer Eddie Le Vian, Stuart Weitzman created yet another expensive and stunning pair of heels made of silver leather with an ankle strap that resembles a necklace adorned with 185 carats bright-blue tanzanite gemstones and 28 carats diamonds. The centrepiece is 16-carat tanzanite stone that makes the complete pair an unmatched splendour and a real show stopper.
5. Stuart Weitzman's "Cinderella" Slippers – $2 Million
If the Prince used the glass slippers to find his Princess, then it was certainly worth it. Inspired by the fairy tale of Cinderella and her glass slippers, this pair of stilettos is definitely every girl's dream. Crafted with the highest quality Italian leather, it is decorated with 565 pieces of 5 carats Kwiat diamonds. The straps look like lace that creates a nude effect. The first pair made its first appearance at the 2004 Oscars worn by Alison Krauss on the red carpet and during her onstage performance.
4. Stuart Weitzman's "Rita Hayworth" Shoes – $3 Million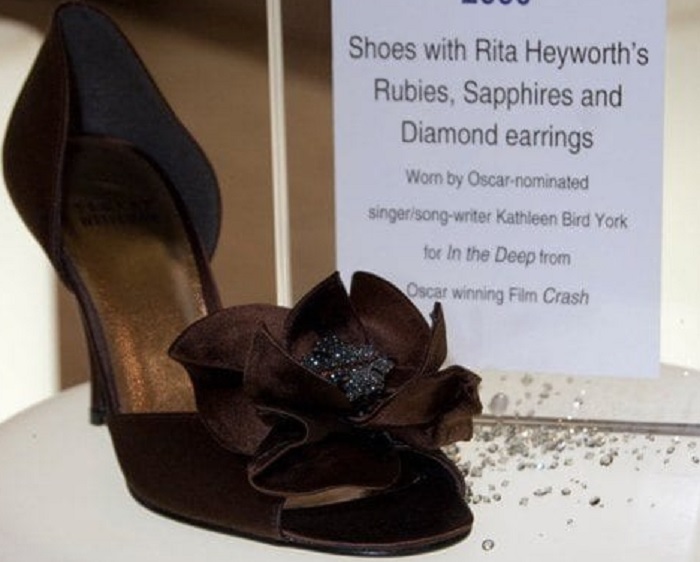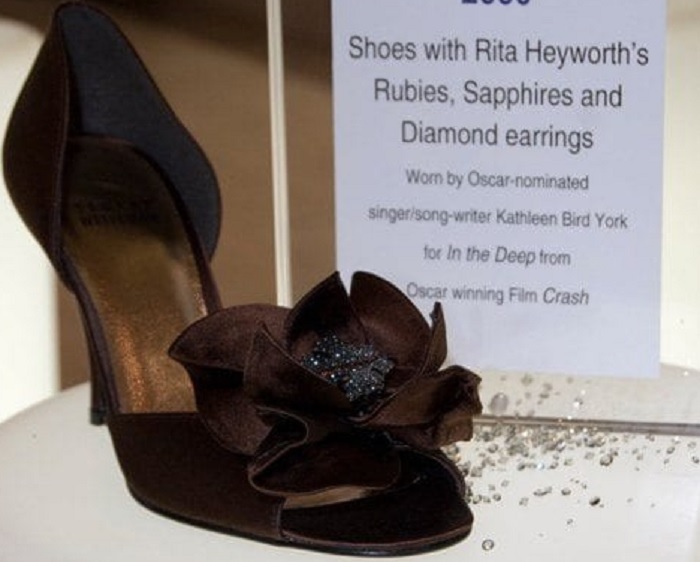 Hollywood legend Rita Hayworth inspired Stuart Weitzman's most expensive shoe creation in this 3-million dollar pair of rust color heels. Adorned with sapphires, rubies, and diamonds on a satin ruffle, this over-the-top creation by Weitzman made its public appearance on the 2006 Academy Awards, worn by Kathryn York. After the awards, this pair is now owned by Rita Hayworth's daughter, Princess Yasmin Aga Khan.
3. House of Harry Winston's Ruby Slippers – $3 Million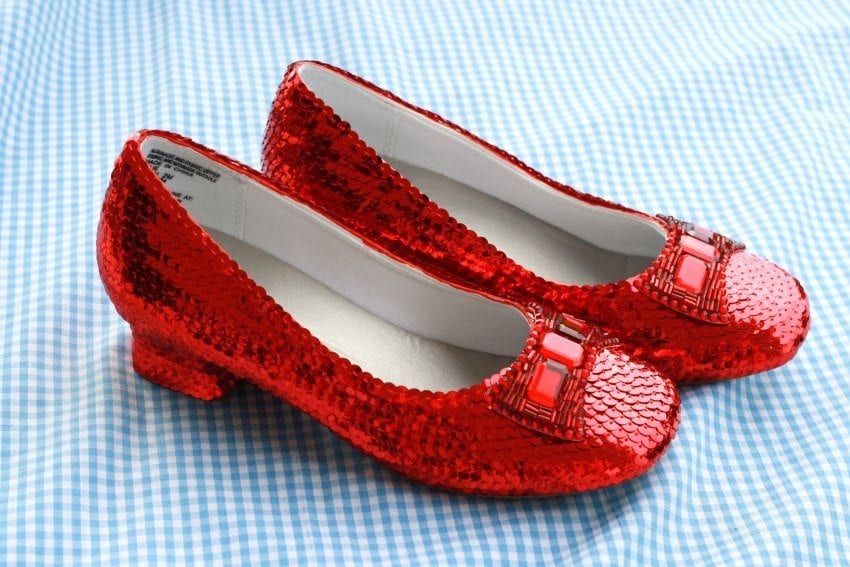 Dorothy's ruby slippers inspired another famous shoe designer to create this staggering 3 million dollars pair of shoes. Harry Winston's son Robert created a design in commemoration of the 50th anniversary of "The Wizard of Oz". It took him two months to carefully design and craft 4,600 rubies with a total of 1,350 carats and another 50 carats of diamonds to complete the pair. It was then displayed at the House of Harry Winston in 1989.
2. Debbie Wingham High Heels – $15.1 Million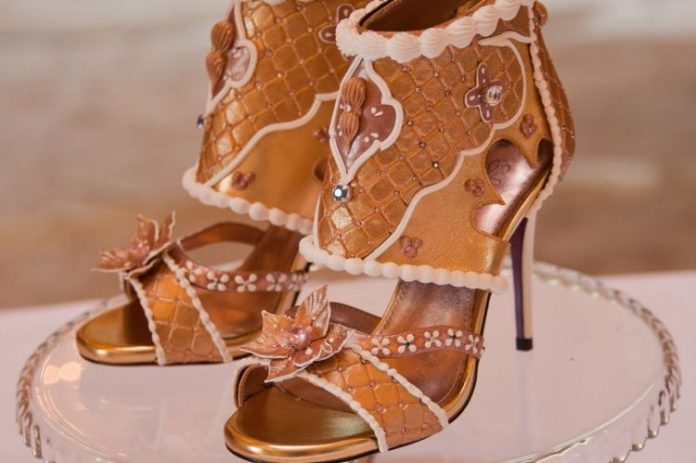 Before the Passion Diamond Shoes were designed, the Debbie Wingham High Heels remained the most expensive shoes created. While most other shoes in this collection do not have any extraordinary looks, this does. The eccentrics brought into the shoe is not surprising mostly if you know that Debbie Wingham has had so much experience in shoemaking on one hand, and also branched into cake making, combining the experience from both crafts to create this sweet shoe.
For someone behind a $17 million dress and a million-dollar cake, Wingham knows just how to create anything that is expensive. The English designer collaborated with American artist Chris Campbell to come up with the unique piece which has the zips and plaque made from solid 18k gold while the leader is painted in gold; real 24k gold paint. More so, an 18k gold thread is used for the stitching.
See Also: Top 10 Most Expensive Air Jordan Sneakers Ever Sold and How Much They Sold 
1. The Passion Diamond Shoes – $17 Million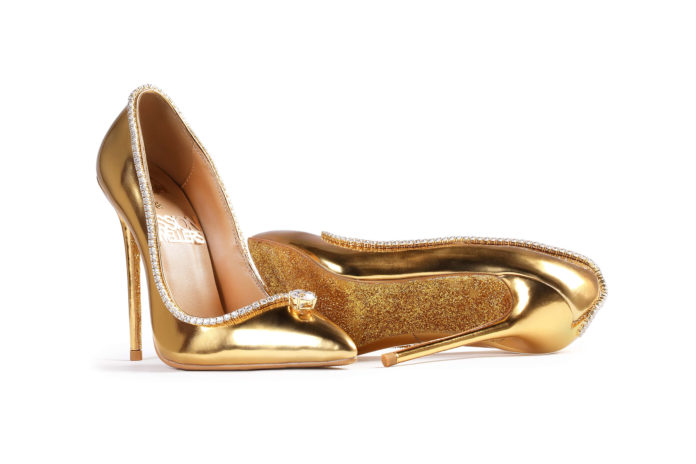 Topping the most expensive shoes is this piece that costs $17 million; way more than a larger part of earth's inhabitant will get to make in a lifetime. A 2018 creation of Jada Dubai, this fairy-tale elegant shoe was created as a unique piece from rare diamonds.
The stilettos are made from real gold with a 15-carat D-flawless diamonds embellished round it. Where should the most expensive shoe be on display? At the only seven-star hotel in the world, the Burj Al Arab in Dubai. It has been on display at the hotel when it went on sale. It was created in collaboration with Passion Jewelers.