Sheryl Sandberg may not be the founder of Facebook (that honor belongs to Mark Zuckerberg) but she has emerged as one of the most important individuals in the organization. She is also one of the highest-paid and that feat has helped her accumulate a net worth of $1.8 billion, which is just one in a long list of illustrious career achievements that she has recorded since sailing through Harvard in flying colors.
From working for the likes of Google and a former U.S. treasury secretary, Sandberg now holds sway as the Chief Operating Officer of Facebook and has been credited with turning it from a purely social media platform to a profitable business. Beyond Facebook, Sandberg has authored several books. She has also founded several initiatives committed to helping women achieve equality in the workplace. All these achievements have earned her several accolades and there is even talk of her running for public office one day, a talk she has thus far deflected.
Sheryl Sandberg Earns Eight-Figures as Her Annual Compensation Package From Facebook
A significant portion of Sheryl Sandberg's net worth hails from the annual compensation package that she receives as the COO of Facebook. As at the time that the social media platform came into existence in 2004, Sandberg already had a managerial position for Google. She was tasked with growing their advertising and publishing products and did quite well at it. This caught the attention of several people, including a relatively inexperienced Zuckerberg who was looking to transform Facebook from a really cool site into a major revenue-generating machine.
Zuckerberg figured that Sandberg would bring in the expertise needed to increase their advertising business and he appointed her COO of the company in 2008. Sandberg retains that role to date and has performed exceptionally well. Her areas of responsibility include sales, marketing, business development, human resources, public policy, and communications. She has been credited with the ever-increasing revenue that Facebook generates from small business advertising – $69.7 billion in 2019 which is a 27% increase from 2018.
For all these and more, Sheryl Sandberg has been rewarded with hefty paychecks. For instance, in 2019, she earned a total of $27.144 million. A breakdown of this amount shows that $875,385 was her base pay, $902,740 was her bonus, $19.678 million came through stocks, and $5.687 million for other types of compensation such as security and private aircraft costs. Her annual pay packages over preceding years follow a similar pattern and are $23.728 million (2018), $25.916 million (2017), $24.549 million (2016), $18.698 million (2015), $15.549 million (2014), $16.147 million (2013), $26.216 million (2012), and $30.957 million (2011).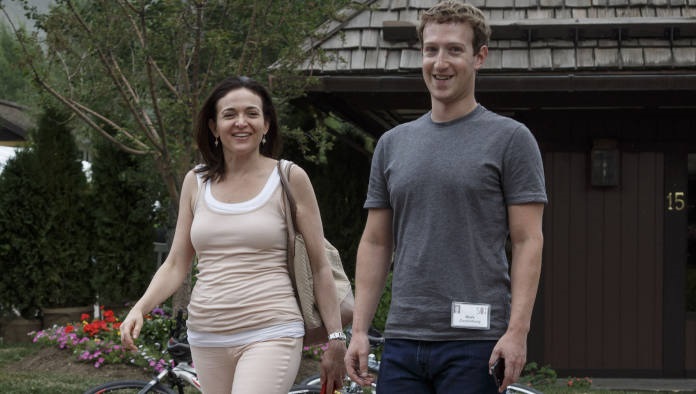 She Also Holds a 0.5% Stake in the Company worth $1 Billion
In recent times, many companies choose to reward their key staff with substantial shareholding in order to give them a sense of belonging and ownership. Facebook is not different and their COO was given restricted stock units of up to 41 million shares prior to the company's IPO in 2012. Those shares have since vested and Sandberg has sold off a huge percentage of them, netting about $2.033 billion in the process.
Sandberg's remaining Facebook stockholding is put at 69,315 units and this is valued at over $425 million. There is no gainsaying the fact that it was the disposal of her shares that made Sheryl Sandberg enter the Forbes billionaires list for the first time in March 2014 with a net worth of $1.05 billion. Since then, she has witnessed some brief periods of dipping but has maintained a steady rise to get to her present level of $1.8 billion.
The Facebook COO Has Co-Authored Two Bestselling Books
Writing may not be Sheryl Sandberg's day job but she is quite good at it and has made a fortune from it. The Harvard alum co-authored her first book; Lean In: Women, Work, and the Will to Lead, in 2013. The book is targeted at encouraging women to overcome societal and personal barriers and aspire to leadership positions in order to help to drive the change and equal environment that they seek.
As one would expect, such an inspiring message resonated with members of the public, and the book went on to top the NYT bestsellers list. It also sold millions of copies, leading to sumptuous royalties for the authors. Sandberg would later release her second book; Option B, in 2017. Co-authored with Professor Adam Grant, the book focuses on how to cope with grief arising from various types of adversities. It equally did well, selling not less than $2.75 million copies.
Sandberg Has Also Served on the Board of Several Companies
Away from Facebook, Sheryl Sandberg has been appointed to serve as a non-executive director of several top-notch companies over the years. In this role, she has supplied her own expertise which has helped organizations such as Walt Disney, Starbucks, and Brookings Institute to grow. Sandberg has also served as a director of non-profit organizations such as V-Day, Center for Global Development, and Women for Women International (WfWI).
WfWI is one organization that Sandberg would have been happy to assist given their mission. Set up in 1993, the organization recognizes that women often bear the brunt of armed conflicts and wars. They are therefore dedicated to helping these women to rebuild their lives after conflict by providing them with financial aid, emotional counseling, rights awareness education, small business development, and the likes, etc.
Sandberg's work with organizations such as the WfWI, and her brilliant track record at Facebook, has seen her receive several accolades. She has also been invited to deliver the commencement address at prestigious institutions such as MIT, Virginia Tech, University of California Berkeley, and Barnard College, etc. She was also invited as the keynote speaker at the class day ceremony of Harvard Business School in May 2012. This marked a return to a school that she had sailed through in brilliant colors some years back.
Sheryl Sandberg first enrolled at Harvard to study Economics in 1987. She emerged as the best student in her class four years later and this helped her to gain a role at World Bank as a research assistant. She would carry on this role for about a year before returning to HBS to undergo her MBA. She continued where she left off and emerged the best student in her class two years later.
Sheryl Sandberg's Work History
World Bank (Research Assistant): 1992 to 1993
McKinsey & Company (Management Consultant): 1995 to 1996
U.S Secretary of the Treasury (Chief of Staff): 1996 to 2001
Google (Vice President, Global Online Sales and Operations): 2002 to 2008
Facebook Inc. (Chief Operating Officer): 2008 till date.
Sheryl Sandberg Has Given Away Millions of Dollars in Facebook Stock to Several Philanthropic Initiatives
Beyond writing books, Sheryl Sandberg is also making varied efforts to support the push for gender equality in the world. The Facebook COO is the founder of an organization known as LeanIn.Org (now the Sheryl Sandberg & Dave Goldberg Family Foundation). The charity organization is dedicated to offering women the support they need to achieve their goals in the form of community, education, and coordinated peer groups.
LeanIn has thus far spearheaded a campaign to highlight closing the gender pay gap (20PercentCounts). They have also joined hands with the likes of Beyoncé and Jennifer Garner on a campaign to stop the use of the word bossy in describing assertive women. Sandberg has supported the work of the organization with various stock awards over the years. For instance, in 2016, she donated 290,000 of her Facebook shares, worth $31 million, to support LeanIn and several organizations. That same year, she also transferred 880,000 of her Facebook shares, worth $100 million, into a donor-advised fund which dispensed it to LeanIn, Second Harvest Food Bank, and Kara (grief counseling organization).