The world has seen women who shot into global limelight after getting married to very famous celebrities. These women have gained a lot of attention around the world because of their partners' huge celebrity status and now live all their lives being watched by the media. Some of these women may have made their own impact on their different career paths, but their husbands' popularity usually overshadows their own achievements. One of such women is Joan Lin, a Taiwanese woman who shot into global fame after becoming the wife of Jackie Chan, one of the world's most famous movie stars.
Joan Lin is known around the world for being the wife of Jackie Chan, however, it is noteworthy that she was also able to build a career for herself. She was, in fact, a very successful Taiwanese actress who won some accolades for her acting ingenuity. We have dug up some facts about the woman for your reading pleasure.
Who Is Joan Lin, Jackie Chan's Wife?
Joan Lin was born on the 30th of June 1953. The former actress was born in Taipei, the capital city of Taiwan where she was also raised by her parents. Even though she is now widely known simply as Joan Lin, her full birth name is actually Joan Lin Feng-jiao.
The identity of her parents remains unknown at the moment. It is, however, known that she grew up with four siblings and happens to be the second child of her parents' five kids.
Joan is a celebrated woman who apparently lives in luxury, however, this has not always been the case with her. During her childhood, she experienced abject poverty. In fact, according to reports, she even had to drop out of school when she was just 12 years old due to her family's poverty.
Not much is known about what happened next after she dropped out of school, but it is on record that she soon found her way into the movie industry and started appearing in movies.
Her acting career
Joan kick-started her acting career in 1972 when she was just 19 years old after she starred in her first film, a kung fu movie titled The Hero of Chiu Chow (also known as Hero of Waterfront). She would go on to star in many other movies. According to reports, many of the movies she starred in were based on the novels written by Chiung Yao – a Taiwanese writer and producer.
As an actress, Joan was so talented that she quickly gained prominence in Taiwan. In fact, during the 70s and 80s, she became one of the most famous faces on Taiwanese and Hong Kong television alongside others top names at the time; Charlie Chin, Chin Han, and Brigitte Lin. The four of them were popularly called the "Two Chins, Two Lins" and they were renowned for appearing in several movies which very successful. Joan earned the reputation for being one of the most versatile actresses in Taiwan and won a lot of fans who admired her incredible talent.
In 1979, Joan Lin starred in a movie called The Story of a Small Town. The movie became very popular around Taiwan as many fans and experts hailed Joan's performance in the film. Her performance was so good that she won Best Leading Actress at the 16th Golden Horse Awards that same year.
The actress starred in more than 70 movies during her career and eventually retired from acting in 1982 after about 10 years in the movie industry.
Marriage to Jackie Chan
The story of Joan Lin cannot be told without the mention of Jackie Chan. These days, despite having been a great actress herself, she is now being referred to as 'Jackie Chan's wife' because of the enormous global popularity of the actor which has overshadowed her own exploits in the world of acting.
The couple met at the height of their careers and dated for a while before they tied the knot as husband and wife in 1982. Their son called Jaycee Chan was born that same year. Jaycee is now an actor and singer who has made quite a name for himself.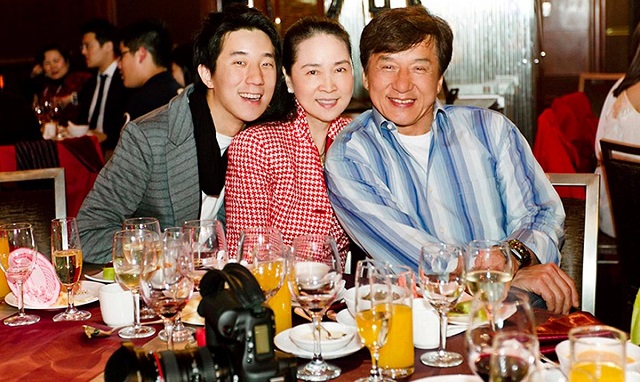 Since their marriage, Joan Lin and Jackie Chan have remained together, and it seems that their love keeps increasing every day. However, like all marriages, their union has had its fair share of huddles. In the late '90s, their marriage was threatened after Jackie Chan engaged in an extra-marital affair with Elaine Ng Yi-Lei, an actress. The affair produced an illegitimate daughter called Etta Ng Chok Lam. The matter caused a huge stir in the media at the time as fans expressed disappointment with the star actor. However, Jackie has since made peace with his wife and the past has been put behind them.
Joan Lin's Net worth
There is not a doubt in the world that Joan Lin was able to rake in a sizeable amount of wealth during the course of her acting career. She reached the peak of her career in the '70s and '80s and became one of the most talked-about Taiwanese actresses at the time, making a huge fortune from her work onscreen.
However, her exact net worth is still vague at the moment. Some sources have claimed that she is worth about $1 million but this is yet to be confirmed. On the other hand, her husband, Jackie Chan is reported to be worth over $400 million at the moment.
Read Also: Kelly Lynch – Bio, Facts, Movies and TV Shows of The Actress and Model
Body measurement
Just like her husband, Joan Lin is not a tall woman. The former actress stands at about 5 feet 5 inches. Other details about her body measurements including her weight, hip size, bust size, and waist size, are hard to come by.