Throughout his comedy career that has spanned over three decades, Kevin James has dazzled millions of fans with his uncanny improv skills. From featuring in his hit show to playing memorable characters in box office hits, James has been able to gather a jaw-dropping net worth of $100 million.
He has also earned massively from comedy tours and stand-up comedy specials. Beginning his career as a stand-up comedian, the Primetime Emmy nominee has performed in many comedy clubs and shows. He has steadily built his resume to the point of being regarded among the richest comedian, as well as the best comedy actors of his generation.
Breaking Down How He Made His $100 Million Net Worth 
Kevin James Began Building His Fortune With His Comedy Career
James began his comedy career by joining his elder brother's improv group and thus, started performing stand-up in clubs such as East Side Comedy Club situated on Long Island. He garnered much popularity following his appearance on The Tonight Show with Jay Leno in 1992. Four years later, he attained international recognition for his comedic talent after putting up an extraordinary performance at the Montreal Comedy Festival, Just For Laughs.
He subsequently upgraded his profile with appearances on numerous talk shows including Late Night with Conan O'Brien, The Rosie O'Donnell Show, Dennis Miller Live, Late Show with David Letterman, and The Late Late Show. The gifted comedian then released his first stand-up special in 2001 titled Kevin James: Sweat the Small Stuff. He beefed up his net worth with proceeds gotten from the DVD sales of the comedy special which was sold for $59.99.
He also made money from ticket sales as he embarked on a comedy tour after releasing the comedy special. For Netflix, Kevin pulled off a second stand-up special titled Kevin James: Never Don't Give Up. The DVD was sold for $15, adding to his financial status. Over the years, James has toured around the United States, performing stand-up comedy in clubs and theaters. In the process, he has made substantial wealth from tickets sold.
How Creating His Show for CBS Brought Him Long-term Earnings
During the early stages of his stand-up comedy career, Kevin James got acquainted with famed comedian, Ray Romano, and was subsequently cast in his smash TV show, Everybody Loves Raymond, which aired on CBS. He appeared as Kevin Daniels/Doug Heffernan in eight episodes of the sitcom and then landed the opportunity to develop his own show for CBS. As a result, the New York native produced The King of Queens for the TV network and it premiered on September 21st, 1998.
The show ran for nine seasons on CBS (1998-2007), with Kevin James writing some of the episodes. He played the lead role, Doug Heffernan, in the commercially successful sitcom that catapulted him to superstardom. His performance on the show earned him a salary of $300,000 per episode during the mid-seasons of the show's run and in the final seasons, his salary was increased to $400,000 per episode. Presently, the sitcom is in syndication on Lifetime, The CW affiliates, Fox, CMT, TV Land, and My Network, thus, generating millions of dollars for the actor who has a stake in the show.
After years of staying away from the small screen, Kevin James developed another show for CBS titled Kevin Can Wait in 2016, scoring the role of Kevin Gable. Despite ranking as the fifth highest-rated CBS program in the much-coveted 18-49 demographic at the time, Kevin Can Wait was canceled after two seasons as the writers ran out of new ideas. James reportedly earned $200 per episode for playing the lead role in the sitcom which ran for 48 episodes.
Becoming a Box Office Star Helped Him Grow His Net Worth
Widely considered as one of the best comedy actors in the United States, James has stayed true to his worth over the years. Despite most of his films receiving negative reviews from critics, they have grossed massively from tickets and home video sales. He first made a cameo appearance in the 2004 romantic comedy film, 50 First Dates, which was commercially successful before playing a supporting role in Hitch (2005), starring alongside Will Smith and Eva Mendes. The romantic comedy movie was a box office hit, having grossed $371.6 million on a budget of $55-70 million.
He further played Larry Valentine in the 2007 film, I Now Pronounce You Chuck & Larry, before establishing himself in the Comedy film genre with the role of Paul Blart in the movie, Paul Blart: Mall Cop (2009). The comedy film was also commercially successful as it earned $183.3 million. Its sequel, Paul Blart: Mall Cop 2 was released in 2015 and it grossed $107.6 million on a budget of $30-49 million.
In 2010, Kevin James starred alongside Adam Sandler, Chris Rock, and David Spade in the blockbuster, Grown Ups. The comedy film grossed $271.4 million and it has been claimed that he was paid $5 million for his efforts. More so, for his role in its sequel, Grown Ups 2 (2013), the actor was paid $10 million.
As a voice actor, James has lent his voice to characters in several animated movies. In 2006, he voiced Officer Landers in Monster House, as well as Otis in Barnyard. The former grossed $141.9 million on a budget of $75 million while the latter earned $116.5 million on a budget of $51 million. Other box office hits the actor has featured in include Zookeeper (2011), Here Comes the Boom (2012), Hotel Transylvania franchise (2012-present), and Pixels (2015).
Kevin James' Top-grossing Movies and TV Shows
The King of Queens (1998-2007)

Gross: N/A
Earnings: $55 million

Kevin Can Wait

Gross: N/A
Earnings: $8 million

Paul Blart: Mall Cop (2009)

Gross: $183.3 million
Earnings: N/A

Paul Blart 2 (2015)

Gross: $107.6 million
Earnings: N/A

Grown Ups (2010)

Gross: $271.4 million
Earnings: $5 million

Zookeeper (2011)

Gross: $169.8 million
Earnings: N/A

Here Comes The Boom (2012)

Gross: $73.1 million
Earnings: N/A

Hotel Transylvania Franchise (2012-present)

Gross: $1.2 billion
Earnings: N/A

Grown Ups 2 (2013)

Gross: $247 million
Earnings: $10 million

Pixels (2015)

Gross: $244.9
Earnings: N/A
The Talented Actor also Earns from Screenwriting and Production
Beyond making money from his works as a comedian and actor, James has supplemented his earnings with paychecks that come from his efforts in screenwriting and production of TV shows and movies. In 1997, he wrote one episode of the smash sitcom, Everybody Loves Raymond. Later in 2001, he wrote and produced his comedy special Kevin James: Sweat the Small Stuff, followed by The King of Queens which he equally produced.
Working as the executive producer of The King of Queens, James owns a percentage of the show's backend profits and since it went into syndication, the actor has taken home a paycheck of over $50 million. Between 2009 and 2015, he served as the writer and producer of Paul Blart: Mall Cop, Zookeeper, Here Comes the Boom, and Paul Blart: Mall Cop 2. He additionally wrote and produced Kevin Can Wait (2016-18) and Kevin James: Never Don't Give Up (2018).
What Kevin Makes from YouTube
Having launched a self-named YouTube channel in November 2017, Kevin James revived the channel in February 2020 and has been uploading short films thereof. Thus far, his channel has amassed over 860,000 subscribers with more than 54.8 million views.
With YouTubers making $18 per 1,000 ad views, the Primetime Emmy Award nominee must have made over $900,000 from the platform. Some of his most watched videos include Ryan Gosling Won't Give Me A Soundcheck, Joker Sound Guy, Rocky Sound Guy, Star War Sound Guy, and Robin Williams Made Me Cry.
Also, throughout his career, the Hitch star has hosted a handful of shows and events which undoubtedly added to his wealth. In 2007, he graced the Pepsi 400, serving as the grand marshall and three years later, he worked as the host of the Nickelodeon Kids' Choice Awards.
He also worked as the grand marshall of Pepsi 400 in the year 2010 and repeated the role at the Talladega race in 2012, as well as the Coke-Zero 400 in 2013.
An Overview of the Actor's Sources of Income
Comedy specials and tours
Movie and TV shows
The King of Queens' royalties
Screenwriting
Production of movies and TV shows
Hosting gigs
YouTube channel
The Comedian Owns an Opulent Mansion In Florida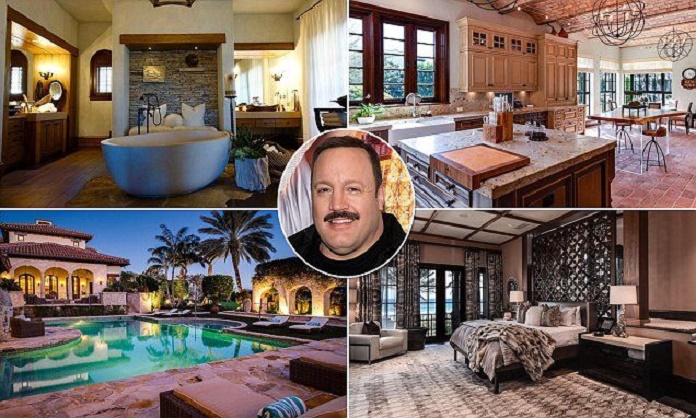 Kevin James and his wife Steffiana De La Cruz purchased a luxurious oceanfront mansion in Delray Beach, Florida for $18.5 million in 2012. The 12,828 square feet lavish home has 8 bedrooms and 10.5 bathrooms. It also features a guest house, saltwater pool, oceanside gardens, sports court, and a cabana.
In 2013, he bought a next-door property of nearly 3 acres for $4.25 million. He tried selling it for $29 million three years later, but couldn't find a buyer. He still owns the property as of this writing.