A random survey of ten major fans of comedy about their top five best comedians in history is likely to have Chris Rock in any position on the top five, and with such popularity, acceptance and legend come a degree of wealth that has made him one of the richest comedians in the world. Chris Rock has a net worth of $100 million and a lot of it have come through his works as a comedic actor and a comedian.
In this article, we took a look at exactly how each of the mediums Chris Rock has showcased his talents contributed to his large net worth. Check it out below.
How Chris Rock Achieved His Net Worth
Chris Rock has had a career that spans across standup comedy, TV shows, and movies, and in determining how he achieved his net worth, we will be looking at how each aspect of his career contributed to it, starting with his primary career as a standup comedian.
Standup Comedy
Although his standup comedy might not be where he is most famous, particularly to a mainstream audience who are only familiar with his movies and TV shows, that is where Chris Rock has made a majority of his money. Earlier in 2017, according to Forbes magazine, he made a total of $57 million, majority of which came from his $40 million deal for two stand-up specials deal with the major streaming giant, Netflix. Alongside that major haul, he also earned an extra $17 million from his Total Blackout Tour.
In 2018, things were a lot more lowkey for the actor, who made a comparatively $30 million between the June 2017 and June 2018 fiscal year. Part of his earnings over the one-year period was also believed to have come from his comedy shows. With an estimated income of almost $90 million in two years, out of a career that has spanned over four decades, it is no wonder that Chris Rock has a net worth of $100 million.
Chris Rock began his standup comedy career in 1984, taking the mic for the first time in New York City's Catch a Rising Star. His talent and skills, particularly when it came to observational and black comedy helped him rise through the mentorship of comedy icon, Eddie Murphy. He released his first comedy album in 1991. The South Carolina-born comedian has so far, released four comedy albums, and he has recorded and released five stand-up specials.
Movies and TV Shows
Other major contributors to Chris Rock's enviable net worth are his works in movies and TV shows. His first dive into the world of television came when he joined the cast of Saturday Night Live in 1990, becoming a part of a group of cast members that are infamously known as the Bad Boys of SNL.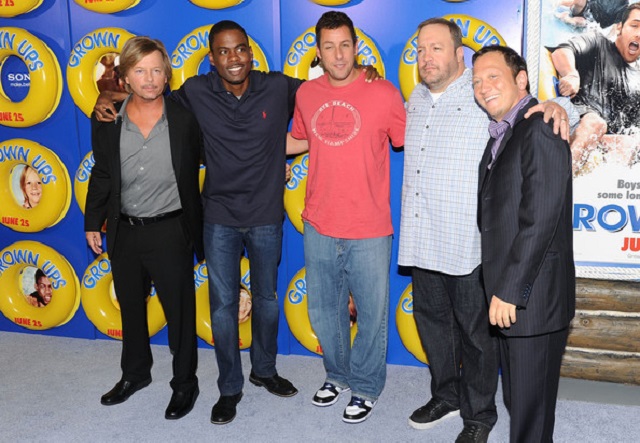 Since then, he has had a long career in television, both as an actor, and a producer. Some of his major works on TV include Everybody Hates Chris, a semi-autobiographical show he created, wrote, and narrated. Others include The Chris Rock Show, guest episodes with shows like The Jim Gaffigan Show, Empire, The Eric Andre Show, The Fresh Prince of Bel-Air and several others.
It is difficult to determine how much he earned from his work in every single show, but it is believed major works like Everybody Hates Chris and The Chris Rock Show contributed millions to his total net worth. In movies, where Chris Rock enjoys a significant following, he has appeared in over 45 movies since he made his debut appearance in a film in 1985 in an uncredited role.
So far, he has proven to be an attractive commercial fixture in movies because his movies have made over $5 billion at the global box office. With a share of that revenue going to Chris Rock either in salary or backend deals, you can see how the comedian has a net worth of $100 million.
He has also earned by working behind the camera, as a director, screenwriter, and producer. According to the box office analytics website, The Numbers.com, Chris Rock's movies where he played either of those technical roles has fetched over $152 million at the global box office.
Other means Chris Rock has earned his net worth, include hosting the Oscars, which he has done twice in 2005 and 2015. Although he hasn't kept every single dime he has made, losing $40 million through his divorce from Malaak Compton-Rock, Chris Rock has been able to maintain his wealth by making a lot more money than he loses.