A young actor with stellar credits in the entertainment industry, Jared Sandler's many talents speaks volumes for him. His journey to stardom began as a kid in the late 1990s and he has not looked back since then. Jared may not have gotten to the peak of his career yet but he has clearly carved a niche for himself in the very competitive industry with his amazing talents. The actor literally grew up in the eyes of the public and his career endeavors may be an open book, but not much is known about his life offscreen. Here's an insight into this Sandler's family background.
Who Is Jared Sandler?
The Manchester, New Hampshire native is a trained thespian born on July 11, 1993. He began exhibiting inclinations from an early age and did not hesitate to pursue his passion right after high school at the University of Southern California's School of Dramatic Arts. Jared Sandler is perhaps not one of those stars who trod the rocky path to fame, thanks to his family background. He made his acting debut as a child actor in the 1999 movie Big Daddy. The success of the film established Jared as a budding star and also paved the way for more lucrative roles.
His other notable screen credits include The Benchwarmers (2006), That's My Boy (2012), Grownups 2 (2013), The Cobbler (2014), Blended (2014), Mall Paul Blart: Cop 2 (2015), Goosebumps (2015), The Ridiculous 6 (2015), The Do-Over (2016), and The Meyerowitz Stories (2017). He also featured in the 2018 Disney classic remake of The Little Mermaid. As a voice actor, Jared Sandler lent his voice in the 2015 hit animation, Hotel Transylvania 2 and on TV, he had a guest role in Shameless.
Is He Related to Adam Sandler?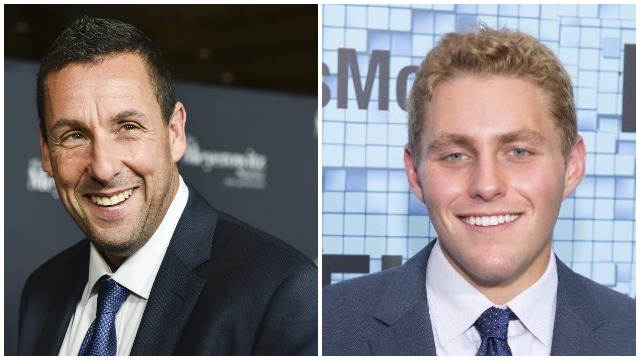 Given their surnames, it wouldn't be out of place for anyone to wonder if there is any biological connection between Jared Sandler and one of Hollywood's most endearing goofballs, Adam Sandler. In fact, a closer look at their faces will help one piece the dots together! The genes are strong and hereditary and it is no news that Adam is Jared's uncle. More than an inspiration, the older Sandler has also been very instrumental in helping his nephew find a footing in the competitive industry. Jared's screen credits with his uncle in several movies such as Big Daddy, Grown Ups 2, The Cobbler, Blended, The Ridiculous 6, and many more clearly confirm the obvious.
Jared Sandler's Parents and Family
The son of Scott and Denise Cohen Sandler, Jared has an interesting family background and an appealing cultural heritage. Jared Sandler is of mixed ethnicity with paternal Russian-Jewish roots and maternal roots that cut across European countries including Rome, Poland, Austria, Britain, Germany, and Israel.
See Also: Seth Rogen – Bio, Wife, Net Worth, Age, Height, Parents, Married, Kids
Other Facts About The Actor
Does Jared Sandler Have A Girlfriend?
Jared Sandler has maintained a low profile with his love life since he became a public figure. Though seemingly more focused on building his career, the actor reportedly has a girlfriend named Ashley. There is nothing much known to the public about the pair's relationship and they are presumed to be going strong together. Jared is not yet married and has no children for now.
The actor was exposed to the entertainment world early enough and he properly honed his art in improv, sketch comedy, and acting. As an entertainer, Jared Sandler also wears the cap of a comedian. Though his innate comic talents may not be known beyond New York and Los Angeles, Jared also earns a living as a stand-up comedian who performs on various tours and in comedy clubs or theaters around the country. In addition to opening for top comedians at shows, Sandler has also hosted some notable comedy shows in various cities including Las Vegas and New York City.
He Has Credits Behind The Camera
Jared Sandler has proven time and again that his talents are not just limited to the front of a camera. The multi-talented actor also has impressive credits behind the scenes. His most remarkable credit behind the camera is producing, directing, and screenwriting the 2015 short flick Samezies. While Jared may be looking to sell himself more in the industry with other brilliant ideas and talent, he is best known as an actor.

Jared is very active on social media. The actor updates his fans with details about his career as well as other varied interests on his Facebook, Instagram, and Twitter accounts where he has amassed a strong fanbase.

Sandler comes from a close-knit family. Away from work, he unwinds by spending quality time and vacationing with his family as well as his close friends. Jared also enjoys listening to music in his leisure time.

Fact Check: We strive for accuracy and fairness. If you see something that needs updating,