This father and son have remained relevant in the industry for so many years and have not lost touch of what being a family should be like as they constantly stay in touch with each other and with other family members. Over the years, movie fans have been very fascinated by the affection both men have for each other. Also, there have been questions bothering around Josh and James Brolin's height, among other things. Well, we have gathered some facts about both men for your reading pleasure. Find out more about them below.
Josh and James Brolin's Height
The question of who is taller between Josh and James Brolin has been asked several times on the internet; is the father taller or shorter than the son? We will provide the answer presently.
Josh Brolin stands at 5 feet 10 inches (1.78 m). On the other hand, James Brolin stands at 6 feet 4 inches (1.93 m). Apparently, James is taller than his son Josh. The father has won this height battle over the son.
Read Also: Is Kevin Hart Taller Than Danny DeVito or Tom Cruise, How Tall is Kevin Hart?
How Josh and James Brolin Became Famous
The connection that Josh and James Brolin share today has become a symbol of what a father-son relationship should be like. James Brolin, a famous American movie star and his son, Josh Brolin, an equally famous American actor have been in the limelight for a long time. James' career stretches back to more than 5 decades ago while Josh has been in the business for about 3 decades.
Individually, both Josh and James Brolin are incredibly awesome actors who have made very long strides in their career so far. They are also both very charming, funny and admirable, winning millions of fans for themselves. This is why fans have become very curious about the relationship they share behind the scenes as father and son.
James Brolin whose birth name is actually Craig Kenneth Bruderlin was born on the 18th day of July in 1940. The actor born in Westwood Village, Los Angeles, California, was initially not interested in going into acting as he was more interested in animals and airplanes. In fact, by the time he was 10 years old, he had already started to build small planes and flying them around. After some time, he developed some love for acting and was particularly fascinated by Hollywood legend, James Dean.
James Brolin kick-started his acting career in 1961 with some appearances in Follow the Sun, a TV series. He followed up with incredible performances in top-rated movies and TV series that shook the world and established him as one of the most exciting stars of his generation. Some of these moves and series include Westworld in 1973, The Amityville Horror in 1979, and Traffic in 2000. In recognition of his awesome works, he has been awarded two Golden Globes and one Emmy award.
James married his first wife, Jane Cameron Agee, an aspiring actress and a wildlife activist in 1966. The marriage lasted till 1984 during which the couple had two sons together; Josh and Jess Brolin. They eventually divorced in 1984.
Josh Brolin was born Joshua James Brolin on February 12, 1968, in Santa Monica, California. Even though he was born to a father who was already an established movie star and a mother who was an aspiring actress, Josh initially did not want to make a career out of acting. He once told his father that he never want to have anything to do with Hollywood. However, things changed when he decided to take acting classes in college just to see how it felt. He consequently found acting quite interesting and decided to give it a shot.
Josh Brolin kick-started his acting career in 1985 with appearances in The Goonies, an adventure comedy film. He went on to star in other high-budget blockbuster movies and TV series including Mimic in 1997, Grindhouse in 2007, American Gangster in 2007 and Men in Black 3 in 2012, among many others. He also starred in The Avengers superhero movie series as the supervillain, Thanos. This role made him internationally famous among superhero movie fans.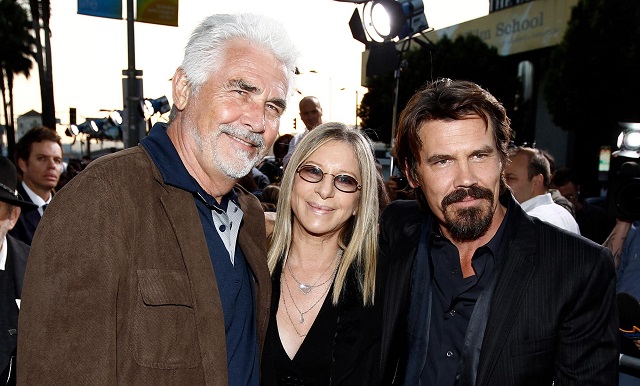 Apparently, both Josh and James Brolin have found immense success as Hollywood actors and have not rested on their oars since they started out in the movie industry. This has led to fans making comparisons between father and son. One of these comparisons is the difference in their heights. So, who is taller between Josh and James Brolin?