Actor Graham Patrick Martin is one of the many celebrities who found their place in the television and movie industry in their teenage years. With support from his parents, the Louisiana native received the basic acting training he needed to launch into the debt of his career. Today, we cannot but count him among the celebrated young actors who are making huge progress in the industry.
With appearances in TV series such as Two and a Half Men and Major Crimes where his talent did not go unnoticed, Graham Patrick Martin has taken more roles that are generally considered as controversial or dicey, which is why he has become a director's favorite.
Graham Patrick Martin Biography
Graham Patrick Martin was born in Thibodaux, Louisiana, USA and his birth date is November 14, 1991. He grew up alongside his three siblings who he shared a love for acting with and inspired him to pick it up as a career. He lived his early years in Louisiana before his family moved to New York City where he began his studies.
Looking at his educational background, the young American actor attended Fiorello H. LaGuardia High School where he not only got his basic education but also made his first attempt towards achieving his dreams as an actor. After high school, Martin went with his siblings to a performing arts summer camp called French Woods. In addition to drawing his inspiration from his siblings, Graham Patrick Martin saw the American actor and multi-award winner, Leonardo DiCaprio as his main influence to begin acting.
What To Know About His Family  
The Louisiana kid has not revealed much information about his family and that is why details about his parents cannot be found. However, we know of his two male siblings and one female sibling that influenced him into acting. Graham Patrick Martin is also not yet married but he appears to be in a serious relationship with a woman named Ginny Gardner, his girlfriend since 2010.
Is He Gay?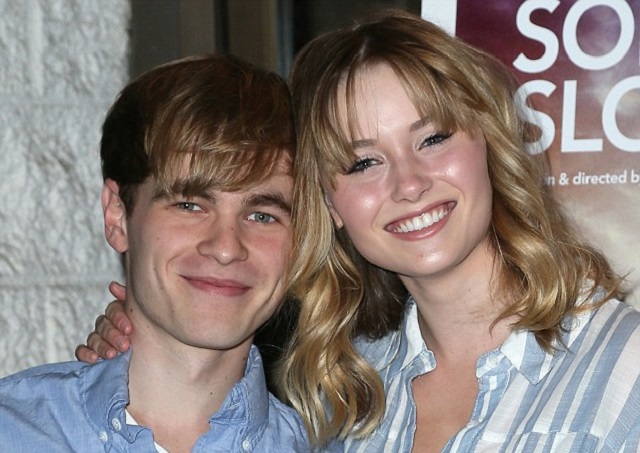 Graham Patrick Martin is a talented actor, a versatile one at that. He is the kind who is willing and ready to play any role given to him. But as it is often the case with those in the acting field who are often being judged by the role they play, the Califonia actor finds himself compelled to answer questions about his sexuality following his role in James Duff's Major Crimes. 
Martin acted as gay teen Russell "Rusty" in the TNT series which is where he kissed a male actor. The actor revealed he had an awesome experience playing the role, however, he did not openly identify as gay.
As mentioned above, the young actor has been involved in relationships with the opposite sex. His first recorded relationship was with actress Jennette McCurdy. The two started dating in 2004 and their relationship lasted until 2008. Two years after he separated from McCurdy, he got into a relationship with Ginny Gardner and the two have been together ever since.
Other Facts About Graham Patrick Martin
1. He Started Acting at the Age of 8
Martin auditioned for his first play when he was 8 years old and was subsequently cast in his first musical The King and I. He went on to make his television acting debut in 2006 when he debuted as Benjamin Price in a single episode of the police procedural drama series, Law & Order: Criminal Intent. His performance in the series earned him his first main role in the TV series The Bill Engvall Show which aired from 2007 to 2009. He also appeared as Willie Chandler, Jr. in The Girl Next Door, a movie that was released the same year.
Martin's first major breakthrough as an actor came with his role as Trent Pearson in the sitcom The Bill Engvall Show. It was after his role in the series that he began to gain more important roles in many movies and TV series, including Rising Stars, Two and a Half Men, Good Luck Charlie, Major Crimes, The Anna Nicole Story, and Bukowski to name a few. 
2. Net Worth
Having played a good number of main roles in both television series and movies, there is no doubt that the young American actor has garnered a lot for himself as net worth. Martin has a net worth of $4 million, thanks to his successful acting career. Following his performance in the industry, there is also no doubt that the young actor is aiming for the best in his career.
3. Body Measurements
Graham Patrick Martin is quite a handsome and vibrant young man. His physical appearance which is being complemented by his strong acting skill makes him a point of attraction even though he regards himself as a small guy. The actor is 5 feet 7 inches tall. His weight and other body measurements are not known.
See Also: Josh Brener- Bio, Wife, Parents, Height, Other Facts About The Actor
4. Social Media Presence
Of course, Graham Martin is a popular actor and that's why his fans follow him on various social media platforms. On Instagram, he has about 14k followers while on Twitter he is followed by over 11k fans.