Apparently one of the most famous American comedians in the world at the moment, Kevin Hart is one comic star who has caused a lot of buzz in the world of comedy. He has been described as one of the hottest properties in the comedy business and has stunned fans world over with his incredible performances in standup comedy sessions and shows. A versatile person, he is also an actor who has starred in so many movies, mesmerizing movie lovers with his acting prowess.
Now, one thing that has always caught attention about the comedian is his height and one of the most frequently asked questions about him is how tall is Kevin Hart?. This is mainly because he looks quite short and is often dwarfed by other celebrities when he appears on the red carpet with them. So, really, how tall is the funnyman? Is he taller than popular actors like Danny DeVito and Tom Cruise? Allow us to tell you all about Kevin Hart.
His Early Life and Background Details 
Kevin Hart was born on July 6, 1979, in Philadelphia, the largest city in the state of Pennsylvania, USA. Although he is now a very rich man who is known globally for his humor, Hart was not always this well-to-do. In fact, according to reports, he was born into a poor home and raised by a single mother identified as Nancy Hart. He grew up with a brother called Robert and the two have shared a close bond ever since.
Hart's father identified as Henry Witherspoon was reportedly a cocaine addict who was often having run-ins with the law and was in and out of jail throughout most of Kevin Hart's childhood. Sources revealed that Hart, who had quite a bleak childhood, often used humor as a way to cope with his troubled family life.
Growing up, he attended George Washington High School then briefly attended the Community College of Philadelphia before he moved to New York to find greener pastures. Soon after, he started working as a shoe salesman in Massachusetts.
After developing a passion for comedy, Kevin Hart eventually kick-started his career by taking part in different amateur competitions and actually won many of them. His exploits caught the attention and he was eventually cast in the sitcom Undeclared. He played his role so well that he soon began to appear in other films including Soul Plane and Little Fockers and many others.
With his appearance in these movies, his reputation as a funnyman grew and he soon began to perform in stand-up comedies, eventually releasing his first stand-up album titled I'm a Grown Little Man to wide acclaim. He has also released four more comedy albums so far, establishing himself as one of the most entertaining comedians in America and winning the admiration of people from around the world. He has even been named among the 100 most influential people in the world by Time Magazine.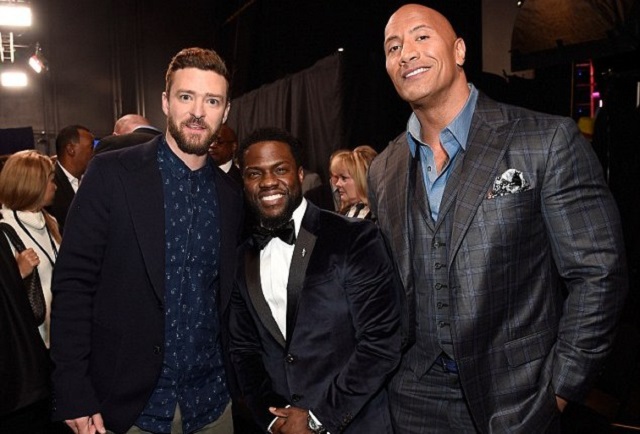 How Tall is Kevin Hart Really?
Like we have mentioned, one of the most frequently asked questions about this comedian is what is Kevin Hart's height? This is because he is noticeably small in stature and fans are curious to know just how tall he is and if he is taller than some of his colleagues.
Kevin Hart stands at 5 feet 4 inches or 1.63 m in height. At this height, it is apparent, the actor and comedian is not a tall man but makes up for what he lost in height with his creativity and immense comedic talent. He is also reported to maintain a weight of about 64 kg.
Read Also: Top 10 Highest Paid Comedians In The World
Is Kevin Hart Taller Than Danny DeVito and Tom Cruise?
Because Kevin Hart is quite a short man, fans have often compared him to Danny DeVito, another American actor who is also on the short side. DeVito stands at 4 feet 10 inches in height. Like we have mentioned, Hart stands at 5 feet 4 inches, so the comedian is apparently taller than DeVito.
Another celebrity who has been compared to Kevin Hart in terms of height is Tom Cruise, a popular American actor who is regarded as one of the most successful Hollywood stars of his generation. Cruise stands at 5 feet 7 inches in height which makes him taller than Kevin Hart who is 5 feet 4 inches tall.