As far as filmmakers come in Hollywood, Ron Howard holds a high place among them in the American entertainment industry. The actor/filmmaker has been in the industry for more than 60 years, during which he has produced works like Apollo 13, and A Beautiful Mind, and appeared in more than 80 movies and TV shows as an actor. For all we know about Ron Howard's work as a filmmaker, less is known about his personal life, whether he is gay, married, and other details about his family.
In this article, we took a look at the personal life of the filmmaker, and answer all you need to know about his life beyond the camera.
Is Ron Howard Gay?
No, Ron Howard is not gay. As far as we know and have learned about the filmmaker, the University of Southern California graduate is a straight man who has been in a heterosexual relationship for the better of his life.
When it comes to his past relationships, not much is known, but he has been married since 1975, to Cheryl Alley, in one of the longest marriages in Hollywood. Since they got married on the 7th of June 1975, Ron Howard and his wife, Cheryl, have given birth to four children, which include Paige Howard and Bryce Dallas Howard.
While he might not be gay, Ron Howard, who is known to support gay rights, has faced criticism for his behavior towards members of the gay community, specifically for a line in his film The Dilemma in 2010. In the movie, a character, played by Vine Vaughn, uses the word 'gay' derogatorily about an electric car.
The presence of the joke in the film spurred criticism from GLAAD, an organization dedicated to fighting for the rights of members of the LGBTQ community. In defense of himself, Ron Howard insisted that the joke was written as an expression of the character, and it does not represent his views.
Who is His Wife?
Having established that Ron Howard isn't gay, here is a quick look at his wife. His wife is Cheryl Alley, who was born on the 23rd of December 1953 in Glendale, California. She is a graduate of geriatric psychology from California State University at Northridge. She also has a master's degree in screenwriting.
As a writer, she has a published book, In the Face of Jinn, which was released in 2005. In addition to being a writer, Cheryl appears in minor roles across a number of her husband's works, and so far, has appeared in more than 15 movies and TV shows, including major titles like A Beautiful Mind, Ransom, and Apollo 13.
He met his wife when they were in high school. Their love story continued well into adulthood, and they have been together as a married couple for more than four decades, during which they have given birth to four children, three daughters – Bryce Dallas Howard (1981) and Jocelyn Carlye and Paige Howard, twin daughters who were born in 1985. Their last child, a son, Reed Cross Howard, was born in 1987.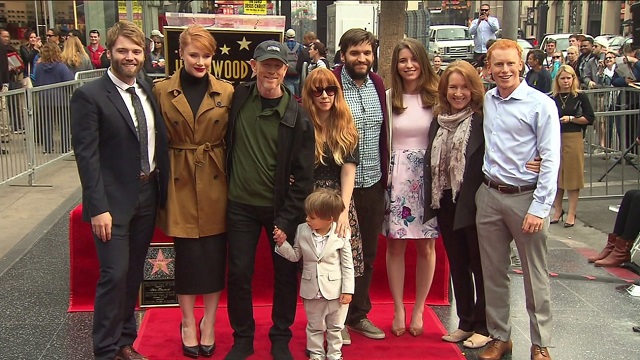 Ron Howard and his wife have both become grandparents to two children, Beatrice Jean Howard-Gabel and Theodore Norman Howard-Gabel, through their daughter, Bryce Dallas.
Who Are His Daughters?
Ron Howard has three daughters, Bryce Dallas, Paige, and Jocelyn Howard. Two of his daughters, Bryce and Paige Howard, have followed in his footsteps as actresses.
His most famous daughter is Bryce Dallas Howard, who has appeared in more than 35 movies and TV shows, including lead roles in major productions like the Jurassic World franchise, where she plays Claire Dearing. She also appeared in the films, Gold, Pete's Dragon, The Help, The Twilight Saga: Eclipse, and a few more. She has been nominated for several awards, including the Golden Globe Awards, Critics Choice Awards, and Hollywood Film Award.
Ron Howard's second daughter, Paige Howard, has had a comparatively less busy career so far. She has credits in just over ten movies and TV shows, and her most notable credit is a guest episode appearance in the show, 90210. Other appearances include The Employer, Cheesecake Casserole, and more.
Paige Howard's twin sister and Ron Howard's third daughter, Jocelyn Howard, works outside of the spotlight. Although she has one credit to her name, a guest appearance in an episode of Arrested Development, she is not an actress, and her exact profession is unknown.
An interesting fact about the filmmaker's daughters is their middle names were chosen based on the couple's location.