Before she became a well-known and well-loved actress she is today, Vanessa Ferlito used to be a Wilhelmina model. But after getting her first role in 2001, she hasn't even looked back once. Born in Brooklyn, New York, Ferlito has over 20 different acting credits spread over the small and big screen in her name. With her acting skills and versatility, it's not hard to imagine a lot of eyes getting drawn towards the actress. And while a lot of celebrities would revel in the attention, Ferlito has chosen instead to keep a low profile, letting her acting do most of the limelight grabbing instead. From relationship rumors to her career accolades, here is what you should know about Vanessa Ferlito.
Vanessa Ferlito's Career As An Actress
Having the passion to become an actress quite early in her life, Vanessa Ferlito made her way in the movie industry by bagging several recurring and guest roles. Her debut was in 2001 when she appeared in an episode of The Sopranos. This was followed by a guest appearance in Third Watch and Law & Order. By 2002, she got her first movie credit in the drama movie On Line, where she starred as online adult internet star Jordan Nash. Ferlito followed this up with 25th Hour, a movie also starring Edward Norton and Rosario Dawson.
Anyone who has watched the John Leguizamo-directed movie Undefeated might recognize who Leguizamo's partner in the movie was. It was none other than Vanessa Ferlito, and her role in the movie earned her an NAACP nomination for Outstanding Actress in a TV movie. Not a bad way at all to let the world know how good you aim to be, especially as this was her third movie credit. This breakthrough role would bring her to the center of more acting roles to come.
From 2003 onwards, Ferlito began getting steady work in both the big and small screens. From '03 – '04 she starred in the recurring role of Claudia Hernandez on 11 episodes of the action drama TV series 24; starring Kiefer Sutherland in the lead role of Jack Bauer. Despite producers urging her to remain a little longer with the series, Vanessa Ferlito chose instead to leave the cast of 24 and give herself to other roles. Her next TV role came as guest character Detective Aiden Burn in an episode of CSI: Miami. Ferlito later reprised the role for CSI: NY, becoming part of the main cast for the series' first season. By the second, her appearances were a little more sporadic. By the end of season two, she had left the series.
On why she decided to leave, just like she did with 24, Ferlito remarked that she preferred to do more movies rather than TV series. In 2004, she was in the movies Spider-Man 2 and The Tollbooth. The following year saw her in the movies Man of the House and Shadowboxer—with Helen Mirren and Cuba Gooding Jr. Over the years, Vanessa Ferlito accepted more movie roles, appearing in movies like Quentin Tarantino's Death Proof (2007)—Tarantino wrote the role of Arlene 'Butterfly' specifically for her, Nothing like the Holidays (2008), Tyler Perry's Madea Goes to Jail (2009), Wall Street: Money Never Sleeps (2010), Stand Up Guys (2012)—where she was cast alongside Al Pacino, Christopher Walken, and Alan Arkin, and All Mistakes Buried (2015).
Vanessa Ferlito didn't stay away from the small screen for long though. In 2013, she was cast in the role of Catherine 'Charlie' DeMarco in the USA Network drama series Graceland, appearing for all of the series' three seasons (which comprised 38 episodes) that ran from June 2013 until October 2015. After the third season, USA Network canceled the series. By 2016, she returned for another major TV series role as FBI Special Agent Tammy Gregorio in the third season of NCIS: New Orleans and has reprised the role in the series since. This is the role most TV series fans would know Vanessa Ferlito for and she has become an all-time fan favorite.
Here's What We Know About Her Sexual Orientation
2013 was a big year, relationship-wise, as same-sex marriage bans were lifted nationwide in the USA. With the new acceptance of same-sex relationships, a lot of celebrities took the opportunity to come out of the closet and declare their status to the public, mostly via social media. While some voiced out their views against such relationships, others poured out their support.
Following Ferlito's debut as Tammy Gregorio in NCIS: New Orleans in 2016, it was revealed much later in the season that Gregorio was a lesbian who had been in a relationship with the Assistant U.S. Attorney Hannah Lee. Many viewers looked at this as a way for Vanessa Ferlito to come out as a lesbian, and the rumors began circulating that her NCIS role was a way for her to come out. Ferlito debunked the rumors though and has stated that the role she was given was just a role for the series and didn't translate to who she was in real life.
What Do We Know About the Actress's Relationship Status?
Of course, fans all around wouldn't just stop at her sexual orientation. What about her partner? Is she dating anyone? Or is she even married? These are questions fans have poised all over the internet. Despite her appearances on TV screens (one time being an adult internet star, another time being a detective), Vanessa Ferlito has chosen to be quite discreet when it comes to her love life.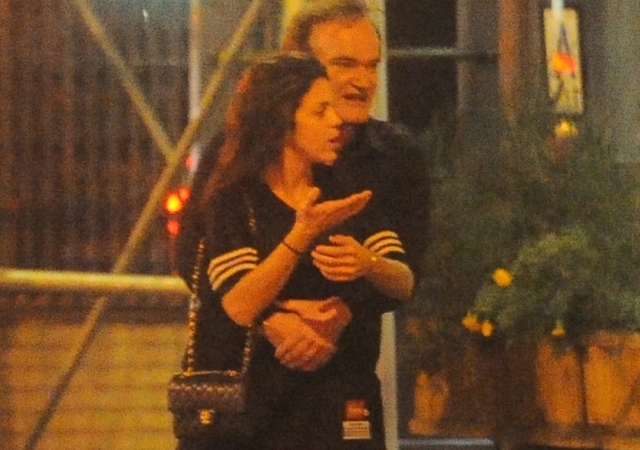 There were rumors way back in 2007 that Ferlito and Quentin Tarantino were together in a relationship. This happened after she appeared in Tarantino's movie, Death Proof. After the movie's release, Ferlito and Tarantino were spotted on a date having dinner at a Manhattan restaurant. They were spotted sharing intimate hugs and long conversations before they parted ways, and this drove many to imagine that the two were dating. Neither person refuted the rumors, but seeing as there wasn't much mingling afterward it's safe to say they weren't in a relationship.
See Also: Angelina Jolie Age, Cancer, Tattoos, Dad, Mother, Daughter, Height, Wealth
Does Vanessa Ferlito Have Any Kids?
With Vanessa Ferlito deciding to keep her personal life private, you can imagine how much it surprised both her fans and the entertainment industry when she was spotted with a baby bump back in 2007. Pictures began circulating showing Ferlito pregnant, but not once did she say anything about it to the press or via her social media. By September of the same year, she gave birth to her son, whom she named Vince. As is her established way, Ferlito still hasn't said anything about the pregnancy, neither has she revealed who the father of the baby is.
She makes it a point to distance herself from questions and discussions relating to her son or his father in interviews, instead choosing to talk about the kind of mother she has been for her son. She has remarked that she's quite obsessed with her son, breastfeeding him until he was two years old. She would pump her milk overnight and have a driver get it to her son while she was on production sets working.