Ever since she got her breakthrough in Nickelodeon's Victorious, Victoria Justice has had a mixed bag of success post-Nickelodeon. While she is yet to become a massive star on the big screen, the actress has found success in several small projects that have helped her acquire a modest net worth. Her post-Nickelodeon work has primarily been on TV, where she has appeared in several episodes of shows.
In this article, we take a look at the net worth of the former Zoey 101 actress. Also find details like how much she makes per episode and how her career as an actress has contributed to her net worth.
Victoria Justice's Net Worth
After more than 15 years working as an actress, Victoria Justice has been able to amass a total net worth of $10 million.
The actress has earned more than 80% of her net worth via acting, with other endeavors like music and modeling, contributing to the rest of her wealth.
Compared to other actresses in her age bracket, particularly Victorious co-stars like Ariana Grande ($45 million) and Elizabeth Gillies ($3 million), Victoria Justice is not doing too badly for herself.
Here is a closer look at how she made her $10 million net worth.
How Much Does Victoria Justice Make From Movies And TV Shows?
As mentioned earlier, Victoria's wealth primarily comes from her career as an actress, with music and modeling serving as little but significant contributors.
She began her acting career in 2003 when she guest-starred in an episode of Gilmore Girls. Her income for the role was small, but it was the launch of her career. After two years without a role to her name, her career picked up steam on the Nickelodeon show, Zoey 101, where she played Lola Martinez, between 2005 and 2008, across 47 episodes.
Zoey 101 represented the first significant financial windfall for her. In 2005, Victoria Justice got further boost to her net worth with appearances in several other projects like The Suite Life of Zack & Cody, Mary, Silver Bells, and When Do We Eat?
During her time on Zoey 101, Justice continued to rack up the cash with appearances in other works like Everwood, The Garden, and Unknown.
After she left the show, she guest-starred in works like True Jackson, VP, iCarly, Spectacular! and a few others. In 2010, Victoria Justice got the second significant boost to her net worth when she was cast as Tori Vega in Victorious. She played the role between 2010 and 2013, appearing in a total of 56 episodes and earned an estimated $12,000 per episode.
In addition to her salary earnings on the show, she also earned money via her contribution to the show's soundtrack, which included more than ten songs and five albums.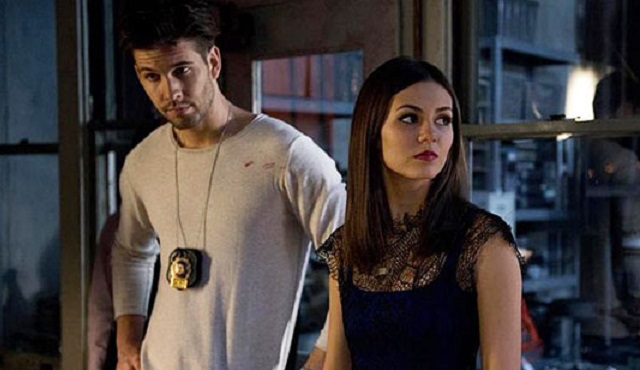 Post-Victorious, Victoria Justice has continued to rake in cash via appearances in different films and TV shows, most especially TV shows. Although she hasn't reached the height of fellow Victorious alum, Ariana Grande, she has appeared in more than 13 films and TV shows, earning up to $50,000 per episode.
Her major appearances can be seen in Eye Candy, The Outcasts, Bigger, Queen America, Naomi and Ely's No Kiss List, and several more.
So far, Victoria Justice's $10 million net worth has come from more than 45 movies and TV shows.
Other Income Channels
Along with acting, Victoria Justice, who is still beloved by many teenagers who watched her on Victorious, has leveraged on that influence to model for several brands.
She has modeled for Guess, Gap, Guess, Peanut Butter Toast Crunch, Ovaltine, and more. She has also modeled for magazines such as LeFair Magazine and Kode Magazine.
Just as well, with more than 17.5 million followers on Instagram, she has made sponsored posts, from brands looking to take advantage of her social media influence.
In music, Victoria Justice has earned money from a discography with more than fifteen singles, two tours, and appearances in more than 20 music videos.
See Also: How Elizabeth Gillies Built Her Net Worth From Movies And TV Shows
How Does She Spend Her Money?
With a $10 million net worth, Victoria Justice is well-equipped to live a luxurious life and she has done just that. She owns a home in Encino Hills, California, where she lives with her parents. She bought the property in 2013. The house has amenities such as huge closets, a jacuzzi, and a swimming pool.
She also owns an apartment in Hollywood, California, and has spent some of her wealth on luxury cars like Range Rover.
She also spends on philanthropy. Victoria has worked with charity organizations like Girl Up and the United Nations Foundation.