An exposure to acting at a young age has made Elizabeth Gillies one of the most popular actresses among the current generation of film and TV viewers. She rose to stardom at a young age via Nickelodeon, where she starred in the popular Victorious series as Jade West. Elizabeth Gillies has built on her early introduction into the world of acting to amass a sizeable net worth from a lengthy and growing filmography.
Known for works like Dynasty and Sex & Drugs & Rock & Roll, Elizabeth Gillies is not just the best friend of Ariana Grande, but she is also a successful actress with the wealth to back it up.
In this article, we discuss how the Victorious actress built her net worth via movies and TV shows. Check it out below.
What Is Her Net Worth?
Before diving into how she made her sizeable net worth, it is essential to know what exactly it is. According to Celebrity Net Worth, the website known for tracking celebrity wealth, Elizabeth Gillies has a net worth of $3 million. While her net worth might pale beside some of the biggest actresses in the acting industry, she is well above the average wealth of her peers in other industries.
Her $3 million net worth has been earned over a decade of working as an actress. However, while movies and TV shows are leading contributors to her net worth, Gillies has also made money via other sources like social media and singing. Below is a closer look at how she achieved her $3 million wealth.
How She Made Her Money From Movies and TV Shows
Elizabeth Gillies started her career when she was 12 years of age. Aided by supporting parents, she began attending casting calls. She began earning money via acting gigs for TV commercials, including commercials for national brands like Virgin Mobile.
From commercials, she moved to television where she debuted onscreen in the show, The Black Donnellys. Although she only appeared in three episodes of the show, it was a notable milestone in her journey as an actress. In the same year, she also made her debut as a voice actress, in the film, Winx Club: The Secret of the Lost Kingdom.
While she was getting her onscreen career off the ground, with additional roles in other projects like Locker 514, and Harold, she expanded her resume to stage acting. She was cast as Lucy in the popular stage musical, 13, through which she made her stage debut.
Her exact salary for the musical is unknown, but it is believed her net worth was boosted considerably by the show, which ran for a year between 2008 and 2009.
Following the end of the play, she was cast as Jade West in the Nickelodeon show, Victorious. She appeared in the role between 2010 and 2013, earning an estimated $9,000 in salary per episode for 56 episodes. During her time on the show, Gillies appeared in other works like iCarly: iParty with Victorious, The Death and Return of Superman, Winx Club: Enchantix, White Collar, and more.
By the time on Victorious came to an end, Elizabeth, often referred to as Liz Gillies, not only increased in popularity but also in wealth. She had accumulated a lot in earnings throughout the show and other appearances in several projects.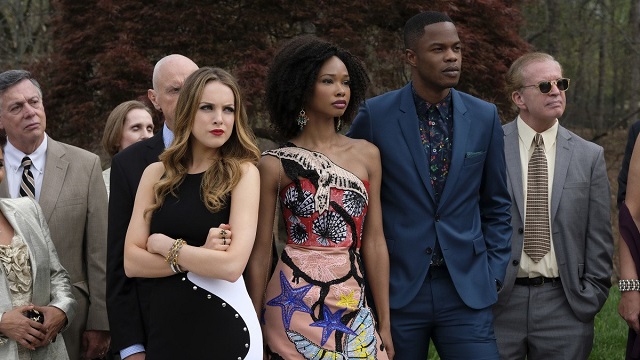 She continued in her journey to a $3 million net worth with further TV gigs like a continued voice role in Winx Club: Beyond Believix, Winx Club, guest appearances in The Exes, Sam & Cat, American Dad! and The Penguins of Madagascar.
Liz Gillies began appearing in her second significant role, as Fallon Carrington in Dynasty, in 2017. She has appeared in more than 50 episodes to date. Her exact salary is unknown, but she is estimated to earn up to $300,000 in yearly salary, since she began appearing on the show, with the show as a significant contributor.
In film, she has a more modest list of appearances compared to television. She has appeared in Arizona, Vacation, Animal, and Killing Daddy, all of which have helped Elizabeth Gillies to a $3 million net worth.
In all, the actress has appeared in more than 25 movies and TV shows since she began her career as an actress.
Other Sources of Income
Aside from film and TV, Elizabeth Gillies has made a part of her net worth via social media and singing. As a singer, she has multiple soundtracks to her name, as well as features in regular songs, such as Santa Baby, where Ariana Grande featured her.
See Also: What Are Olivia Holt Movies and TV Shows & How Much Is Her Net Worth? 
In social media, she has a YouTube channel, where she has more than 220,000 subscribers and more than eight million views. She also makes a substantial amount via her Instagram through sponsored posts, where she has more than 8.4 million followers.