Patricia Heaton found fame in the 1990s following her role in the critically acclaimed comedy series Everybody Loves Raymond, in which she portrays Debra Barone. Since then, Heaton's career has grown and interest in her personal life has increased, with thousands of fans searching for details about her husband and rumored daughter.
In the many years she has been active in the industry, the talented actress has featured in over two dozen productions across the big and small screen. Some of her notable appearances are in Thirtysomething, Room for Two, Women of the House, Back to You, Patricia Heaton Parties, Carol's Second Act, Small Foot, The Star, Mom's Night Out, and Everybody Loves Raymond. The latter earned her two Primetime Emmys and a Screen Actors Guild Awards, thanks to her outstanding performances in the sitcom.
In recent times, she has gained attention for her lead role as Frankie Heck, a struggling mom who tries to balance work and raising her family in the ABC comedy, The Middle. Here are the things to know about Patricia Heaton's husband, her supposed daughter, and what she has been up to.
David Hunt Isn't Patricia Heaton's First Husband
In her personal and professional life, Patricia Heaton has had an enviable run. She got married to the love of her life David Hunt in 1990, and they are still living happily together to date. Like her, David Hunt is an actor, as well as a director and producer. The two are always gushing about each other and are still smitten even after 29 years of marriage.
Patricia and her husband own a production company together called FourBoys Entertainment. They have also collaborated on several on-screen projects such as The Bituminous Coal Queens of Pennsylvania, an award-winning documentary released in 2005.
Although not something many people know, David Hunt is Patricia Heaton's second husband. Before he came along, the actress had been with her first husband, Constantine Charles Yankoglu. Like her current spouse, Yankoglu is also an actor. Born in February 1952, Patricia Heaton's ex-husband is almost four years older than her. A native of Fayette, Yankoglu lived a substantial part of his life in Kentucky, before moving to New York where they got married.
Though details such as when they met or how long they dated are not available, we know the two got married in 1984. Unfortunately, for reasons best known to them, their marriage had to come to an end in 1987. Interestingly, Yankoglu's only known role was in Eight Men Out, a historical drama film released in 1988. Patricia Heaton's marriage to her first husband was, however, annulled in 2017, following her return to the Catholic faith.
The Actress Is A Mother To Four Sons
For a long time, there have been rumors that Patricia Heaton has a daughter. No one knows how the rumor came to be. Perhaps it started from an interview taken out of context. However, this is nothing but an unfounded rumor.
The actress does not have a daughter. Not with her ex Yankoglu nor with her longtime husband, David Hunt. The truth is she is the mother to four kids, all of whom are boys. Their sons are named Samuel, Joseph, John, and Daniel.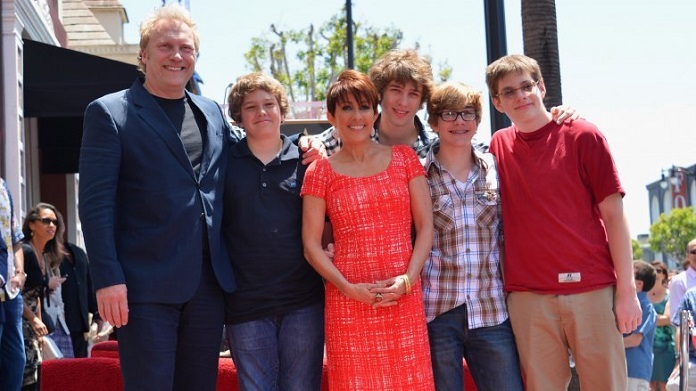 Their eldest son Samuel David was born in 1993, and the last Daniel Patrick was born in 1999. John and Joseph came in 1995 and 1997, respectively. Patricia and her husband's production company (FourBoys Entertainment) is named after their sons.
How Patrica Balances Work with Family Life
Despite the hurdles of Hollywood, Patricia Heaton has been balancing her career with being a fine wife and mother of four grown children. Like the actress rightly said during an interview, being a mom on TV is very different from the real-life version.
In addition to her real-life experience, the actress has taken a mom role in three long-running sitcoms at different stages of her life. If there is anyone who knows what if feels like to be a mother in both worlds, it would be Patricia Heaton. While comparing the two roles, the actress reiterated how eventful motherhood is in real life. But no matter how busy she got with work or her kids, the actress said she never compromises spending quality time with her husband either.
According to the actress, she gathers with her husband and their four kids to watch game shows like Jeopardy! and Wheel of Fortune every night. She does not fail to share heartwarming pictures of herself and her husband on her social media pages as well. In all, Patricia is working hard to keep her family flourishing. Her happy family notwithstanding, Patricia Heaton has clearly stated that she does not intend to retire anytime soon. Though she has been a constant fixture on-screen since she was 32, the actress who feels like a late bloomer still has a lot of opportunities to explore.
Thankfully, all of her kids were born in the 90s, and she and her husband are pretty much empty nesters now, giving both of them enough time to focus on their career goals.
See Also: Who Is Patricia Azarcoya Schneider and What is Her Relationship With Rob Schneider?
A Look At Patricia Heaton's Recent Projects
Heaton has been out doing what she does best. She has been working on yet another milestone in her career, her third sitcom role. Carol's Second Act which premiered in September 2019 stars the actress as its 50-year-old eponymous character, Carol Kenney. In it, she plays a divorced mom who works as a medical intern with people half her age. Under their FourBoys Entertainment banner, Patricia Heaton and her husband are the executive producers of the comedy along with the show's co-creators, Emily Halpern and Sarah Haskins.
Before Carol's Second Act, Patricia joined Zendaya, Channing Tatum, LeBron James, and other stars in the 2018 animated musical film Smallfoot. The hit comedy musical was Heaton's second voice role after The Star.
Based on her current trajectory, we can expect to see more of Patricia on our screens. As for her personal life, nothing much has changed. She is still a vocal pro-life social advocate, a staunch enthusiast of feminism, and international charity organizations.
Her family life appears to be going smoothly too and she is quite active on social media. On Twitter and Instagram (@PatriciaHeaton), Patricia Heaton shares insight into her life with her husband, family, acting, and her catholic faith.