Either through his appearances on the ABC show, Brothers & Sisters or Space's Killjoys or through his relationship with Prison Break actor, Wentworth Miller, regardless of how you may have come to know Luke Macfarlane, one thing rings true – he is a talented actor who has had a moderately successful career.
He has been in the industry since 2003 and in that time, he has played many characters and has been a heartthrob to Hallmark Movie followers through his appearances in a series of films for the channel.
The Canadian actor is also an experienced stage actor and you can learn more about this and other interesting information about him by reading below.
Who Is Luke Macfarlane?
Luke Macfarlane was born in London, Ontario on the 19th of January, 1980 as one half of a pair of twins to Thomas and Penny Macfarlane. Both of his parents worked in the medical sector, with his father working in hospital administration while his mother is a mental health nurse.
His basic education ended at London Central Secondary School before he proceeded to Lester B. Pearson School for the Arts where he continued an interest he had developed in the arts as a young child. Admission into the prestigious art school, Juilliard in New York City led to the focus on Drama that eventually birthed a career as an actor.
His life as an actor began on stage in December 2003 when he was cast in the play, Juvenilia. His role in the play was the first of several other stage roles he would play before he made a primary switch to onscreen roles; this includes appearances in plays like Where Do We Live, The Busy World and a couple of others.
Luke Macfarlane's onscreen debut was in the film, Kinsey in 2004, where he played the character, Bruce Kinsey. In the same year, he made his first appearance in a TV show as Stuart DeBarge, a recurring character on Tanner on Tanner. Luke further established himself as an onscreen actor with a role in the TV show, Over There where he played Pvt. Frank Dumphy.
Over the course of his career thus far, he has made appearances on other TV shows and several in TV movies, particularly for Hallmark Channel with films like The Mistletoe Promise, Christmas Land and a couple more.
His most popular roles, however, came in 2006 and 2015 when he began to appear as Scotty Wandell in Brothers & Sisters and in Killjoys as RAC Agent D'avin Jaqobis, respectively.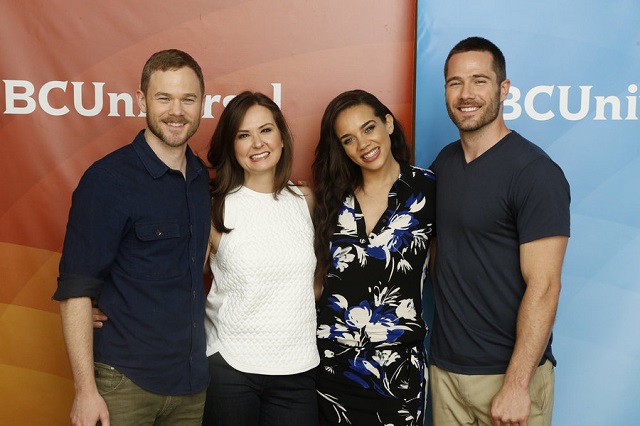 Outside of acting, Luke Macfarlane is also a singer who is also the songwriter for the band, Fellow Nameless.
Is He Gay?
Hollywood has many flaws but one thing it gets credit for is its progressive nature, relative to other sectors of the American economy and that has reflected in the abundance of gay and bisexual in its industry, one of whom is Luke Macfarlane.
Like every interesting information in Hollywood, rumors of him being gay had been in circulation before he came out officially in 2008 during an interview with The Globe and Mail. Since he came out, Luke Macfarlane has been a proud member of the gay community and has supported fights for LGBTQ rights.
What is His Relationship With Wentworth Miller?
Since he came out, Luke Macfarlane has been linked with a host of partners, several of them being fellow actors. Just like his straight counterparts, some of the rumors have turned out to be true and some have turned out to be false.
However, one of the true stories is his relationship with Wentworth Miller. The gossip tabloid, Perez Hilton once revealed that Wentworth Miller, the Prison Break and Legends of Tomorrow actor, who at the time, had not publicly come out as a gay man, was in a relationship with Luke Macfarlane. The two reportedly dated for six months before their relationship ended ceremoniously. Since the relationship ended, Luke Macfarlane has been involved with another actor, Chad Silvenski.
See Also: Jordan Loughran – Biography, Age, Facts About The British Film Actor
What Is Luke Macfarlane's Height?
Gay men being good looking and having a well-groomed physical look might be a stereotype but it is one that Luke Macfarlane fits into squarely. The Night Shift actor has a height of 6 feet 2 inches with a bodyweight of 77kg. He has a fit body that shows a dedication to regular exercise and gym work. Additionally, he has noticeable features like dark brown hair and blue colored eyes.

Fact Check: We strive for accuracy and fairness. If you see something that needs updating,