Emmy Awards, Critics Choice Television Awards, SAG Awards and the Hollywood Walk of Fame are just some of the few reasons why Patricia Heaton is an icon of the American entertainment industry. Notable works like Everybody loves Raymond, Space Jam, and The Middle have been some of the contributing factors to Patricia Heaton's iconic status as well as substantial net worth.
The actress may not be topping any rich list anytime soon, but she has made enough in over three decades as an actress to maintain a comfortable financial life.
We took a look at Patricia Heaton's net worth, particularly after she starred in one of her major roles as Frances Heck in The Middle. Check it out below.
What is Patricia Heaton's Net Worth?
Patricia Heaton has a net worth of $40 million. She accumulated the significant net worth over the course of a career that began in 1987 and has seen her appear in over 30 movies and TV shows, a couple of which have been long-running roles in sitcoms and dramas.
Roles in shows like Room for Two, where she played Jill Kurland between 1992 and 1993 were one of the contributors to her net worth at the early periods of her career. Another was her role as Natalie Hollingsworth in Women of the House and a slew of one-off appearances in feature films, TV movies, and TV shows.
Between 1996 and 2005, she played Debra Barone on the show, Everybody Loves Raymond. She appeared in 210 episodes of the show, and she is believed to have earned north of $6 million during her time on the show.
Aside from her huge earnings from the show, she also won seven Primetime Emmy nominations for her role on the show, winning two of them.
Off-screen, Patricia's net worth has also come through appearances in stage plays like The Scene.
Other than her work as an actress, which with a filmography of over 30 movies and TV shows, is believed to have contributed over 70% of her net worth, she has also accumulated her net worth through non-acting roles such as brand endorsement and host of the show, Patricia Heaton Parties.
Patricia Heaton has earned substantially from endorsing grocery chain brands like Acme, Jewel and Shaw's. She has also endorsed and appeared in advertisements for the hair care brand, Pantene.
As a host, Patricia Heaton's net worth got a significant boost through the show, Patricia Heaton Parties, a cooking show on the Food Network. Although the show only ran for a season, the show's popularity and brilliance fetched her a Daytime Emmy Award for Outstanding Culinary Program.
Patricia Heaton's Net Worth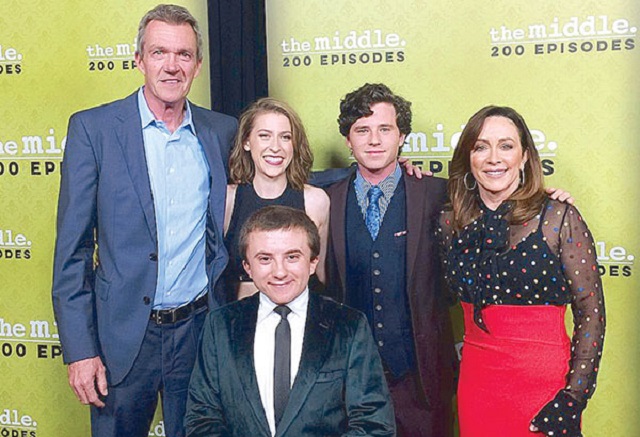 Although we know that Patricia Heaton has built a considerable net worth before she began to play Frankie Heck in The Middle, we know she had developed a reputation as being one of the funniest women on television, a fact that was solidified in 2011 when she was ranked 24th on the TV Guide Network list of the Funniest Women on TV.
Such a reputation was integral in helping her secure a significant amount of salary per episode on The Middle, estimated at $235,000.
With a total appearance in 215 episodes on the show between 2009 and 2018, it is estimated that Patricia Heaton earned an estimated $50.5 million throughout her time on the show.
Even though not every single penny of the $50.5 million is expected to go into her pockets, with taxes, agents and managers taking their respective cut, it is still believed that the greater percentage of Patricia Heaton's net worth of $40 million has come through her appearance on the show.
See Also: Alice Eve: 10 Things To Know About The Replicas Actress
Other Facts About The Middle Actress
She received her star on the Hollywood Walk of Fame on the 22nd of May, 2012.
Patricia has been married twice. Her marriage to her first husband was annulled by the Catholic Church. Her second marriage to David Hunt, the British actor, and director began in 1990 and they have remained together ever since. They have four children together, all of whom are boys and they live in Los Angeles and Cambridge, England.
Patricia Heaton is a published author. Her book, Motherhood, and Hollywood: How to Get a Job Like Mine, which is her memoir, was published in 2002.
She has had a couple of plastic surgeries, including a tummy tuck and breast reduction.