When a famous couple breaks up, fans are often left heartbroken and wondering what will become of each party thereafter. Oscar-winning actors Angelina Jolie and Brad Pitt's relationship was no different. One of Hollywood's most celebrated actresses, Angelina Jolie's life on and offscreen have undoubtedly been entertaining. On the other hand, Hollywood hunk, Brad Pitt who is one of the most bankable stars in the industry is also no less of an entertainer.
Together, the actors became a brand whose teeming fans fondly dubbed 'Brangelina' and were considered pop culture royalty. From the get-go, the Brangelina romance was filled with speculation, fascination, and hysteria. Their every move was scrutinized by the media and made several magazines and tabloids explode across the globe. Not only did Pitt and Jolie grow to become a Hollywood power couple, but they also used their A-list status to their advantage. From advocating for good and charitable causes to promoting a TV show/film, they continue to wield this power when required.
The once golden couple so melted the hearts of many with their romance such that it has become difficult for some to actually decipher who is the more famous and successful star. Of course, there are lots of argument to be made on the issue but here are facts you need to know about Brangelina's financial portfolio since they called time on their marriage.
Who Is Angelina Jolie?
Born and bred in LA, Angelina Jolie is from a family of Hollywood stars. She is the daughter of veteran actor Jon Voight and actress Marcheline Bertrand, who died of ovarian cancer in 2007. Her brother James Haven is also an actor.
Jolie made her Hollywood debut in films like Cyborg 2 and Hackers. She was thrust to the limelight following her role as the sociopathic Lisa in the hit nineties film Girl, Interrupted which earned her an Oscar. But Angelina Jolie was catapulted to superstardom following her starring role as Lara Croft in the original Tomb Raider movie franchise.
On a personal note, Jolie who has been vocal about her bisexuality has also made headlines for her high profile relationships. The actress has been married thrice. Jolie's first marriage was to her Hackers British co-star Johnny Lee Miller. The former couple tied the knot in 1996 but divorced in 1999. She then entered a torrid on-off relationship with model and actress/model Jenny Shimizu who she met on the set of 1996's Foxfire. Jolie later admitted that she instantly fell in love with Shimizu at first sight and may have married the model if she wasn't already married to her first husband at the time.
Angelina's second husband is Billy Bob Thornton. The pair began dating while Thornton was in a live-in relationship with actress Laura Dern and Jolie dating Timothy Hutton. The couple, who had a twenty-year age gap, got married in the year 2000. Jolie and Thornton had an infamous relationship that included trademark tattoos of each other on their bodies as well as lockets containing each other's blood which they often hung around their necks. However, their marriage barely lasted for three years but not before adopting a child together from Cambodia in 2003.
Who Is Brad Pitt?
An Oklahoma native raised in Missouri, Brad Pitt is the son of William Alvin and Jane Etta Pitt. He began his acting career in 1987 featuring in minor roles in lots of movies thereon. Pitt later gained widespread recognition in the 1991 cult film Thelma and Louise and subsequently found critical success throughout the nineties with major roles in films such as 12 Monkeys, Seven and Fight Club. 
On a personal note, the two-time "Sexiest Man Alive" has had a series of high-profile relationships with stars such as British singer Sinitta, as well as actors Robin Givens, Jill Schoelen, and Juliette Lewis. From 1994 to 1997, he was engaged to his Seven co-star, Gwyneth Paltrow. In the year 2000, Pitt married fellow nineties star, Jennifer Aniston. But the pair who were the one-time "it couple" abruptly ended their marriage in January 2005.
Mr. and Mrs. Smith Days and Marriage
Angelina Jolie and Brad Pitt famously met in 2004, while filming their spy thriller Mr. and Mrs. Smith. Though Pitt was still married to Jennifer Aniston at the time, he and Jolie had undeniable chemistry and rumors were soon rife that the pair were hooking up. Initially, both parties firmly denied any suggestions of infidelity, claiming nothing happened until after Pitt and Aniston divorced.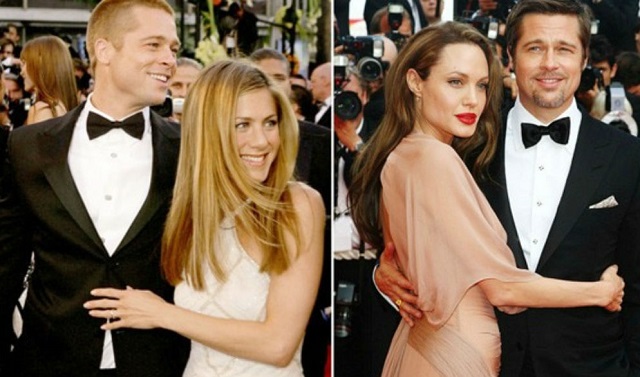 But the couple first confirmed their relationship in 2006 when Jolie announced her pregnancy with daughter Shiloh. Moreover, later in 2007, Jolie admitted that she originally had no intentions of breaking up Pitt's marriage but she and Brad unconsciously developed a deep relationship during filming. They discovered a strange friendship and partnership and apparently fell in love on the movie set.
Angelina Jolie and Brad Pitt share six children together. The first three Maddox, Zahara, and Pax were adopted from orphanages in Cambodia, Ethiopia, and Vietnam, respectively while their biological children are Shiloh and twins Knox and Vivienne.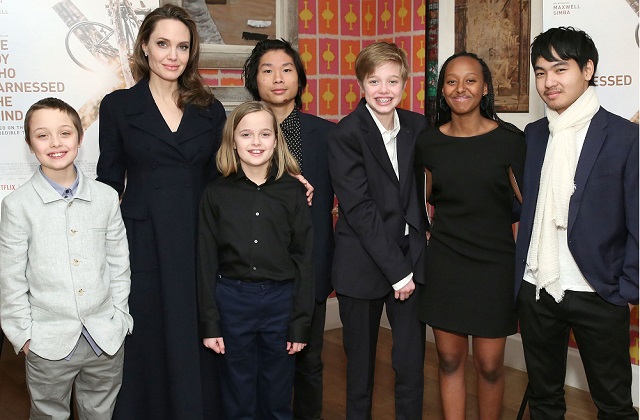 While their relationship lasted, Brangelina shared the screen together again in By the Sea, the 2015 movie which chronicled the story of an unhappy couple in a broken relationship.
Angelina Jolie and Brad Pitt: The Divorce
Sadly, power couple Brad Pitt and Angelina Jolie broke hearts in 2016. After a two-year marriage and 11-year relationship, the Oscar-winning actress filed for divorce in September 2016 sending shockwaves through the entertainment industry and media.
Since Brangelina called time on their marriage, neither party has ever directly addressed the reasons for the breakup but it's apparent that the split is an acrimonious one. There have been lots of speculations in the media as to why Brangelina just didn't work out. It is believed in most quarters that one of the biggest issues the couple had in their relationship was their conflicting views on parenting. While Angelina is said to have a more relaxed parenting attitude, Brad is believed to be the stricter parent.
Other speculated reasons include the fact that Jolie and Pitt have very different priorities and lifestyles. While the actress is perhaps more focused on her works offscreen, the actor allegedly loves being Hollywood's golden boy. Although both stars have histories of drug addiction in their younger days, there are also reports that Jolie got tired of Pitt's alleged and renewed alcohol/marijuana use and its potential effects on their kids.
Ever since the Brangelina split in 2016, their divorce has dragged on and their lawyers have been battling it out in court. In fact, Jolie wasn't messing around with the split and initially hired celebrity divorce lawyer Laura Wasser to represent her. Though officially single, Jolie and Pitt are still finalizing their divorce. The former couple initially agreed to keep their divorce proceedings as private as possible to protect their kids, but in 2018, the custody negotiations got ugly. Jolie has maintained primary physical custody of the kids since their separation, with Pitt having supervised visitation. Brad Pitt later stepped in to seek more contact with his kids, in a move that shows the former couple isn't breaking the mold in their battle for custody.
The former couple had a rough relationship right after their separation, but more recently, they decided to put an end to the "vitriolic hatred" and try to work together to sort things out. In commitment to their kids' happiness and welfare which is a top priority, Jolie and Pitt learned to agree on matters involving their children and now try to make decisions together and keep things consistent for the kids.
Moreover, part of the reasons for the delay in the former couple's divorce proceedings is due to the dispute as to how to divide their $631 million fortune, which includes nine properties scattered across three continents.
Who Makes More Money Now After Their Divorce?
Following their marriage, actress Jolie who was formerly recognized in the media by her love life has metamorphosed into an internationally-respected UN ambassador, humanitarian, campaigner, filmmaker, and director.  On the other hand, Brad Pitt has grown from being just a Hollywood heartthrob to a family man, serious actor, filmmaker and director.
Professionally, Jolie boasts of three Golden Globe awards (from George Wallace, Gia, and Girl, Interrupted), an Oscar (for Girl, Interrupted) a SAG award (for Girl, Interrupted), and many more. The Oscar-winning actress has continued to shine in Hollywood. She has embraced a new upturn in her career working both behind and in front of the camera and staying on top of her game after her split from Pitt. Jolie's most successful film to date is Disney's Maleficent, which raked in $758.5 million worldwide. In addition to her unique beauty, Jolie is also loved for her whip-smartness in the fame game.
However, Jolie is better recognized for her philanthropic accomplishments offscreen and in the international community. Way before her relationship with Pitt, the actress was already known for her humanitarian works. Notably, she was named a United Nations Goodwill Ambassador in 2001 and was named a Special Envoy for the UN High Commissioner for Refugees many years later in 2012.
Angelina Jolie's numerous humanitarian efforts have also earned her an Order of St. Michael and St. George and an honorary damehood bestowed by Queen Elizabeth II in 2014. The Maleficent actress is also a recipient of the 2014 Jean Hersholt Humanitarian Award by the Academy of Motion Picture Arts and Sciences. Angelina Jolie currently has an estimated net worth of $278 million.
On a personal note, since Jolie and Pitt called time on their marriage, they have staunchly remained private about their dating lives with the actress seemingly more focused on family matters. Angelina Jolie is currently balancing her acting career with a stint as a Time Magazine editor while still working as a UNHCR Special Envoy. She has so far has kept romance to a minimum and there hasn't been another man in her life so far. This could be due to the fact that Jolie appears to have her plate very full, focusing solely on her work and kids.
For Brad Pitt, the actor who is one of the most bankable Hollywood stars in history also boasts of prestigious awards such as a Golden Globe (for Twelve Monkeys), an Oscar and a BAFTA (for 12 Years a Slave), an Emmy (for The Normal Heart), and many more. The Oscar-winning actor who is considered one of the most powerful and influential stars in the entertainment industry was already fully established before his marriage to Jolie and appears to have the upper hand in terms of paychecks. Pitt's biggest movie till date is World War Z, which raked in $540 million worldwide. Brad Pitt has an estimated net worth of $417 million, although it remains uncertain if that amount will be affected in the divorce settlement. So far, the actor's attorney's claim he has given over $8.5 million to Jolie since their separation.
On a personal note, when Brad Pitt isn't spending time with his children, he's got a full plate too. Besides landing more lucrative roles and other stints behind the cameras, the actor has also rediscovered his artistic side; and now spends time sculpting. More so, the Hollywood hunk has been rumored to have dated a number of different stars in the wake of the split. Pitt has been romantically linked to actress Marion Cotillard, and MIT professor Neri Oxman after their divorce but these reports remain unconfirmed.
Regardless of their individual accomplishments and paychecks after the divorce, it is undeniably a win-win situation for both Brad Pitt and Angelina Jolie who have come a long way both professionally and personally. While it may be difficult to categorically state which of the Brangelina shines the brightest alone, it remains undeniable that neither one of them is struggling financially.