What is Brad Pitt's net worth?
Net Worth:

$300 Million
Salary:
$10 million each year
Income Sources:
Career as an actor
Age/Date of Birth:

59 years old (December 18, 1963)
Height:

in centimeters- 180 cm
in meters- 1.80 m
in Feet Inches- 5' 11"
Nationality:
American
Last Updated:

2021
Arguably one of the men with the best looks in Hollywood, Brad Pitt has earned his fortune from an acting career that spans over two decades. He is also a director and producer.
As of 2021, Brad Pitt's net worth is $300 million
In addition to being one of the wealthiest actors, Brad Pitt is also among the most influential personalities in the world of entertainment. Here is a sneak peek at how he became so successful.
Brad Pitt's Early Life and Career Beginnings
William Bradley Pitt was born in Shawnee, Oklahoma on December 18, 1963. His father, William Alvin Pitt operated a trucking company while his mother, Jane Etta, was a school counsellor. Brad, as he is popularly known, is the oldest child in the family. His family later relocated to Springfield, Missouri where he attended Kickapoo High School. He actively took part in musicals, school debates, swimming, golf as well as table tennis. In 1982, he joined the University of Missouri and pursued a course in Journalism.
His strong desire to make it in the film industry saw him leaving Missouri two weeks prior to him earning his degree. According to him, Missouri wasn't well-developed in terms of acting and film production. His best shot was Los Angeles where he moved to and worked odd jobs in order to support his acting classes. Like many other aspiring actors, Pitt went through the usual struggles of finding a good role. Coach Roy London played a vital role in his early acting career. His first shot at the big screen came in 1987 where he played unaccredited roles in; 'No Man's Land', 'No Way Out', and 'Less Than Zero'. At this time, he was just like any other struggling actor and few knew about him.
He made his first television debut in May 1987 when he played a role in 'Another World', A TV soap opera broadcasted by NBC. In November 1987, Brad Pitt made a guest appearance on the ABC sitcom 'Growing Pains'.
1987 was certainly a good year for Pitt's career as he also managed to feature in four episodes of 'Dallas', a primetime series broadcasted by CBS. At the time, Dallas was among the most-watched TV programs. One notable role he played was that of Randy, Charlie Wade's boyfriend. Brad also appeared in the 1988 episode of a police drama series by Fox, '21 Jump Street' which also featured Johnny Depp.
See Also: 20 Highest Paid Actors In The World
Analysis of Brad Pitt's Net Worth in 2021
Endorsements from companies such as Cadillac ($3 million), Chanel No. 5 ($7 million) and the sale of a Malibu home ($13.75 million) have also contributed in making Brad Pitt's net worth look very attractive.
As at 2016 before their heartbreaking divorce, Hollywood power pair (Brad Pitt and Angelina Jolie) known as Brangelina had a combined estimated net worth of $400 million. Regardless, Brad Pitt alone is worth a reported $300 million in 2021.
His Career Breakthrough and Film Successes 
Like any other beginner, Brad Pitt's net worth wasn't impressive, to begin with. Also, he was yet to cause ripples in the film and acting world. However, it wasn't long before his patience and persistence paid off.
In 1991, Brad Pitt was the star of the hit movie, 'Thelma & Louse' where he played the role of a wickedly charming and conniving drifter who seduces a pretty lady, Geena Davis and ends up robbing her.
Hollywood and the acting world finally took notice of his acting prowess. Afterwards, Brad starred in many movies and was regarded as one of the best actors in addition to being one of the sexiest men alive. He featured in the 2009 hit movie, 'Inglorious Bastards' that earned $320 million at the box office.
Plan B Business Enterprise and Endorsements
Besides acting, Brad is also actively involved in movie production. His Production Company, Plan B is behind some top films including 'Eat Pray Love', 'Kick-Ass', and '12 Years a Slave'. He has worked with top actors who have been nominated and won various awards. Brad has also been nominated and won many awards which include; a Golden Globe Award, Academy Award for best producer (Plan B) and a Screen Actors Guild Award.
Highlights of His Awards:
Seven (Movie, 1995)
Golden Globes (Best Performance, 1996) – Won
Fight Club (Movie, 1999)
Snatch (Movie, 2000)
Ocean's Eleven (Movie, 2001)
Mr & Mrs. Smith (Movie, 2005)
The Curious Case of Benjamin Button (Movie, 2008)
Fury (Movie, 2014)
Primetime Emmy Awards (Outstanding Television Movie, 2014) – Won
Allied (Movie, 2016)
Movies Highlights:
Fight Club (1999)
Snatch (2000)
Ocean's Eleven (2001)
Troy (2004)
Mr & Mrs. Smith (2005)
The Curious Case of Benjamin Button (2008)
World War Z (2013)
Allied (2016)
Once Upon A Time In Hollywood (2019)
Ad Astra (2019)
Meet Brad Pitt's Children
Brad Pitt and his former wife Angelina will forever be remembered for their philanthropic acts that include adopting children of different races from different countries around the world. Together, the pair have six kids; three of which are adopted while the other three are their biological children. They are Maddox; Pax; Zahara; Shiloh; and twins Knox and Vivienne.
Maddox Chivan Jolie-Pitt
Brad Pitt and Angelina Jolie's oldest child is their son Maddox who was born on August 5, 2001, in Cambodia. Jolie had solely adopted the child as a seven-month old baby from an orphanage in Battambang, Cambodia in March 2002. His birth name is Rath Vibol. She raised him as a single parent until early 2006 when her relationship with Pitt was in full swing and his application to adopt the child was granted.
Maddox is today no longer a teenager and can now make legally binding decisions for himself. In 2019, he enrolled at Yonsei University in South Korea where he is reportedly studying biochemistry.
Pax Thien Jolie-Pitt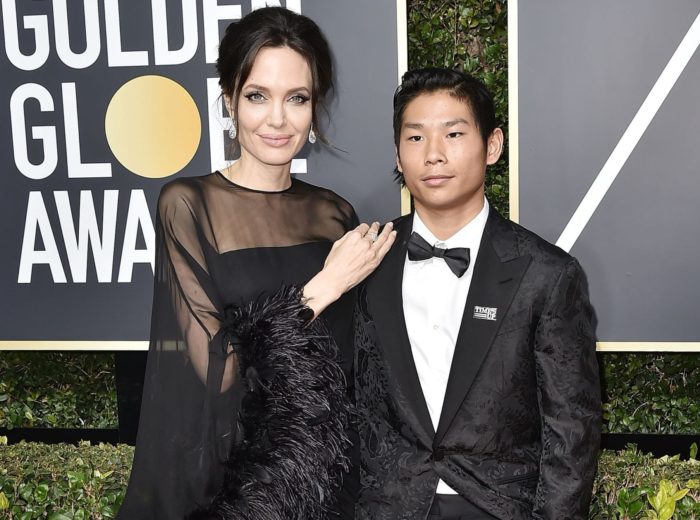 Pax Thien is the second oldest child of Brad Pitt and his ex-wife but the third child to join the family. The boy, whose birth name is Pham Quang Sang, was born on November 29, 2003, in Ho Chi Minh City, Vietnam where he was abandoned by his biological mother soon after his birth. On March 15, 2007, Jolie adopted Pax as a three-year-old child from an orphanage in Ho Chi Minh City after having first met him a year before. She was unable to adopt Pax with Pitt at the time because Vietnamese law prohibited unmarried couples from co-adopting.
But after Pax had joined her in the U.S. and she successfully petitioned the court to change his surname from Jolie to Jolie-Pitt, Brad was able to adopt him as his own on February 21, 2008.
Zahara Marley Jolie-Pitt
Zahara Marley is the oldest daughter of Brad Pitt. Like her two older siblings, she too was adopted by just Angelina Jolie at first. The baby girl named Yemsrach by her birth mother and Tena Adam by the orphanage was born on January 8, 2005 in Awasa, Ethiopia. Angelina adopted her from the Wide Horizons For Children orphanage in Addis Ababa, on July 6, 2005 when she was 6 months old.
Jolie was accompanied by Brad when she travelled to Ethiopia to take custody of Zahara. While he did not initially sign adoption papers when Jolie took custody of the baby girl, he later completed the process in early 2006, the same time he adopted Maddox.
Shiloh Nouvel Jolie-Pitt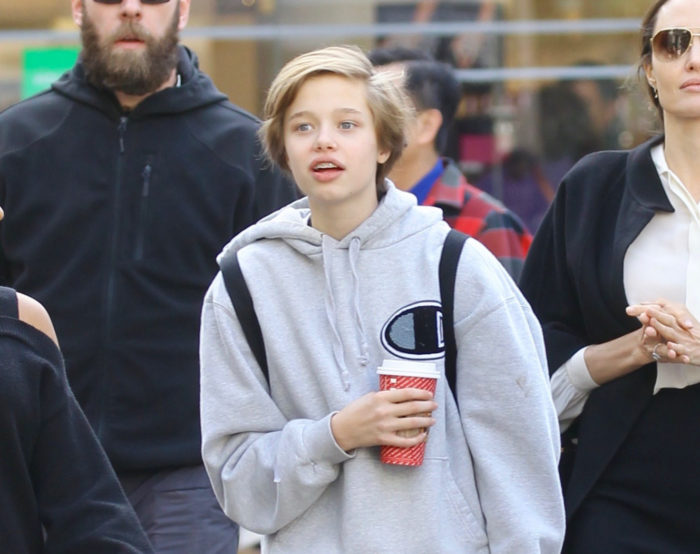 Shiloh is the first biological child of the celebrity power couple. She was born on May 27, 2006 in Swakopmund, Namibia. The couple chose to give birth to their child outside of the United States in order to avoid a media frenzy. They would later sell her first pictures for millions of dollars, donating all proceeds to UNICEF.
Shiloh has since been raised in the U.S. and has grown up as a tomboy. Reports have it that she once insisted that her family call her John as she prefers to wear boys clothes unlike her girly sister Zahara.
Knox Léon and Vivienne Marcheline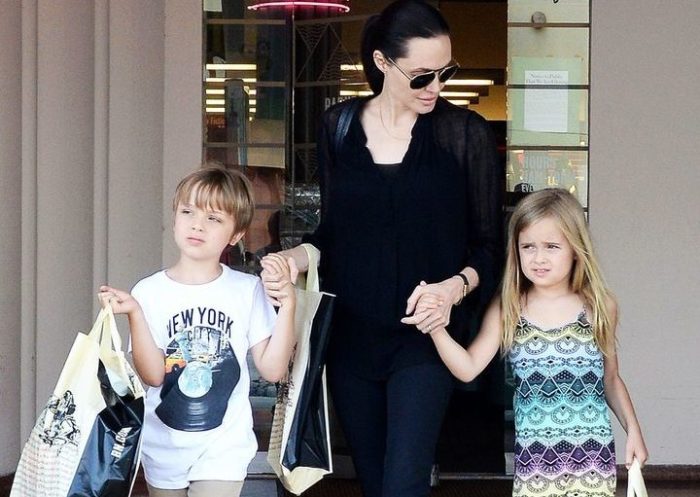 On July 12, 2008, Angelina Jolie gave birth to her and Brad Pitt's fifth and sixth children; twins Knox and Vivienne. She had them in a seaside hospital in Nice, France and sold the first photos of them for $14 million. Again, the couple donated all the money to charity, this time however to the Jolie/Pitt Foundation.
Relationship with Angelina Jolie and Their Subsequent Divorce
In September 2016, the internet went ballistic when Angelina filed for divorce from Brad. Dubbed the Brangelina split, the epic breakup drove an arrow through the couple's millions of fans who didn't see it coming.
Though married in 2014, Mr & Mrs. Smith co-stars have been together since 2004. They originally met on the set of the action-comedy and were also seen on screen together in 2015's 'By the Sea', which wasn't as successful as the former. Brad and Angelina were reportedly dating secretly while he and his ex, Jennifer Anniston were still battling with divorce.
Early in 2006, Jolie confirmed that she was pregnant with Pitt's child. This was the first time she was acknowledging their relationship publicly. They announced their engagement in April 2012 after seven years together and were married on August 23, 2014. The wedding was held at a private ceremony in Château Miraval, France.
The Hollywood power couple quickly became a fan favourite and got so much love from their fans. They also looked adorable on the red carpet and everything appeared to be perfect, or so it seemed. On September 19, 2016, trouble hit paradise and Angelina filed for divorce from Pitt, citing irreconcilable differences. Apparently, the much-loved Hollywood couple were not living on a bed of roses as we thought.
While we are still trying to wrap our heads around the fact that Brangelina is no more, there are speculations that their divorce has been put on hold. In fact, some rumours point to the fact that they may have fallen back into each other's arms.
Together, they were known for their philanthropic acts and support to many charities worldwide. They lead campaigns against poverty and AIDS and have adopted several children from different countries.
Key Takeaways
Brad Pitt left the University of Missouri two weeks short of completing the coursework for a degree and moved to Los Angeles, California to pursue his acting career.
His first role was in the NBC soap opera Another World. He has since appeared in famous projects like 'Thelma & Louse' and 'Inglorious Bastards' among others.
Pitt's net worth of $300 million has not come from only his acting career. Endorsement deals and earnings as a film producer have also contributed.
Brad Pitt has six children with his ex-wife Angelina Jolie. Their three older kids were adopted from different countries around the world while the three younger ones are their biological children.
Although Pitt and Jolie had been together since 2004, the duo were only married for just over two years before Jolie filed for divorce in September 2016.
Profile Summary
First Name:
William
Last Name:
Pitt
Estimated Net Worth:

$300 Million
Salary:
$10 million each year
Source of Wealth:
Career as an actor
Last Updated:

2021
Also Known As:

Brad Pitt, Brad the Pit-bull, Buratto Pitto

Sex/Gender:

Male
Profession:

Actor
Famous For:
being in many successful movies including 12 Monkeys, Fight Club, Inglourious Basterds and Mr and Mrs Smith. He is also famous for his relationships with Jennifer Aniston and
Angelina Jolie
Colleges/Universities Attended:

Kickapoo High School
University of Missouri
Educational Qualifications:

He dropped out from college two weeks before getting a degree in journalism
Religion:

Unclear
Birthday & Zodiac

Age/Date of Birth:

59 years old (December 18, 1963)
Zodiac Sign:
Sagittarius
Birth Place:

Shawnee, Oklahoma, U.S.
Nationality:
American
Ethnicity/Race:

English, Scots-Irish/Northern Irish, German, Scottish, Welsh, Irish, Swedish, Dutch, and French ancestry
Country of Residence:

The United States of America
Physical Attributes

Height:

in centimeters- 180 cm
in meters- 1.80 m
in Feet Inches- 5' 11"
Weight:

in Kilograms- 78 kg
in Pounds- 172 lbs
Eye Colour:

Blue
Hair Color:

Sandy blonde
Other Body Measurements:

Chest: 43 Inches
Waist: 33 Inches
Biceps: 15 Inches
Relationships

Marital Status:

Divorced
Spouse/Partner:

Angelina Jolie (m. 2014–2016)
Jennifer Aniston (m. 2000–2005)
Family and Relatives

Father:

William Alvin Pitt
Mother:
Jane Etta Pitt
Children:

Maddox Chivan Jolie-Pitt
Pax Thien Jolie-Pitt
Zahara Marley Jolie-Pitt
Shiloh Nouvel Jolie-Pitt
Knox Léon Jolie-Pitt and Vivienne Marcheline Jolie-Pitt (twins)
Siblings:
Douglas Pitt (brother)
Julie Pitt Neal (sister)
Other Relatives:

Grandparents: Hal Knox Hillhouse, Clara Mae Bell, Elizabeth Brown, and Alvin Monroe Pitt
Related Questions
In 1997, it was reported that the Chinese government has banned Brad Pitt from the giant Asian country as a result of his role in the film, Seven Years in Tibet in which he portrayed the harsh Chinese rule in the Himalayan region. Since then, he had not returned to China until 2016, nearly 20 years after when he went for a promotional appearance for a movie in China.
Brad Pitt has a total of 6 children all of whom are from his marriage to Angelina Jolie. That said, he has only 3 biological children; Shiloh Jolie-Pitt who was born in 2006, and a set of twins, Knox and Vivienne Jolie-Pitt who were born in 2008.
The remaining children of Brad Pitt who were adopted are Maddox who was adopted even before Brad and Angelina got married, a daughter Zahara, and a son, Pax.
Although he is a great actor it was until 2020 that Brad Pitt won his first Oscar for Once Upon a Time in Hollywood. He took home the Academy Awards in the Best Supporting Actor category. Brad Pitt was nominated for the Oscars in 1996 for 12 Monkeys and 2009 for The Curious Case of Benjamin Button as well as Moneyball in 2012.