Johnny Depp is an American actor and producer with a net worth of $400 million. With a longstanding activity in Hollywood since 1984, Depp is regarded as one of the greatest actors of all time. He holds a Guinness record among other coveted movie awards. Here is a brief break down of his acting career and how he made so much money.
Johnny Depp Net Worth: Career Beginnings
Johnny Depp was born on June 9, 1963 in Owensboro, Kentucky. As a child Depp, his parents and his three older siblings moved frequently and lived in over 20 different places. In 1970, the family finally settled in Miramar, Florida. Depp had a passion for music while growing up and could play the guitar. He dropped out of high school and moved to LA to pursue a career in music but he opted for acting instead after his then wife Lori Anne Allison who was a sister to one of his band members, introduced him to fellow actor Nicolas Cage. Depp landed his first major role in 1984 movie "A Nightmare on Elm Street". His next role was in Oliver Stone's "Platoon" 1986 which also featured comedian Charlie Sheen.
Johnny Depp Net Worth: Breakout Role And Rise To Fame
Depp attained celebrity status and became a teen idol when he was cast on FOX TV series "21 Jump Street" which premiered in 1987. His role in Tim Burton's "Edward Scissorhands" (1990) launched him as a leading Hollywood actor as it received much acclaim from critics and was also a commercial success.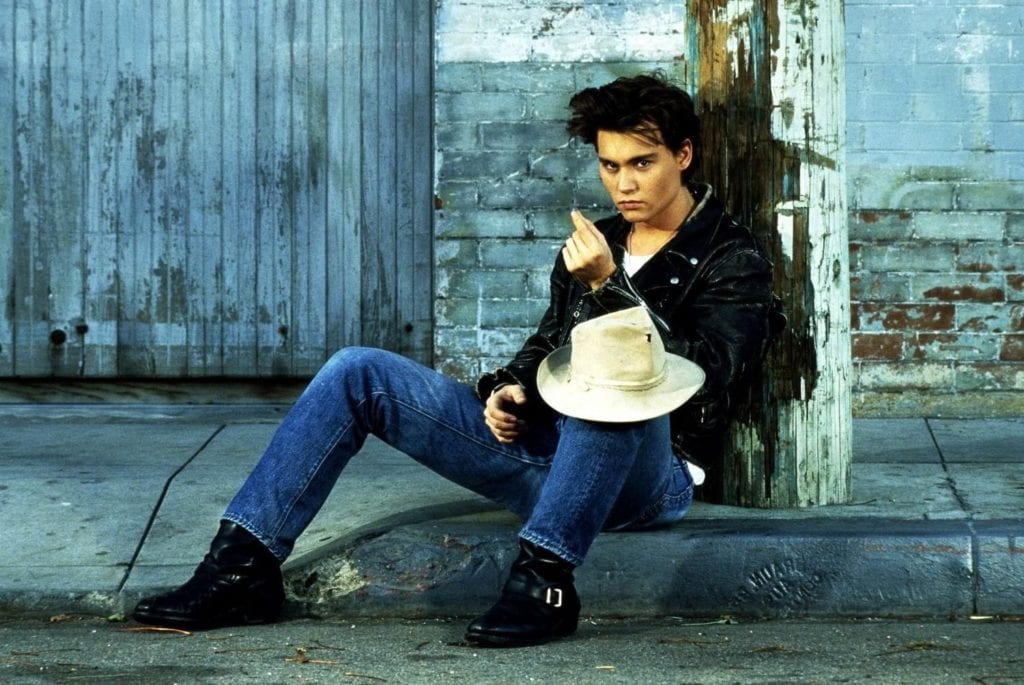 From that point onward, Johnny Depp has starred in a plethora of Box office hits with some of them breaking and setting records. His most successful and perhaps most popular movie is the fantasy swashbuckler franchise "Pirates of The Caribbean". Its numerous installments have grossed over $3 billion earning Depp around $300 million for his role as Captain Jack Sparrow.
See Also: Leonardo DiCaprio Net Worth
Depp stared in the first part "Pirates of the Caribbean: The Curse of the Black Pearl" in 2003. In recent years, Depp has been more picky about his role, choosing only to star in the ones that most fits his personality rather than ones most likely to be box office hits.
Some of the most successful include; Charlie and the Chocolate Factory (2005), The Tourist (2010), animated movie Rango (2011), Lone Ranger (2013),  and more. His most recent include Black Mass (2015), Mortdecai (2015), and the remake/sequel of his previous movies including Pirates of the Caribbean: Dead Men Tell No Tales (2017). As of 2016. all of Depp's movies has over $8 billion worldwide.
See Also: 20 Most Expensive Movies Ever Made
In 2012, Johnny Depp was the highest-paid actor with $75 million in earnings. With that paycheck he earned a spot on the Guinness World Records. Depp receives an estimated average of $20 million for a single role and could make as much as $100 million annually.
Johnny Depp won a Screen Actors Guild Award for Outstanding Actor in a Leading Role for "Pirates of the Caribbean: The Curse of the Black Pearl" (2003) and a Golden Globe Award for best actor for his role in "Sweeney Todd: The Demon Barber of Fleet Street" (2007).
Divorce Drama With Amber Heard
In late May 2016, news broke that actress Amber Heard had filled for divorce from Depp citing irreconcilable differences and claiming domestic abuse. The divorce couldn't have come in a more awkward time as the news of Depp's mom death was just three days old.
Amber requested $7 million in settlement, $50,000/month spousal support (which she later dropped) and a restraining order against Depp. Amber revealed photos of her with a battered face, allegedly caused by Depp, some of which were published on People magazine's June issue. Subsequently a video footage of Depp in a rage with Amber in the scene was leaked online.
However, Depp's ex Vanessa Paradis whom he was with for 14 years released a public statement in his support, calling the domestic violence claims "outrageous". Popping up to Depp's defense were also his daughter with Vanessa Lily-Rose Depp and his long time friend comedian Doug Stanhope.
Without a prenup, the troubled couple battled out in court for months before reaching a settlement on 13th January 2017.
Depp finally agreed to pay his ex-flame the $7 million she requested. Amber also stated that she would be donating the entire money to two charities, namely; American Civil Liberties Union (ACLU) and the Children's Hospital of Los Angeles.
The couple got married in a lavish affair in February 2015, unfortunately, 15 months was all it took to quench their flame. This would be Depp's second divorce. He has two children with former girlfriend, French singer Vanessa Paradis.