Elliot Knight is a British actor whose mastery of the acting art has never been in doubt at all. The actor has dazzled TV fans with his acting prowess through many years of gracing TV screens in many series and independent movies. In the process, he has warmed hearts with his charming looks and lovable persona. A very handsome man, Elliot is a ladies' man and often gets women screaming their hearts out for him whenever he appears on the streets or other places.
As an actor, Elliot Knight is now best known for the roles he played in Sinbad, a British television series. He has also appeared as Merlin on Once Upon a Time, an ABC fantasy television series and many other series in which he has displayed his unique acting talent.
Who is Elliot Knight?
Elliot Knight was born on the 10th day of the month of July in 1990. The actor was born in Birmingham, a popular city in England. Elliot Knight was born to a father identified as Stuart and a mother called Lorna Knight. Both his parents happen to be teachers. According to sources, his father teaches at the Broadway Secondary School, a school located in Perry Barr, a suburban area in north Birmingham. There is no report on whether or not he has any siblings or if he is an only child.
Growing up, Elliot Knight attended the King Edward VI Aston School, a Grammar school which is located at Aston, a town in Central Birmingham. After graduating from King Edward VI Aston School, the actor proceeded to attend the Manchester Metropolitan School of Theatre from where he graduated in 2011 with a BA (Hon) degree.
His Career Achievements
Elliot Knight has always had a dream to act in movies since he was very young. This is what informed his decision to study at Manchester Metropolitan School of Theatre. While at the college, he displayed a rare talent and wowed many people with his abilities on stage. His acting skills attracted attention and he landed a major movie role even before graduation.
Elliot Knight's very first professional lead role which he won while still in college was in Sinbad, an action-adventure fantasy family saga TV series that aired on Sky1. The announcement that Elliot had won the role in Sinbad was made by Sky1, a British pay television channel in 2011. He starred in the series in 2012 and the role launched him into global fame.
In 2013, Elliot made appearances in two TV series. First, he was cast as Neil Jenkins in Law & Order: UK, a British police procedural and legal TV series. After this, he went on to star in By Any Means, a British television drama series in which he played the role of Charlie O' Brien.
Elliot was cast as Aiden Walker in How to Get Away with Murder, an American drama TV series in 2014. The next year (in 2015), he appeared in Once Upon a Time, an American fantasy drama TV series in which he played Merlin. His role in Once Upon a Time gained him wide acclaim.
In 2016, Elliot made his first appearance in an independent movie called Billionaire Ransom, a British thriller film. The same year he appeared in two TV series. First, he starred as Brady Ross in American Gothic, an American mystery drama TV series. He was then cast as Graham in No Tomorrow, an American romantic comedy-drama series.
In 2017, the actor made another appearance in an independent movie when he was cast in 400 Boys, a Canadian/Chinese action-fantasy thriller film. The next year, in 2018, he made appearances in two series. First, he featured in Life Sentence, an American comedy-drama series in which he played Wes Charles. He was then cast as Don Hall in Titans, an American web TV series.
His Net Worth
Having been in the movie industry for quite a while and having become prominent as a British actor of repute who has won lots of hearts to himself over the years, Elliot Knight is expected to have made a considerable amount of wealth for himself over the years.
However, at the moment, Elliot Knight's exact net has not been revealed. Some sources have claimed his net worth is around $1 million, but then, this has not been confirmed. We do know that his wealth should increase each year as he keeps pushing his acting frontiers.
Is Elliot Knight Married or Dating Anyone?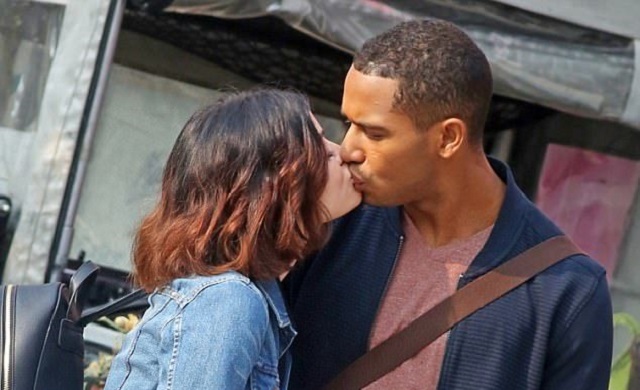 At the moment, Elliot Knight is not married. It is also not very certain if he has any girlfriend with whom he is in a romantic relationship. However, he has been romantically linked to Lucy Hale, an American actress with whom he has acted in Life Sentence. This is because he and Lucy have been seen many times together in pictures posted on her Instagram page which show them visiting places together and getting cozy with each other. They have even been seeing kissing in the set of a movie. However, neither Elliot nor Lucy has confirmed that they are dating.
READ ALSO: Who is David Eigenberg From Chicago Fire?
Is He Really Gayas Rumored?
Elliot Knight's sexuality has been debated for some time. Some fans have often claimed that he is gay and not heterosexual. The rumours spread out mainly because he is such a handsome young man who many believe will be an easy target for gay men. However, it has never been confirmed if the actor is gay or not. In fact, Elliot Knight has been very close to some actresses and this has helped to diminish some of the gay rumours.