The success of shows like The Shield, Detroit 1-8-7, and 9-1-1, relies, to a very large extent on the skillful efforts of personalities like Aisha Hinds. Her character role in every part of these series cannot go unnoticed which is why she has continued to receive more acting roles both in both major and minor capacities.
If you are among those who wonder why she is so loved by her fan, well, the reasons aren't far-fetched. Outside acting, the black beauty is very outspoken on several controversial issues that mostly relates to gender and racial equality; she is a black rights activist and an outspoken member of the LGBTQ group. Her meteoric rise to fame through her thriving TV and film career caught the attention of many who would love to know more about her private life. Here is what we know so far about the American actress.
Aisha Hinds Biography
Aisha Jamila Hinds is a native of Brooklyn, New York. She was born on 13th November 1975 to her parents who belong to Grenadian descent. Further information about her parents cannot be found, however, she mentioned in one of her posts on social media how devastated her father's death left her. Aisha Hinds is an American by nationality and her ethnicity is African-American.
Talking about her early years, we know she attended high school in New York and in her junior years, she showed interest in tap dancing even though she is not skilled in the art of dancing. She then heeded her teacher's advice to go for performing arts instead.
Movies and TV Show
Aisha's career as an actress kicked off with the 2003 police drama series, NYPD Blue where she appeared in two episodes as Carla Howell. In the same year, she also played as Miss Marigold in four episodes of the live-action educational series, Blue's Clues. Her performance in the two series further availed her more acting roles the following year. In 2004, Aisha received about three more roles in TV series and she made her film debut as well. The TV series are ER, The Shield, Crossing Jordan and Boston Legal, while her debut film is Love Aquarium, a short film where she acted as Nina.
Her roles in movies and television series increased dramatically as she gained more acting experience. She was cast in films like Mr Brooks, Unstoppable, Madea Goes to Jail, Star Trek Into Darkness and Beyond the Lights. She also played interesting roles in series like It's Always Sunny in Philadelphia, Desperate Housewives, True Blood, Weeds and lots more.
The year 2016 marked a breakthrough year for Aisha Hinds who took on the character role of Fannie Lou Hamer, a famous women's rights activist, in the critically acclaimed biographical movie All the Way. The positive reviews Aisha received for her role in the television series made her more popular television series like Underground, Shots Fired and the widely received procedural drama series, 9-1-1 where she appeared in 28 episodes as Henrietta "Hen" Wilson. Aisha also appeared in films like Beyond the Lights, Runaway Island and The Tale of Four. her latest film as of 2019 is Godzilla: King of the Monsters. 
Who is Aisha Hinds Husband or Is She Gay?
Aisha Hinds' fashion style helped to trigger people's interest in her personal life, especially her sexual orientation. Aisha is not one who conforms to what the society accepts as the ideal feminine appearance, instead, she prefers to appear in what many may describe as a masculine figure. She has also taken on some gay roles in films like in Under the Dome, where she acted as a lesbian woman in a relationship. Some even go as far as thinking she is a transgender. Interestingly, Aisha is yet to say a thing about her sexual orientation but she is definitely not a transgender.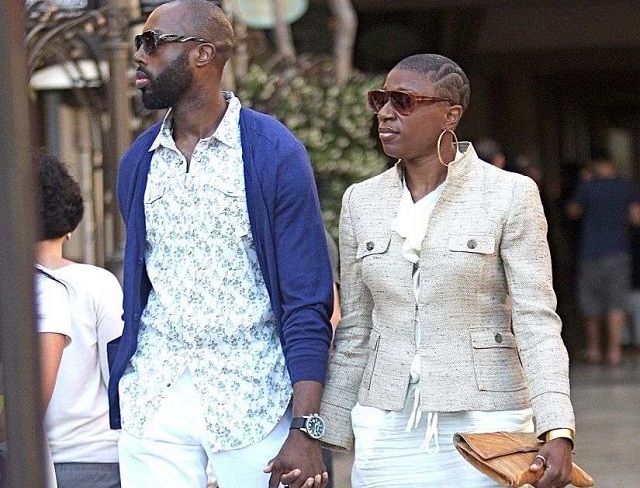 Again, her past life may also give us a clue about her personality. While it is not clear if the beautiful actress is married or not, she was spotted in 2010 holding hands with a good looking young man whose identity has not been revealed. The two were spotted while shopping at the Grove. The actress has so far remained unwilling to disclose anything about her private life. She seems to be more focused on building her acting career than relationship matters.