Immediately news broke via TMZ that Angelina Jolie has filled for a divorce from her flame of 12 years Brad Pitt, the internet went ballistic and searches on the couple's combined earnings and how it will be split skyrocketed. Justrichest is here to let you in on all she knows and the possible outcome of this unexpected and shocking (to say the least) divorce.
First, let's let you in on what happened to BrAngelina, so bad that they couldn't in the middle of it all kiss and make up like they did on "Mr. & Mrs. Smith". Well, according to sources, Angelina cited "irreconcilable differences" stating that she doesn't approve of the way Brad treats their kids, and we are guessing it would be the adopted ones? The same source also revealed that Angelina said Brad has been taking too much weed and alcohol of late, a development she relates to an "anger" problem and she is clearly fed up of putting up with it as it affects their children.
Reports have also revealed that Brad had pleaded with Jolie that they handle the divorce "like adults", on a "low key" away from the prying eyes of media but that he is currently angry at Jolie with the way she has chosen to handle it and is also afraid for the kids as they have now been thrust into center of media focus.
Pitt later told People magazine; "I am very saddened by this, but what matters most now is the well being of our kids. I kindly ask the press to give them the space they deserve during this challenging time."
On the allegations of posing a threat to their kids, the Brad source according to TMZ denied it all calling it a "malicious lie".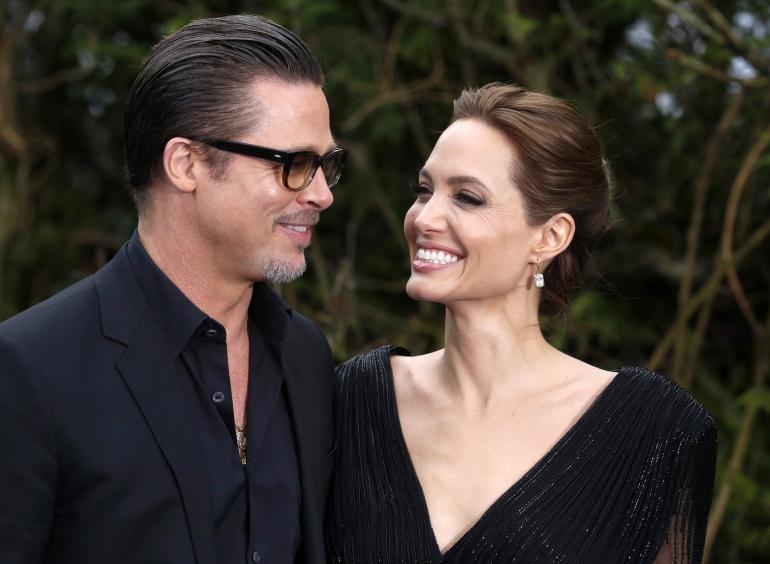 In the filling, Angelina clearly states that she wants sole custody of all 6 kids and a joint legal custody where Brad can only visit them. Angelina has hired high profile attorney Laura Wasser to represent her.
Also their prenuptial agreement also states that should the marriage fail, and Brad leaves with another woman, Jolie would get the most custody of the 6 kids. So if there is infidelity involved here then Angelina may well win the case.
Brad Pitt confessed to falling in love with Angelina Jolie on set of "Mr & Mrs Smith" (2003) and immediately, the pair began their romance. However, it wasn't without controversy as Brad was at the time married to Friends star Jennifer Aniston. Brad's new found flame lead to his divorce from wife of 5 years which was finalized in 2005 with a $60 million divorce settlement. Aniston walked away with about $25 million of that amount and their Beverly Hills mansion. Aniston who according to rumors was heartbroken at the time is now married to Justin Theroux.
After 7 years of dating and having two biological kids, BrAngelina got engaged in 2012, and Brad popped the question with a $250,000 16-carat emerald-cut diamond ring which he co-designed with Robert Procop. At that price tag, it is one of the most expensive celebrity engagement rings. Two years later in 2014, the couple officially got hitched in a private ceremony in Château Miraval, France.
In determining what could be at stake in their shocking divorce, let's review how much both have earned since the beginning of their romance…
Brangelina has a combined wealth of $400 million which gives them a berth on our list of Hollywood's Richest Families. About $240 million of that amount belongs to Brad and $160 million to Jolie. Since the beginning of their romance in 2004, Angelina have raked in $237 million and Brad $318 million pretax, bringing their combined earnings to $555 million, Forbes confirms!!. Their prenup signed after marriage also makes the divvy less complicated as it implies that the only money susceptible to a split is what they earned after their marriage in 2014 which is reportedly $120 million pretax ($75 million from Brad and $45 million from Jolie). And according to California state law, that figure would be split in half.
However, Angelina IS NOT asking for spousal support in her filling.
While splitting their net worth seems like it would be an easy feat, the same cannot be said for their enormous real estate properties which includes; their primary home in Los Feliz, Hollywood, (which was renovated to include a skate park for the kids), a 1,100-acre vineyard estate in Chateau Miraval France (where they reportedly held their marriage ceremony in 2014) a Santa Barbara mansion and a holiday home in Majorca, Italy. Last year, 2015, they listed their New Orleans home for $4 million.
Will the fact that they bought most of their properties before getting hitched in 2014 help in the divvies? Only time can tell.