If you are a lover of food, not just as a source of energy and nutrition, but as a form of art, then there is a likelihood you are a fan of the Food Network. The network had an array of shows which featured several prominent chefs and cooks. Among them were Emeril Live and Essence of Emeril, which was hosted by Emeril Lagasse, the celebrity chef. There were two of the long-running shows on the network, then they ended, with Emeril Lagasse disappearing from television, leaving fans to what happened to him.
In this article, we took a look at why the celebrity chef and TV personality left his long TV career and where he is now. But, before taking a look at what happened to Emeril Lagasse, here is a quick look at the life and career of the famous chef.
Who is Emeril Lagasse?
Emeril was born on October 15, 1959, in Fall River, Massachusetts to father, Emeril John Lagasse, and mother, Hilda Medeiros. He attended Diman Regional Voc Tech High School and Johnson & Wales University, where he studied to become a chef. He discovered his passion for cooking during his teenage years while he was working for a Portuguese bakery.
After graduating from culinary school in 1978, he became an executive chef in his first restaurant, Dunfey's Hyannis Resort in 1979 and four years after, was nominated as the Chef of the Year. His career as a chef has been on an upward swing ever since, establishing his first restaurant, Emeril's in 1990 in New Orleans. As a restaurateur, he has thirteen restaurants across different parts of the US.
As a TV personality, he made his first appearance on the show, Great Chefs. Since then, he has gone on to host a few shows of his own, starting with How to Boil Water and others like Essence of Emeril, Emeril Live, The Emeril Lagasse Show, Emeril's Table, Emeril Green and a couple more others. He has also starred as an actor in a few productions like Space Ghost Coast to Coast, The Princess and the Frog, Treme and a couple of others.
Emeril Lagasse has won several awards throughout his career, including chef awards like Executive of the Year, James Beard Foundation award, Taste Hall of Fame and TV awards like the Daytime Emmy Award.
What Happened to Emeril Lagasse?
For a long time, Emeril Lagasse, who had popularized phrases like Bam!, Kick it up a notch, and Feel the love through his array of shows stopped appearing on television, leaving many to wonder what happened to the popular chef. Emeril Lagasse's absence from television has been down to a few reasons.
First, he encountered legal problems over his show, Emeril's Florida which aired on the Food Network and Cooking Channel. The show was the subject of controversy after it was revealed that his show was being funded by taxpayers' money. According to reports, the show received an estimated $12.7 million in public funding, with Emeril receiving as much as $4 million. As a result, the show was subsequently canceled.
Another reason is a string of personal losses Emeril Lagasse suffered, such as the loss of his mentor, Ines De Costa and his mother, Hilda Lagasse, two women who were huge parts of his life.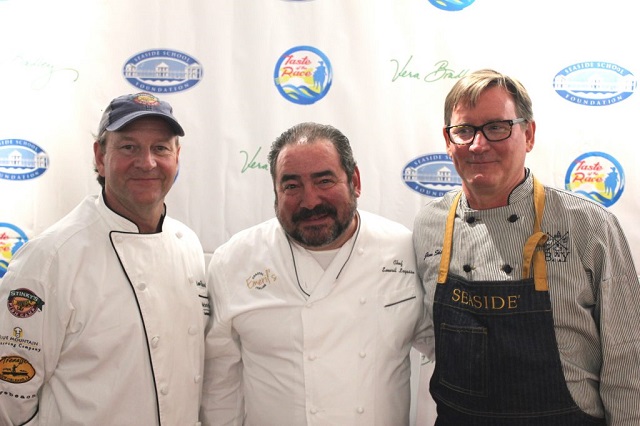 Another thing that happened to Emeril Lagasse include the cancellation of his popular shows like Emeril Live, and Essence of Emeril by the Food Network and his inability to create new popular shows have contributed to his absence from television.
As for why his shows were canceled, although official reports from both Food Network and Emeril Lagasse himself suggests it was amicable and it was simply time to say goodbye, the shows were cancelled because of Emeril's inability to evolve the show into modern styles, which was helping rival networks like TLC and Travel Channel thrive.
See Also: What Happened to Mario Batali from 'The Chew' and What is He Doing Now?
Where is He now?
Having learned what happened to Emeril Lagasse, where is the celebrity chef now?
With his television career no longer at the summit as it once was, Emeril Lagasse has chosen to focus on building his chain of restaurants, which he focuses on and continues to grow, both as a chef and a restaurateur. He has also renovated his most popular restaurant, NOLA, which he established in 1992, and returned it to his status as the prime destination for choice meals in the New Orleans' French Quarter.
Also, while he no longer has a show of his own, he still makes guest appearances on television shows like Good Morning America, Rachel Ray, and The View. He is also set to appear in a documentary, Finding Sandler.