His death came as a rude shock to many people around the world and the one question that fans kept asking was 'what happened to Anthony Bourdain to have made him want to take his own life?' An American celebrity chef, Bourdain was apparently living the life millions of people around the world can only dream of; he traveled the globe, made awesome documentaries, stunned people with his ideas and ideals, won countless awards, raked in a lot of money and was very popular.
In spite of the beautiful life he apparently had, there were still certain things that ultimately led to his tragic end, leaving family and friends in deep grief. We have tried to look into his life to understand what happened to Anthony Bourdain and unravel the untold story about how he died.
Anthony Bourdain Had 'Everything'
For most people, it is hard to completely understand why Anthony Bourdain died by apparent suicide. Anthony Bourdain had what many have termed 'everything'. He was famous, he was rich, and he was very influential. Starting from the '80s, Bourdain was a popular name in the food industry in America, having established different restaurant kitchens. He then began appearing on TV and writing best-selling books from the 2000s, catapulting himself into a bigger spotlight and becoming a favorite of TV viewers.
Anthony Bourdain was adventurous; as a travel documentarian, he traversed the world, focusing on the exploration of international culture, as well as their cuisine, and the human condition, and he ended up changing the way people viewed life through food. His culinary writings and television presentations became so popular and influential that he won so many awards for his incredible effort at doing what he knows how to do best. He also earned so much money in the process. Apparently, Anthony Bourdain really had 'everything' but there was more going on with him than the public knew about
What Happened To Anthony Bourdain?
From the foregoing, it is clear that very few will understand what happened to Anthony Bourdain.  While it is hard to fully understand what happened with the celebrity chef, there are a number of problems that Anthony Bourdain grappled with during his lifetime that may have culminated in his fatal decision. Let's take a look at these.
Bourdain Battled With Addiction
During his lifetime, Anthony Bourdain struggled with addiction. According to sources, he battled with drug addiction but eventually emerged quite victorious after some time. He is reported to have bought his first bag of heroin in 1980 when he was just 24 years old. This was the beginning of his drug addiction. For many years after that, Bourdain spiraled into deep addiction with the heroin and other drugs including marijuana and codeine.
Bourdain was quite vocal about his battle with addiction. He often stated that he had recovered and that he was one of the lucky few from his era who managed to overcome addiction after spiraling into drug abuse.
His Battle With Depression
Apart from his drug addiction problems, Anthony Bourdain also struggled with depression. Like we have mentioned earlier, the celebrity chef was addicted to drugs. However, even though he eventually managed to get some treatment for his addiction, he still kept his depression hidden away.
Further exploration of what happened to Anthony Bourdain would reveal the more Bourdain became famous, the more he got miserable because the rush was getting too much for him – according to some of the people who worked with him. Sometimes he spent a lot of time alone in his room instead of with the crew during the filming of his TV presentations. Did all these wear him out emotionally?
These are the kind of questions that require answers to be able to have a glimpse at what happened to Anthony Bourdain that deflated his enthusiasm for life. However, while these questions may never be answered, there are pointers that Anthony Bourdain lived quite a troubled life and bottled up a lot, and this proved fatal in the end.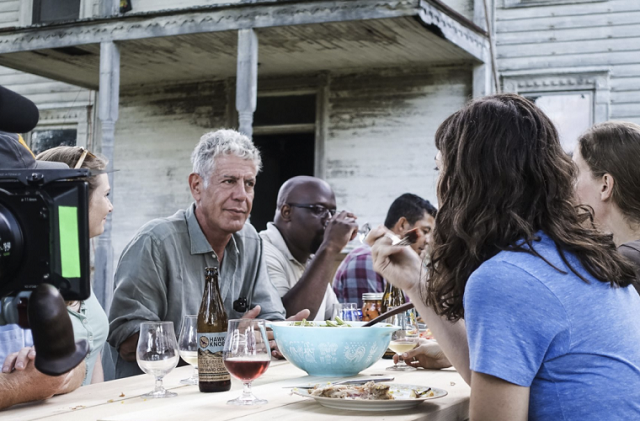 Read Also: 20 Popular Actors And Actresses Who Died Too Young And At Their Prime
The Untold Truth Of How He Died
Anthony Bourdain died on the 8th day of June 2018. When the news emerged that he had passed away, it caused a spread of shock around the culinary world. At the time of his death, he was working on the filming of an episode of his TV program, Parts Unknown in Strasbourg.
Sources have revealed that Bourdain had failed to come out of his hotel room for dinner and breakfast and this got his crew worried. His very good friend, Eric Ripert, whom he was traveling with, decided to check on him and figure out what was wrong. Bourdain was then found dead inside his room; he had committed suicide by hanging.
His death raised a lot of questions about what happened to Anthony Bourdain and about his final moments. When his body was checked, no physical bruises were seen and when tests were carried out on him, the toxicology results proved that he tested negative for narcotics. Anthony Bourdain's suicide appeared to be an "impulsive act" according to the public prosecutor in charge of the case.