A few years ago, one could have sworn these kids would be breaking hearts when they grew up. Some of us even wanted to have kids as adorable as they were. Fast forward to the present and these cute child celebrities are indeed breaking our hearts because puberty did them so wrong. Okay, while it is going to seem a bit discriminatory to tag them all completely ugly, it is definitely easy to see many of the child stars are not as cute as they once were. Their cute look did not translate totally into their adulthood leading to the big question "what went wrong?  Anyway below is a list of 18 Child Celebrities who puberty didn't do well to their old look.
19. Daniel Radcliffe
Everybody knows this face for his role in Harry Potter right? Daniel Jacob Radcliffe rose to prominence as the title character in the Harry Potter film series. He was the cute kid who made his acting debut at 10 years of age in BBC One's 1999 television film David Copperfield, followed by his cinematic debut in 2001's The Tailor. He is no longer a cute boy, he is an awkward-looking young man, and that's a good thing for him. He now has big scraggly eyebrows and a pretty big nose, giving his look a lot of character that should enable him to get a lot of interesting roles as he grows older and tries to break into adult Hollywood. However, we'll always know him as the cute little wizard, no matter what he goes on to do.
18. Lark Voorhies
Lark Voorhies is an American actress who rose to fame playing Lisa Turtle in 'Saved by the Bell. She was born on March 25, 1974 as Lark Holloway in Nashville, Tennessee, and later adopted "Voorhies" as a stage name. This child star just became, well, a lark, landing roles in strange projects and losing her looks.
17. Mitchell Musso
Mitchell Musso is best known for his role in Hannah Montana as the best friend and sidekick to Miley Cyrus who was often forgotten on Disney Channel show.  He moved to the sister channel, Disney XD before dumping his Disney Career all together. He has since tried to make a living out of his music career which has yet to take off. The child actor looked way more adorable when he was younger.
16. Amanda Laura Bynes
Amanda Bynes is an American fashion designer and actress. She was a regular cast member on two Nickelodeon shows—Figure it Out and All That, then starred in The Amanda Show and had parts in several films including What a Girl Wants (2003), She's the Man (2006), Hairspray (2007), Sydney White (2007), and Easy A (2010) before retiring from acting in 2010. The smiley teen star we've always adored grew up to look quite different from her younger adorable self. She is not ugly per se, but it is easy to see that her current appearance is something short of her former charming child looks.
15. Dustin Diamond
Dustin Neil Diamond is an American actor, musician, director, and stand-up comedian. He played "Screech" in the television show Saved by the Bell. Well, Dustin is not ugly but he had as a child start with wide charm did not go into adulthood with the same weight of charm.
14. Danny Bonaduce
Who would have thought that this once American kid actor would grow up to looking like this?" The American radio/television personality, comedian, professional wrestler, and former child actor looks something far from his young cute look.
13. Erik Per Sullivan
Erik Per Sullivan, an American actor famous for his role as Dewey, the younger brother to middle child Malcolm, on the Fox series Malcolm in the Middle, which was on air for six years, practically grew up to look not so cute. The once adorably awkward Dewey from Malcolm in the Middle has grown up to appear well, not so graceful.
12. Adam Lamberg
Believe it or not but Adam Matthew Lamberg's young cute look did not translate into absolutely handsome adulthood. The then American actor, best known for his portrayal of David "Gordo" Gordon in the Disney Channel series Lizzie McGuire is not really ugly but no longer as cute as he used to be when he was much younger.
11. Todd Bridges
The actor who played Willis on the television show "Different Strokes." grew up looking……anyway not that bad. But come to think of it, who knew that Todd Bridges would ever go bald? Of course he had a big afro at that time and looked adorable. Now he is bald and his big mango-shaped head misses having that amazing mass of hair to cover it up.
10. Haley Joel Osment
He played in the great 1999 film "The Sixth Sense" with Haley Joel Osment co-starring with Bruce Willis and the catchphrase "I see dead people." Haley Joel Osment was not just cute when was much younger but his also was also adorable. He was 11-years old when he played the role in the film that fetched huge success to director M. Night Shyamalan. Well, he still dishes out amazing acting skills and is also not looking ugly but he sure got fatter than ever and almost unrecognizable. He is rather more plump than adorable now.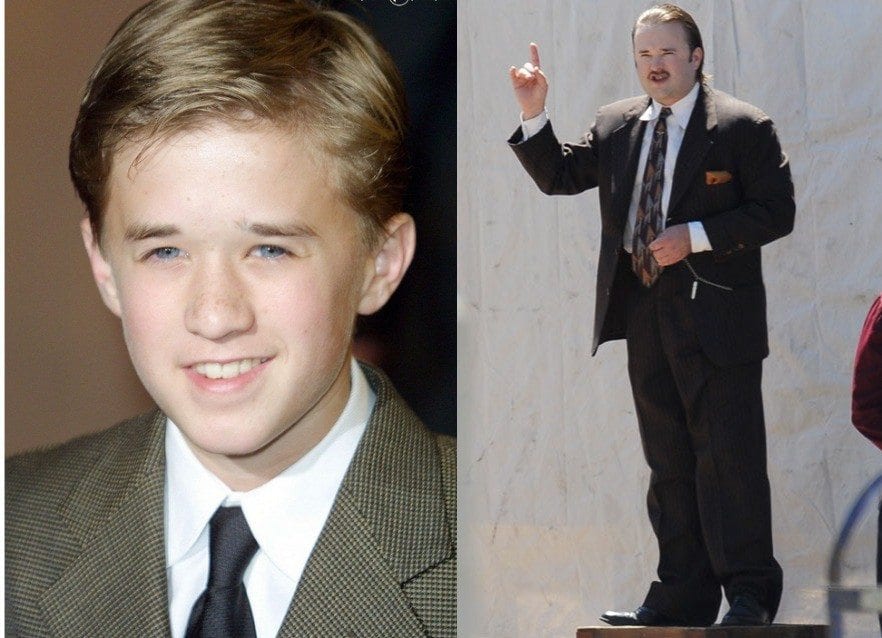 9. Lindsay Lohan
The actress featured in the Disney remake of the film "The Parent Trap"in 1998, when she was only 11-years old. In 2003, She also starred in the making of the film "Freaky Friday," followed by a great performance in the 2004 film "Mean Girls. Lindsay used to be way adorable. In fact, the actress was born beautiful, and she grew beautiful too, but at some point like a flash of light, it all turned sour. She has been in and out of rehab several times, she probably has a bed kept in her name by now. Her recent look is next to worn out.
8. Angus T. Jones
The actor is best known for playing Jake Harper in the television show "Two and a Half Men," Angus T. Jones changed from one stunning kid to one scary-looking man sporting shaggy hair and a bushy beard. His now scruffy beard and long hair make him not that easily recognizable.
7. Mark Hamill
Mark is best known for playing the hero Luke Skywalker in the 1977 film 'Star Wars Episode IV: A New Hope' and its two sequels, 'Star Wars Episode V: The Empire Strikes Back and Star Wars Episode VI: Return of the Jedi. He is also famous for his role as Pvt. Griff in 'The Big Red One'  where he starred alongside Lee Marvin in the 1980 war movie. In this actor's case, his appearance was affected by an unfortunate car accident after the making of Star Wars in 1977. 
Doctors did so well in rebuilding his face through plastic surgery, which brought about the subtle differences from his younger look. Despite that, he is still active in the industry and even makes use of his scars for his characters as seen in the movie The Empire Strikes Back. His current looks lend themselves to his, now, the primary line of work—voice acting.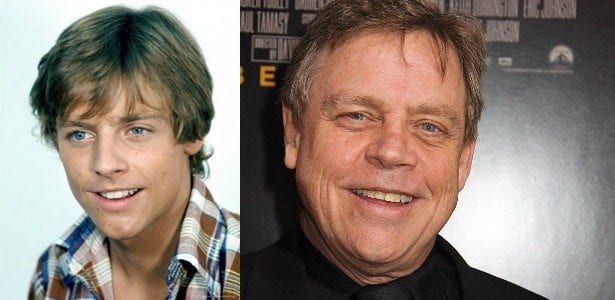 6. Brian Bonall
Brian Bonall is an American former actor. He played Andrew "Andy" Keaton, the youngest child on the NBC sitcom Family Ties from 1986 until 1989, and Alexander Rozhenko, the son of Worf and K'ehleyr, in Star Trek: The Next Generation from 1992 to 1994. This actor went from being as cute as he was when he played the role of Andrew Keaton, on the television show Family Ties to now being downright scary-looking with a full neck tattoo and two lip rings. Lots of drug use and arrests for assault are his recent headline makeups.
5. Raven Symone
Raven is an American actress, comedian, model, singer, songwriter, dancer, television producer, and talk show host. The starlet first appeared on television in 1989 on The Cosby Show as Olivia Kendall.
This 90s starlet grew up looking not so adorable as she was at a much younger age. Though the child star look did not turn into an ugly duckling or awkward kind of look, we do know she is no longer as pretty as we remember. She is still very pretty but it is obvious she is more adorably cute at being Olivia Kendall.
4. Edward Furlong
He looked a lot better in 1991, when he featured in Terminator 2: Judgment Day. Then, he was just a handsome young actor.  But after the long days he enjoyed languishing in jail, he came out looking like someone who is stuck on one side of the road because his car broke down unexpectedly. His looks have seriously worsened as much as his psyche.
3. Macauley Culkin
This is one of the most shocking transformations ever. The once adorable and alluring actor popularly known as "Kevin" left his fans really worried when he appeared looking weathered and haggard. But the actor who rose to international prominence when he played Kevin McAllister in the blockbuster movie, Home Alone was reported to be battling devastating drug addiction. Though  he looked better off at last year's Comic-Con Convention, he is said to be smoking up to 60 cigarettes a day.
2. Clint Howard
Howard started his career when he was only 2 years old starring in five episodes of "The Andy Griffith Show".  He played the role of Leon, a toddler in a cowboy outfit who wandered around Mayberry and silently offered people a bite of his sandwich, to which they would respond "no, thank you". He also starred in several other movies and is one of the most famous actors in the globe. This actor was an adorable and cute child, but there's no denying that he looking not so adorable today. The cuteness wore off fast but he is, without doubt, a talented dude.
1. JONATHAN LIPNICKI
Best known for his childhood roles in the Hollywood films Jerry Maguire, Stuart Little, The Little Vampire and Like Mike, this actor used to be the cute little kid with glasses that was spending time with Tom Cruise and the great Michael Jordan long before he reached his teens. Remember that adorable cute face in Jerry Maguire acting as the curious little boy on the couch, asking Tom Cruise questions about life? You read it right, that's him. But what happened? Though he is still an amazing guy but he is now having one of those awkward faces. No one could actually say what went wrong.