Tori Spelling, born as Victoria Davey Spelling, is a first-rate American actress, TV personality, author and socialite famed for starring in American teen drama Tv series, "Beverly Hills, 90210" in 1990.
Spelling got her first career boost from her father, Aaron Spelling, who sacrificed much of his time brushing her up and then hiring a private acting tutor for her.
Tori Spelling's Family Background
Tori was born on May 16, 1973, in Los Angeles, California to mother Candy Spelling (née Marer) and legendary movie mogul father, Aaron Spelling of Jewish ancestry.
She was raised up together with her younger brother, Randy, who also had a brief stint as an actor in Hollywood. Spelling enrolled at Beverly Hills High School in Beverly Hills, California and attended college at Harvard-Westlake School, graduating in 1991.
She began taking acting lessons twice a week at the age of 6 and shortly after, she launched into the show business. While she was still honing her acting skills, her father featured her in some of his Spelling Television shows and movies such as "Vega$", "Fantasy Island", "The Love Boat", "T. J. Hooker", "Hotel" and lots more.
Randy and Tori grew up like royalty thanks to their father's wealth from his Spelling Entertainment which became a huge success after launching its IPO in 1986. During this time, her father built from scratch a $47 million 123 room mansion on a 6-acre property in Holmby Hills California. The house is still today the largest single-family home in the whole of California.
The family lived in the house until 2006 when it was put on the market by their mom, Candy Spelling after Aaron's passing. Dubbed The Spelling Manor, it was sold to Formula One billionaire's daughter, Petra Ecclestone for $85 million.
Tori Spelling's father is being remembered as a highly successful actor, scripter, producer, TV and filmmaker who passed away on June 23, 2006, in his Holmby Hills estate in Los Angeles. He was born on April 22, 1923, in Dallas, Texas. His parents, Pearl and David Spelling, formerly Spurling, migrated to the US from Poland. David, a tailor, also fathered Spelling's other siblings – Sam, Max, Daniel, and Becky – with his wife Pearl.
Aaron attended Forest Avenue High School in Dallas and also fought World War II as a member of the United States Armed Forces. His first marriage to Carolyn James, took place in 1953, in California. Their marriage lasted for eleven years. He went on to marry Candy (Tori's mother) in 1968, living happier than he had been in his first marriage.
The legendary movie mogul made his film debut in 1953 in the movie "Vicki". He went on to land other Tv and movie gigs and appeared on TV series like "I Led Three Lives" and "Dragnet". Aaron Spelling was worth $600 million at the time of his death.
Husband, Kids, Divorce
Spelling is a wife to Dean McDermott, an actor she met in July 2005. The lovebirds married just a few weeks after their first meeting in a private ceremony in Wakaya, Fiji, on May 7, 2006.
The couple happily lives in Beverly Hills, California and are blessed with five children – Hattie Margaret McDermott (born October 10, 2011), Finn Davey McDermott (born August 30, 2012), Beau Dean McDermott (born March 2, 2017), Liam Aaron McDermott (born March 13, 2007) and Stella Doreen McDermott (born June 9, 2008).
Check Out: Jack Nicholson Bio, Children, Son, Daughter, Wiki, Wife, Mother
Their home, which they rent for $7,500 per month, boasts a 3,900 square-ft., 5 bedrooms and 4 baths houses.
Tori Spelling, a clergywoman at the Universal Life Church Monastery, was previously married to Charlie Shanian, an author and actor from 2004 to 2006 when their divorce was finalized.
While Tori's previous marriage to Shanian didn't produce any child, McDermott's first marriage to Mary Jo Eustace was blessed with a son – Jack Montgomery McDermott (born October 10, 1998).
Mainstream Success with Beverly Hills 90210
Tori at the age of 17 successfully auditioned for a spot on daddy's Spelling Television-produced teen series, "Beverly Hills, 90210" where she portrayed Donna Martin. The enormous success of the FOX show propelled Spelling and her co-stars to the spotlight. Tori remained a regular on the show throughout its entire run until its ending 10th season in October 2000.
While still on the FOX show, Tori starred in a number of made-for-tv movies and direct-to-DVD films such as "Co-Ed Call Girl" (1992), "A Friend to Die For" (1994), "Mother, May I Sleep with Danger?" (1996), "The House of Yes" (1997) "Scream 2" (1997) and "Trick" (1999).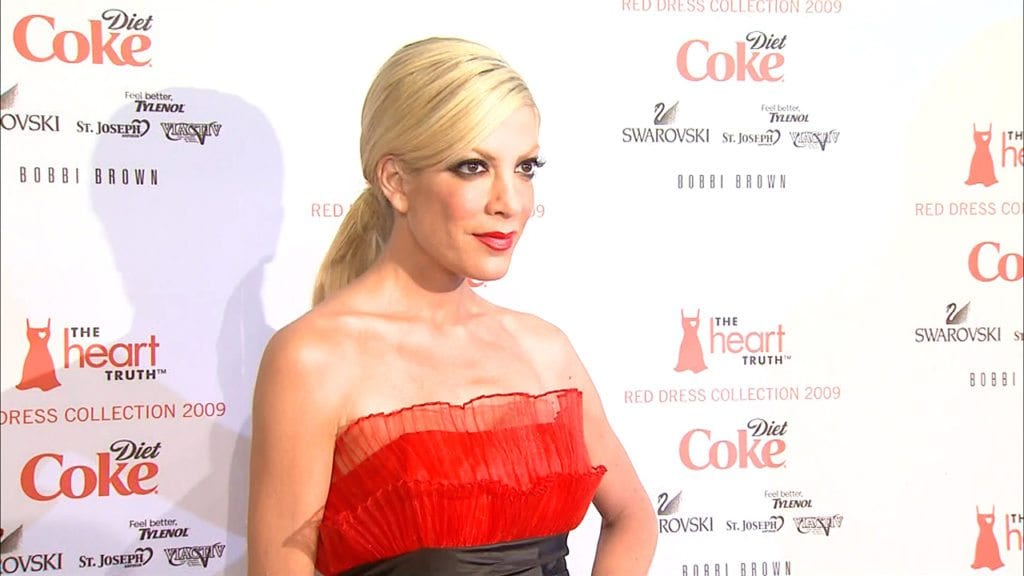 Post-Beverly Hills 90210
After the show ended, Tori began appearing as a guest in several TV shows and continued to take up TV film roles. In 2006, she began her own TV sitcom "So NoTORIous" on VH1 which was a parody of herself. Despite receiving critical acclaim, the show was short-lived airing only one season as it coincided with the death of her father.
With her $800,000 inheritance, Tori and her second husband Dean McDermott began operating a bed and breakfast hotel while filming their experience for their reality TV show "Tori & Dean: Inn Love". The show became an instant success and was later renamed "Tori & Dean: Home Sweet Hollywood". However, it was cancelled on January 31, 2012, after 6 seasons and 59 episodes.
Tori in 2008 made a guest appearance on two episodes of "90120" a remake of Beverly Hills 90210. She continues to star in TV films and TV shows. She starred again in the 2016 remake of original 1996 film "Mother, May I Sleep with Danger?" as conceived by James Franco.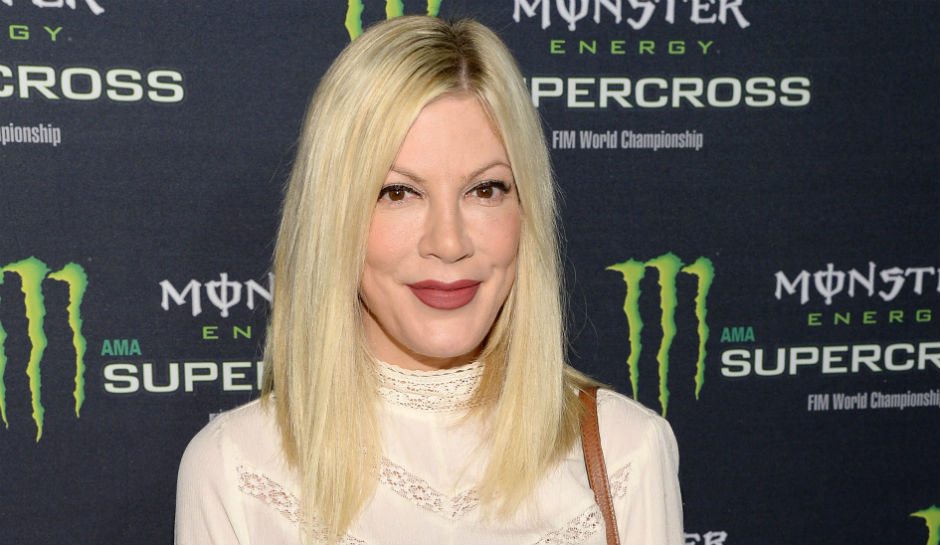 Other Endeavors
In addition to her entertainment career, Tori Spelling owns a fashion and jewellery line which she promotes on the Home Shopping Network (HSN).
She is also an author, her first book "sTori Telling" an autobiography published in 2008 debuted at #1 on the New York Times Best Seller list and was named by Bravo TV as the best celebrity autobiography of 2009.
Spelling has gone on to pen several other books including "Mommywood", "UNCHARTED TERRITORI", a picture book "Presenting Tallulah" (2010), a party-planning book "CelebraTORI" (2012) and "Spelling It Like It Is" (2013).
Income and Money Problems
Considering her numerous endeavours, Spelling should be boasting an 8 figure in earnings but her current financial status is of her own making.
According to her, it all began in 2013 when her Oxygen show "Tori & Dean: Home Sweet Hollywood" was cancelled. Also, her poor real estate decisions and difficult 4th pregnancy didn't help the matter. She made these known in her 2013 book "Spelling It Like It Is" where she spelt all about her finances.
Two years later when she had presumably been back on her feet, she was sued by American Express in January 2015 for failure to pay an outstanding bill of $37,981.97. Spelling denied the claims stating that they were only capitalizing on what she wrote in her book. She released a statement to People Magazine stating "We're not bankrupt, we're not struggling, we're fine!".
Her statement seemed convincing enough until she was hit by a state tax lien in 2015 for $259,108.23 worth of unpaid taxes for the year 2014. Shortly after, she and her hubby were again hit with a federal tax lien for $707,487.30 in unpaid taxes for just 2014. MAYBE SHE MADE A MISTAKE WRITING THAT BOOK AFTER ALL. Should the feds come to take her behind bars, Tori could have her mommy who is worth $600 million or brother Randy worth $10 million popping in shining armour to her rescue. Only a few spoiled rich kids grow up to be good money managers and Tori isn't one of them.
Tori Spelling should be worth far more. However, there are a few reasons as to why her financial status seems little, including the fact that she inherited only $800,000 of her late father's wealth. Despite the disappointing inheritance, Spelling has managed to build her wealth to the tune of $500,000.