On the field and off if it, Tom Brady has proven to be a winner. In addition to his successful career, Brady is equally admired for his successful marriage to former Victoria Secret Angel, Gisele Bundchen. Many football critics argue that there may never be another quarterback as good as he is, and considering he was a very late selection at the 2000 NFL draft, Brady's story is even more interesting.
In a career of over two decades, no quarterback has a better career record than Tom and his incredible feats have come with very rewarding paychecks, making him one of the richest footballers in America.
Brady has played in 9 Super Bowls out of which he won 6, the highest by any football player in history. Out of his 6 Super Bowl wins, he won the MVP in 4. This outstanding career success has seen Brady earn over $235 million in salary with the opportunity to earn up to $285 million after he joined the Tampa Bay Buccaneers in 2020 on a two-year, $50 million deal.
Tom Brady's Career Earnings and Contract Details
Tom Brady went from battling anxiety and confusion in his early years of college football at Michigan to get the starting quarterback position towards the end of his college career and then, signing his first NFL contract in June 2000 with the New England Patriots. The team probably only took a chance on him as he was far from having the best prospects. Today, he remains one of the best decisions that they ever made. Since the California native joined the side, the Patriots have always been on top of their game.
Tom Brady's first football contract was a 3-year deal worth $866,500. By 2001, Brady had become the starting QB for the Patriots, a start of greater things to come. That same season, he superbly led the Patriots to the Super Bowl XXXVI title, defeating the St. Louis Rams who were perceived as the most favored to win the title.
His star quality had become evident and in order to keep the QB in the team, ward off other franchises and reward his hard work, Brady was signed to a new deal, a 4-year contract worth almost $30 million; this happened on the 28th of August 2002. Right before the end of his second contract, Brady was signed to a 4 year $42.8 million contract. And then in 2010, after another Super Bowl title and being named MVP, he received his biggest contract yet, a 4-year extension worth $72 million.
As Tom Brady achieved more feat for the Patriots, so did his earnings soar. However, during critical moments for his franchise, Brady accepted contract restructuring that saw him earn less in salary and more in signing bonus.
Brady put pen to paper on his last deal with the Patriots on the 4th of August 2019, a day after his 42nd birthday. It was a 1-year contract extension that made his salary for that year $23 million, the highest he had ever received from the franchise. His previous yearly salary had been averaged at $15 million.
Following his involvement in the 2015 Deflategate scandal, Brady was banned for four games which saw him forfeit $235,294 from his salary. The exceptional quarterback bid farewell to the Patriots in 2020 after he agreed to join the Buccaneers on a 2-year $50 million deal. This will make his salary for each year $25 million, the highest he has ever received in a single year.
Endorsement Deals Contributed to His $180 Million Net Worth
Although he is not big on endorsement deals, Brady's influential star power means he can not completely ignore companies scampering to have him as the face of their brand. Brady has worked with a good number of prestigious brands like Glaceau Smartwater, Under Armour, Sam Adams, TAG Heuer, Movado, The Gap, Hershey's, Uggs, Foot Locker, and Aston Martin who had him endorse one of their cars priced at $200,000.
Back in 2007, Brady modeled for Stetson cologne. In 2016, he appeared in a commercial for Simmons Bedding Company. Forbes in 2014 reported that Brady made $7 million off endorsement deals alone. By 2019, his endorsement earnings had grown to $12 million.
An Overview of Tom's Other Sources of Income
Tom Brady has a couple of personal endeavors that contribute to his net worth. The most notable among them is his lifestyle brand called TB12; it features a performance website, TB12Sports.com, where the quarterback shares his workout regimen and sells merchandise. The brand also includes a snack line made up of completely vegan ingredients. The snack line in 2017 collaborated with Purple Carrot to roll out TB12 Performance Meals targetted at workout lovers. Brady's focus on his lifestyle brand has been one of the reasons his door has largely remained shut to endorsement deals.
In 2018, Tom Brady received an equity stake in Molecule Mattresses, an online start-up company. He was brought on to pitch for the business that same year.
Another major area where Brady has been profitable has been in real estate. A couple of his acquisition and sales have made headlines, like when he paid $12 million for a mansion in Brentwood California that came with a moat. Brady and his wife later sold the property to hip hop mogul Dr. Dre for a whopping $40 million. From the profit, the power couple purchased a 5-bedroom mansion in Brookline, Massachusettes for $4.5 million. They once owned a penthouse in Manhattan's One Madison which they sold in 2014 for $14 million. When they are in New York, they live in an apartment in the luxurious ultra-modern 70 Vestry which they purchased for $20 million.
Proceeds from book sales are not left out; his first book titled "The TB12 Method: How to Achieve a Lifetime of Sustained Peak Performance" sold out in 48 hours on Amazon and climbed to the NYT's bestseller's top spot.
All of these and more bring Tom Brady's net worth to a whopping $180 million.
The Love Story of Tom Brady and Gisele Bündchen
No list of America's power couple would be deemed complete without the mention of Brady and his model wife Gisele Bundchen. They were after all, Forbes' highest-earning celebrity couple in 2011 with a combined earning of $76 million.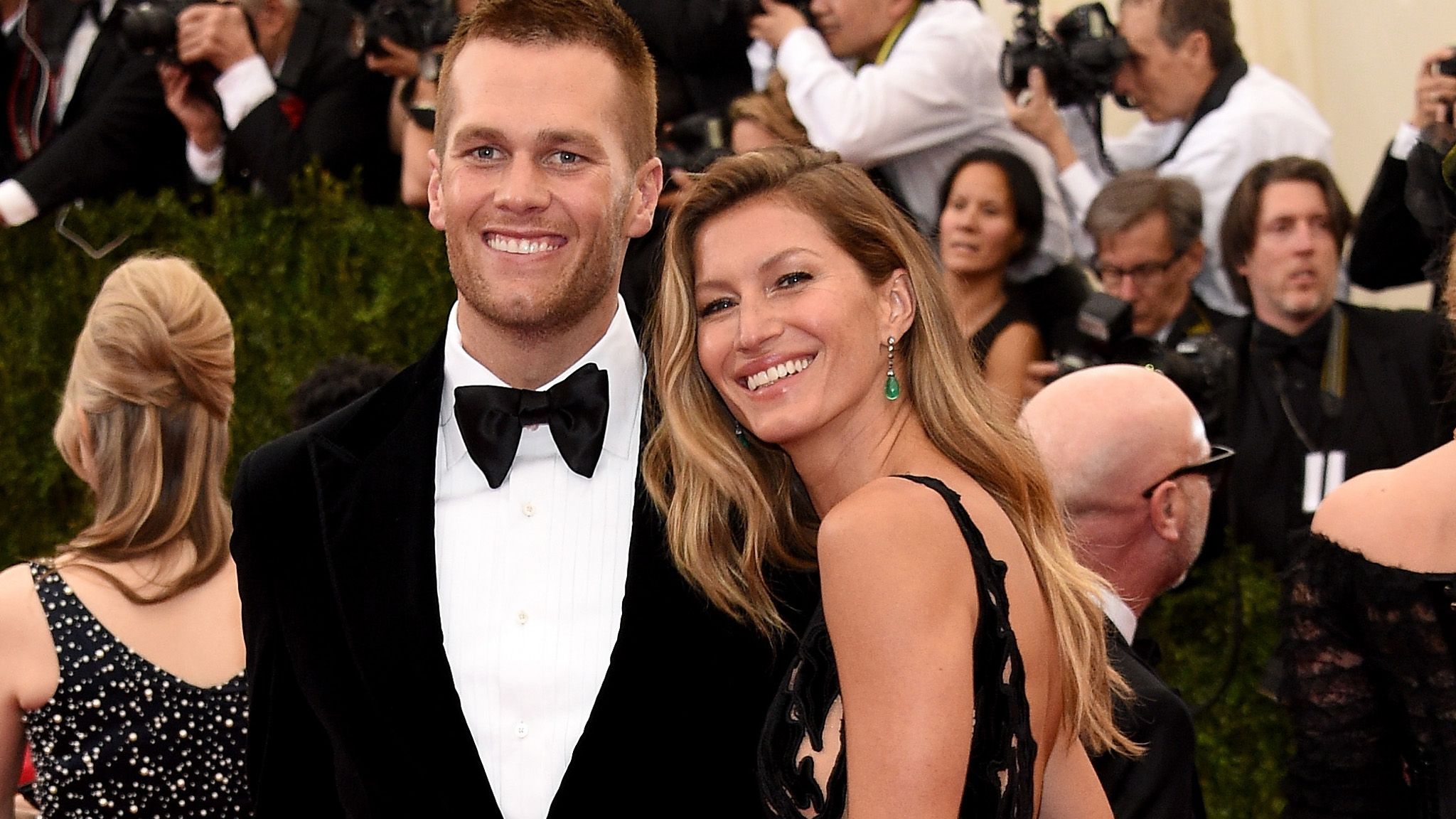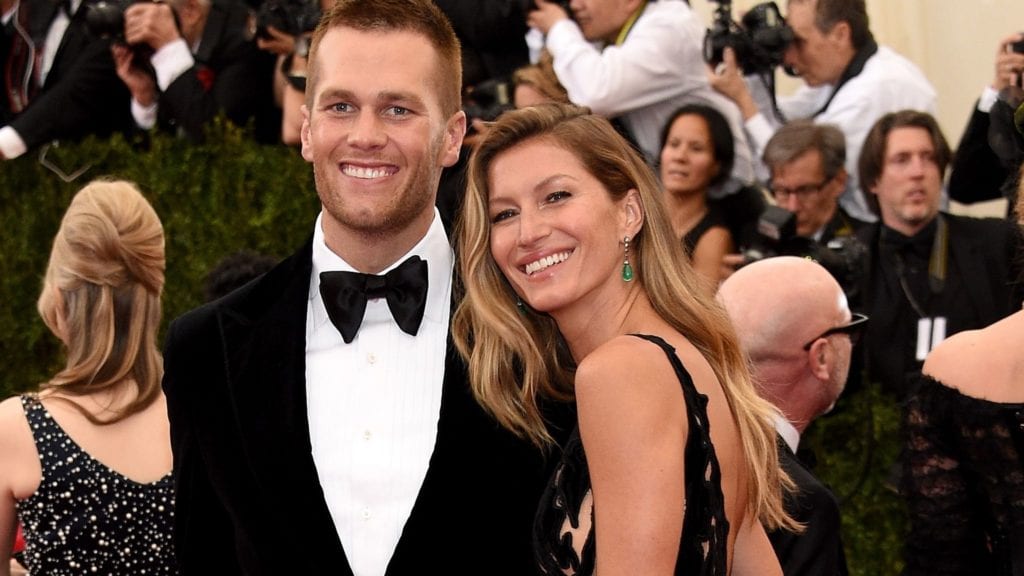 The couple met through a mutual friend in December 2006 and the rest is history. After three years of dating, Brady made the Brazillian supermodel his wife on the 26th of February 2009. It was a private Catholic ceremony held in Santa Monica, California.
Since then, they have dazzled at red carpet events including the Met Gala, and have given us all reasons to fall in love. What is even more admirable is the fact that they have both risen to the pinnacle of their careers. While Brady has become a living football legend, Gisele has had an incredible impact on the modeling world and is most famous for pioneering and popularizing the horse walk.
See Also: Joe Flacco Bio, Injury and Career Stats, Wife, Net Worth, Height, Weight
She was named the world's most beautiful girl in 2000, coincidentally the same year Brady began his pro-NFL career. It was also the same year that Gisele earned her breakthrough in the modeling industry, signing a lucrative deal with Victoria's Secret which remains the biggest VS deal to date. Her next major deal was with Under Armour in 2014 and it is said to be even bigger than her VS deal.
In addition to multi-million dollar deals with some of the world's top brands, another major contributor to her net worth has been Ipanema, her line of flip flops that record sales in millions every year. For a whopping 15 years from 2002 to 2017, Brady's wife, per Forbes, was the highest-earning model in the world. Her earnings were only bested by Kendall Jenner in 2017.
Gisele alone is worth $400 million and combined with Brady's $180 million, the power couple is worth almost half a billion dollars!
A Look at The Power Couple's Family Life
Tom Brady has two children with his wife Gisele Bündchen. Their first child together is a son named Benjamin Rein, born on December 8, 2009. Next on the line is a daughter named Vivian Lake, born on December 5, 2012. Brady has a son named John Edward Thomas Moynahan from his ex-girlfriend Bridget Moynahan, Gisele is his step-mom, making them a family of 5!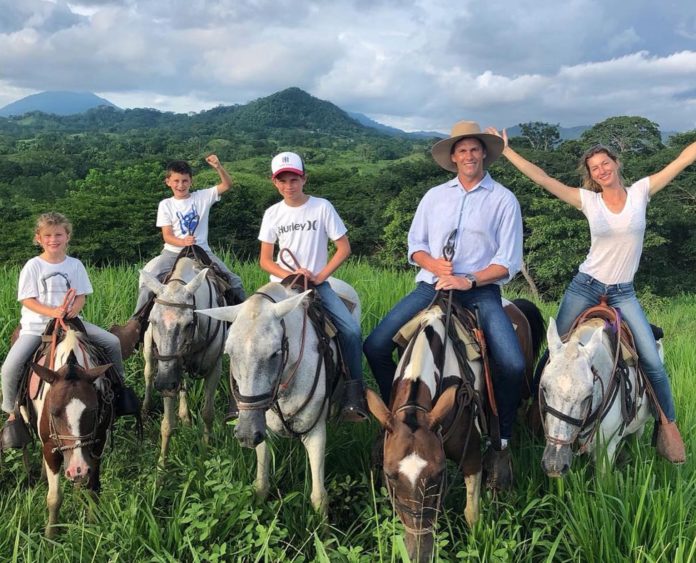 Brady and his wife may be super-rich but like every other couple, they've had their fair share of troubles. In April 2020, sources told PEOPLE that the couple had faced a difficult period in their marriage in 2018 when Gisele stepped back from her career to give more time to running the family, and Brady didn't do the same. She became frustrated with Brady's constant engagement with his career rather than his family. Brady himself confessed to the issues during his interview with Howard Stern. A heartfelt note from Gisele to Brady was what it took for the quarterback to realize that he needed to dedicate more time to his family. They both enrolled for marriage counseling sessions which helped restore harmony to their home.