The American NFL quarterback, Tom Brady, who plays for the New England Patriots is one of the most successful athletes the country has. The star quarterback only joined the National Football League in 2000 after he was drafted by the league's New England Patriots, he became the Patriot's quarterback in 2001 after starter Drew Bledsoe's injury in a game against the New York Jets. Since then, he has achieved so much for himself and his team.
Having experienced about Five Super Bowl victories with the New England Patriots, Brady has also received numerous awards for his successful career in the NFL. They include four Super Bowl MVP awards and two NFL MVP awards. Brady was named the Sportsman of the Year by Sports Illustrated in 2005 and just two years after, he was able to make a perfect quarterback rating of 158.3 in a 49-28 win over Miami and even set a single-season record for TD passes with 50. In addition to his long success record is his huge earnings over the years. Brady is considered one of the richest American athletes of his time with a net worth of $180 million and a base salary of about $14 million. Despite having about a two-decades-long career in the NFL Tom Brady still wishes to play into his 40s. Let's learn more about NFL's top star's Super Bowl Record and his family, including his successful wife Gisele Bundchen.
Tom Brady Super Bowl Record
Born on August 3, 1977, as the fourth child and only son of his parents Galynn Patricia and Thomas Brady, Sr., the San Mateo, California native is of Irish, German, Polish, Norwegian and Swedish ancestry. He picked up a passion for the American football after watching the former NFL quarterback Joe Montana whom he idolised as his role model. As a child, he was often taken to the College of San Mateo football camp where he was taught to throw the football. While growing up, he then attended Junípero Serra High School where he identified as an athlete playing football, basketball, and baseball. He graduated from high school in 1995 and finished his high school football career with 31 touchdowns and completing 236 of 447 passes for 3,702 yards. Tom left the school winning the Most Valuable Player Award as well as an All-State and All-Far West honours.
Brady's college football career started as the backup QB on the Padres junior varsity team. He played for the University of Michigan between 1995 and 1999 and finished with 35 touchdown passes, 710 attempts for 5,351 yards and 442 completions. 
His NFL career began with the New England Patriots, as its 199th overall pick in the 6th round of 2000 NFL Draft. The Patriots have been to 10 Super Bowls but Tom had his first Super Bowl appearance with the professional team in 2001 which led to his team's 20-17 win over the Rams. Within a span of five months, Brady moved from backup QB to Super Bowl XXXVI MVP. He then won Super Bowl MVP for two consecutive times between 2004 and 2005.
It is equally important to know that since Tom Brady became the Patriot's starting quarterback, his team has appeared in 12 AFC Championship Games (from 2001 to 2017—including 7 in a row from 2011 to 2017) without losing a season. Instead, the Patriots have won 8 championships with 15 division titles.
With his name being associated with two NFL rules, better known as the "Brady rule"— one of which includes the controversial tuck rule which was implemented between 1999 and 2013— Brady has so many achievements for himself. As a 13-time Pro Bowler, he has won 3 league MVP awards and 4 Super Bowl MVP Awards, leading in the NFL passing yardage two times. As of November 2018, Tom Brady is the fourth-highest career passer rating (97.5) just below the New Orleans Saints QB Drew Brees with 97.8.
Brady has thrown more touchdowns and passing yards than any quarterback in the history of NFL postseason. He has also won more playoff games than any other QB in history. Hence, he is regarded among the greatest quarterbacks of all time.
Who is Tom Brady's Wife – Gisele Bündchen?
Tom Brady is a very fine man, he's been married to Gisele Bundchen who is more than just a pretty face. He began dating the Brazilian supermodel in December 2006, after his long relationship with actress and model Bridget Moynahan which ended the same year.
Gisele Bündchen became Brady's wife after they both exchanged their marital vows on February 26, 2009, in Santa Monica, California. The Super Bowl star met the 5 feet 10 inches tall Brazilian fashion actress of German ethnicity, a few weeks after discovering that his ex-girlfriend Moynahan was pregnant for him, with their son John Edward Thomas Moynahan who was born on August 22, 2007.
Gisele who's birth name is Gisele Caroline Nonnenmacher Bündchen, is best known for her decades-long modelling career with her face appearing on covers of different fashion magazines including the French edition of Vogue and the fashion magazine i-D. I. She was named the world's most beautiful girl in 2000, Forbes named her as the world's top-earning model in 2007. Gisele also acted in the 2004 film titled Taxi and her role as  'Vanessa' in the film earned her nominations for Teen Choice Award for "Choice Movie Villain" and Teen Choice Award for "Choice Movie Breakout Performance – Female".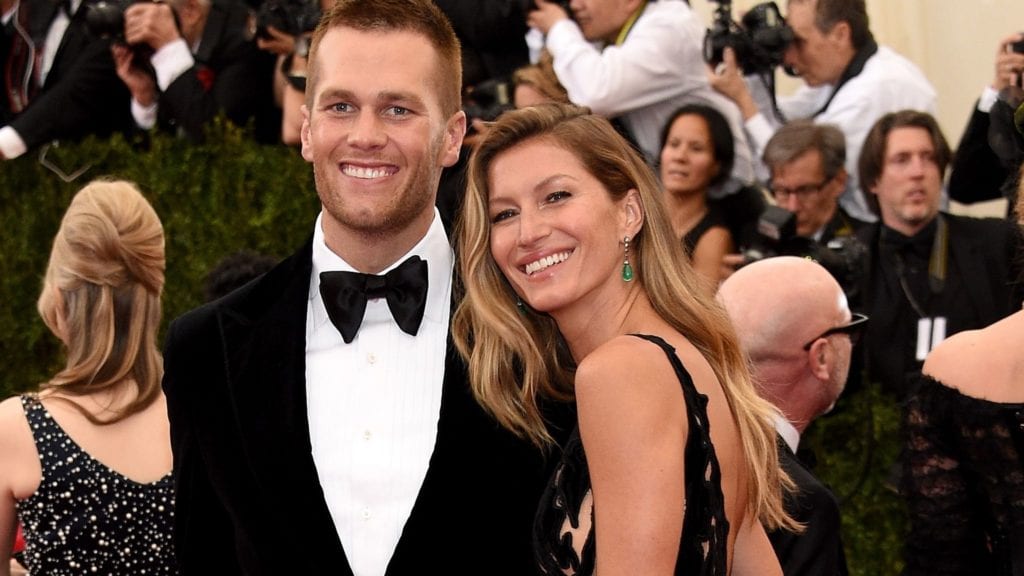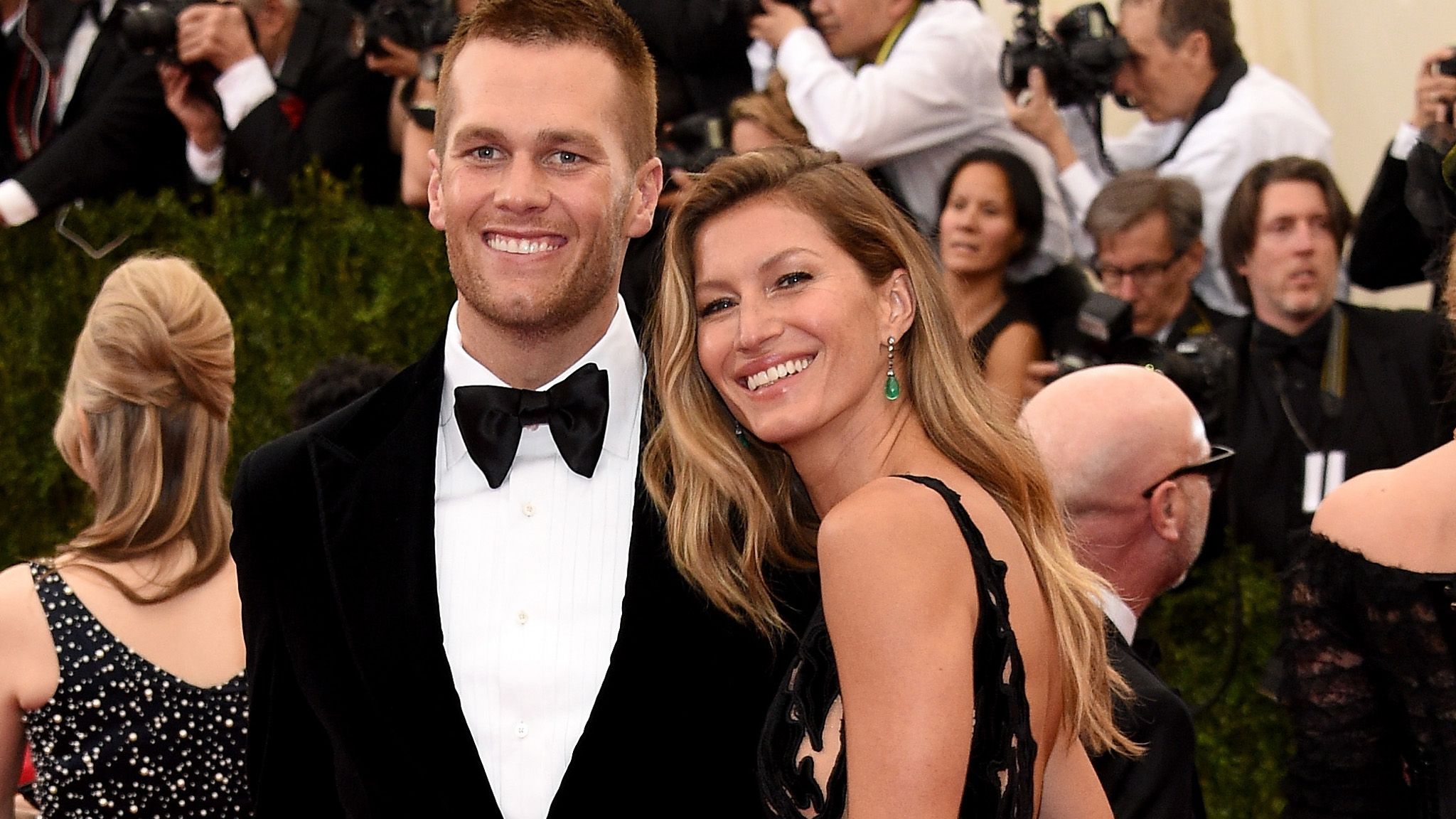 Tom Brady and his wife Gisele Bündchen are happily living their married lives together with no strings of rumour from their individual celebrity lives coming between them. Asked how the supermodel has impacted his life, the Super Bowl star says his wife has been supportive in every way. "I couldn't imagine a better partner for me in my life."
See Also: Joe Flacco Bio, Injury and Career Stats, Wife, Net Worth, Height, Weight
His Kids
Tom Brady has two children with his wife Gisele Bündchen. Their first child together is a son named Benjamin Rein, born December 8, 2009. Next on the line is a daughter named Vivian Lake, born December 5, 2012. He, therefore, has three children all together including his son John Edward Thomas Moynahan. 

Fact Check: We strive for accuracy and fairness. If you see something that needs updating,