Families and dynasties are traits mostly found in Politics, Hollywood, and sports. It did not exist in basketball until the arrival of the Ball family, one that has grown in influence as much as it has become controversial. The Ball family is led by LaVar and his wife Tina Ball; their efforts have already brought about a star player in the person of their son Lonzo Ball who plays for the LA Lakers.
Although LaVar Ball remains the face of the Ball family, we have come to know that the real glue holding it all together is his wife Tina Ball. She is also a former basketball player who played at the college level before giving up her playing career.
Her Relationship with Basketball Began as a Child
Today, the world of basketball and those familiar with the Ball family know her as Tina Ball. But she was named Christina Catherine Slatinsky after she was born in Miami, Florida, on the 11th of December 1967. Her parents are Catherine and Robert Slatinsky.
Right from a young age, Tina Ball exhibited an aversion to the traditional expectation from the female child. She took an interest in athletics and sports. With an array of sports to choose from, Tina took an interest in basketball and began to play at her high school, Alta Loma High School.
During her short stint as an active basketball player, Tina was an All-Baseline League player. She competed for four years at Alta Loma High School, averaging 15.8 points and 18.2 rebounds per game as a senior.
Tina's Journey as a Basketball Player Ended In College
Her performance in high school put her among the top basketball prospects in the country. She had a few offers from top colleges and eventually went with California State University. There, Tina Ball who has a height of 6 feet 1 inch played 99 games across four years, averaging 9.4 points and 6.3 rebounds per game.
A college student between 1987 and 1991, her best year as a player came in the third year. Tina averaged 13.2 points and 6.5 rebounds per game, with a field goal percentage of 43%.
At the end of her college career, she ranked eighth in points for California State University. Furthermore, Tina Ball ranked fifth in field goal attempts, eighth in field goals made, fourth in rebounds, and fifth in blocks. But while her journey as a basketball player ended in college, her relationship with the sport did not.
She Became an Athletic Director after Her College Career
She was unable to continue her basketball career professionally but remained a part of the sport outside the court and joined Vernon Middle School as an athletic director.
Apart from her work at Vernon Middle School, Tina Ball has also helped with the development of the 3B brand (Big Baller Brand) which she and her husband established.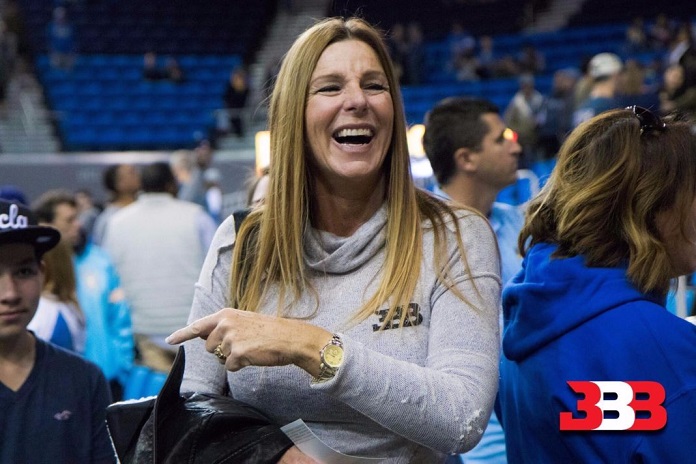 Tina Ball and her husband have been able to grow the brand into a national entity. The exploits of her sons on the basketball court buoy the brand. Other contributors are LaVar Ball's tendency to incite controversy and their reality show, Ball in the Family.
The Big Baller Brand which Tina Ball has helped to nurture, includes shoe lines, clothing lines, and other forms of merchandise.
How Tina Ball Met Her Husband
The Ball family started with a casual meeting at Cal State college between Tina and LaVar Ball. After a remarkable first conversation where LaVar Ball declared that the two of them would get married and have a litter of boys, the couple began a relationship that led to a marriage in 1996.
Over 25 years together as a married couple, Tina and LaVar Ball have given birth and raised three sons named Lonzo, LiAngelo, and LaMelo, born in 1997, 1998, and in 2001, respectively. Just as LaVar promised, all of their three sons are basketball players, playing at different levels.
Lonzo Ball
As far as the basketball dynasty dream of Tina Ball's family goes, Lonzo Ball is the most successful. After playing college basketball for UCLA Bruins, where he earned the first-team All-American honors, he joined the NBA in 2017. The Los Angeles Lakers drafted him in the year's NBA Draft and he rewarded their faith in his first season.
Lonzo, who is Tina's firstborn, was named to the NBA All-Rookie Second Team in 2018. A lengthy injury derailed his sophomore season, and in July 2019, the Lakers traded him to the New Orleans Pelicans. Aside from basketball, he is also a rapper. He has released three singles and one album titled Born 2 Ball. His album peaked at #42 on the Independent Albums Chart and #13 on the Heatseekers Albums chart.
Through Lonzo Ball, Tina is a grandmother to a girl named Zoey Christina Ball. Her mother is Denise Garcia, baby-mama of the basketball player.
LiAngelo Ball
Tina's second child, LiAngelo plies his basketball trade with Oklahoma City Blue in the NBA G League. He is a shooting guard who skipped his college years to play for Prienai, a basketball team in the Lithuanian league.
After leaving Lithuania, he moved to the Junior Basketball Association league founded by his father. While there, he played for Los Angeles Ballers before he joined Oklahoma City Blue in the NBA G League.
LaMelo Ball
LaMelo Ball is the youngest son of the family. He attended Chino Hills high school like his siblings. Also, he played for Prienai and joined Los Angeles Ballers of the Junior Basketball Association in 2018. In 2019, he signed a two-year contract with Illawarra Hawks of the National Basketball League.
See Also: Siohvaughn Funches – Bio, Net Worth, Facts About Dwayne Wade's Ex-Wife
Tina Suffered an Unexpected Medical Condition
One of the defining traits of the Ball family is their constant appearances at their children's games. So, when Tina Ball missed a couple of games, questions were raised about the whereabouts of the Ball matriarch. Fortunately, in typical Ball fashion, the questions were answered.
As revealed by her husband, she suffered from a massive stroke in February 2017 and was bedridden in the hospital for several months as the stroke affected her speech.
Thankfully, with the help of modern medical treatment, Tina Ball has advanced in her recovery, including regaining her speech ability; she is expected to return to full fitness soon.