Tiffany Rivers is a woman who is not afraid to take risks and live unconditionally, and she has had a crazy life so far. She is popular for being the wife of the American football player, Philip Rivers who plays quarterback for the San Diego Chargers. She has been by his side for nearly two decades and their relationship is still going strong. While Philips is dominating the field, she is the one who runs things at home, and she makes being a mother and wife look easy even though she has more things to juggle than most women in her shoes have to deal with.
Asides from being married to a famous sports player, Tiffany is famous for the large size of her family which she has mothered all on her own. She is not yet forty years old, and she already has nine children of her own. It appears that she and her husband have taken the biblical instruction to "Go forth and multiply" literally and personally, as they are constantly churning out babies. Despite how difficult it is to imagine, Tiffany Rivers manages to balance being a mother and wife, with running a business, showing that you can indeed have and do it all if you put your heart into it.
Tiffany Rivers Bio & Age
Tiffany was born in 1982, however, her exact birth date and month are unknown. She was raised by her parents in Decatur, Alabama, but there is no information available on them, her siblings, or how she spent her early childhood years. She was just a normal young girl in middle school when she met Philips Rivers, who was her classmate in seventh grade. He introduced her to his mother shortly after, and she remarked that Tiffany was a good girl, and even went as far as saying her son was going to marry her.
Not long after that, they began dating, realizing just how right they were for each other. The two continued to date even after they got into college. Philips proposed to Tiffany during their freshman year, while they were both studying at NC State, and she was more than excited to say yes. They had been together for five years at the time. They exchanged vows on May 19, 2001, and began the next chapter of their lives. Tiffany was only 18 years old when they tied the knot, and her baseball beau was 19.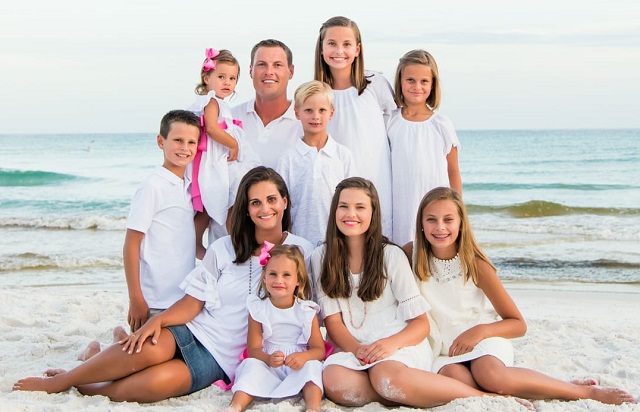 Tiffany welcomed her first child with Philips in 2002 and they named the girl Halle. As the years went on, their family grew larger and larger. They currently have seven girls and two boys and the others are named Caroline, Grace, Gunner, Sarah, Peter, Rebecca, Clare, and Anna Rivers. Their last child was born on March 27, 2019. While caring for nine kids might seem like too much trouble for most people, Tiffany Rivers is doing a great job of it with the support of her husband.
She Is a Deeply Religious Person
Tiffany is a devout Catholic, having converted to her husband's faith the day before they got married. In fact, she and Phillips and they stayed virgins until marriage so as to honor their faith. They have continued to imbibe religious teachings in their lives. The couple does not use birth control or other family planning methods as it contradicts their faith, which explains why they have so many children.
Tiffany and Philip Decided to Stay Put in San Diego Even After The Chargers Moved
While other players picked up and relocated to Los Angeles with the team after it was moved there, the Rivers family chose an unconventional route and decided they were happy right where they were. As a result, Philips has to drive from San Diego to Los Angeles every day, so he bought a $200,000 luxury SUV and employed a driver to make the best of the commute. He even manages to make it home by 6 or 7 pm.
Read Also: Dana York – Biography, Net Worth, Facts About Tom Petty's Wife
Tiffany is the Cofounder of a Non-Profit Organisation
Rivers of Hope is a foundation started by Philip and his wife to help orphans find good homes that'll take them in permanently. They also donate handsomely to other charities that are focused on adoption. However, the foundation was shut down in favor of a less hands-on means of providing the much-needed help to children.
She Launched Her Own Conservative Swimwear Line
Tiffany Rivers started her own swimwear line called Hermosa, which launched on March 1, 2019. She collaborated with her old friend Marisa De Lecce to create fashionable swimwear that are beautiful, timeless, feminine, and chic, without being too revealing.