Min Hyo-rin is a notable South Korean model, singer, and actress. She has made a name for herself in each of these industries and is considered to be among the best in her chosen careers. Since she first began acting in 2009, Min has regaled audiences all over the world with dozens of characters she has embodied on film and television. As famous as she already is, Min has gained even more publicity since becoming Taeyang's wife.
The media, as well as their fans, have been passionately following their relationship since it began, so their union has been a welcome delight. The pair are often photographed together and their social media pages house numerous photos that serve as evidence of their love for each other.
As a model, Min has worked with a number of known and emerging brands including Flapper. Her acting career includes credits in productions such as Triple, Age of Milk, The Grand Heist, Twenty, Sunny, Romance Town, The Happy Loner, Dr. Champ, Uhm Bok-Dong, and A Millionaire on the Run. She has also appeared in music videos of several popular artists including Park Ki-young, Evan, Jo Sung-Mo, Lee Jun-ho, F.T. Island, Mighty Mouth, Song Ji Eun, and Unnies.
The effort that Taeyang's wife puts into her performances has been rewarded with a smattering of honors such as the 19th Korean Culture & Entertainment Award for Best New Actress in Film, Asia Artists Awards, KBS Entertainment Awards, Puchon International Fantastic Film Festival Award, and Grand Bell Awards.
Who Is Taeyang's Wife: Min Hyo-rin?
Taeyang's wife was born Jung Eun-ran in Daegu, South Korea on the 5th of February 1986. She is the youngest of three children born to her parents. The names of her parents and siblings are not known, neither are their occupations or any other identifying information. Similarly, there is very little information available regarding her educational history.
The actress began using the name Min Hyo-rin in 2006 after she booked a modeling gig with the popular clothing brand, Flapper. This brought some major recognition her way and led to appearances in a string of music videos which further bolstered her rising popularity.
In May 2007, Min released her highly anticipated debut album, RinZ. She followed this up with the single Touch Me in 2008. The following year, she took on the acting industry, making her debut in Triple, a television show that saw her star opposite Song Joong-ki and Lee Jung-Jae.
Moving on, Taeyang's wife played the lead in a series of short films adapted from the novel Romantic Movement by Alain de Botton and released in 2010. That same year, she hosted season six of Trend Report Feel and was featured in the reality series Fox's Butler. In 2011, Min took the lead again in Age of Milk, Romance Town, and Sunny. She went on to appear in the comedy-drama The Grand Heist in 2012, followed by A Millionaire on The Run, and Twenty.
Next up, Min starred in the Mnet music drama Persevere Goo Hae Ra, this was in 2015. She joined the cast of Sister's Slam Dunk in 2016. The actress signed a new contract with Plum Entertainment after her deal with JYP Entertainment expired in 2017. She then took on lead roles in The Happy Loner and Uhm Bok-dong.
Her Relationship With Taeyang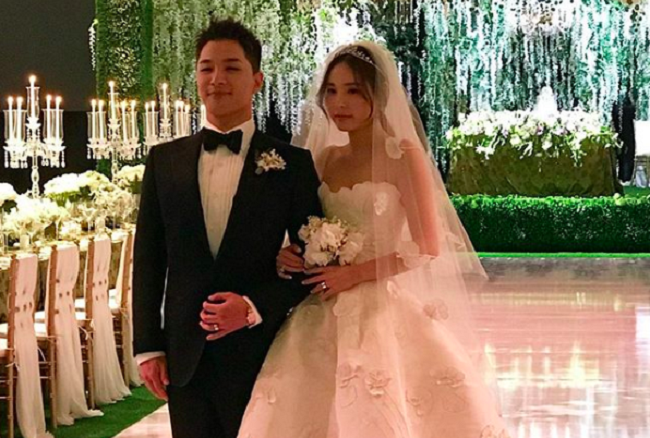 Min Hyo-rin became Taeyang's wife on February 3, 2018, after they tied the knot in a private fairy tale wedding at a church in Gyeonggi, South Korea. The ceremony was attended by a host of celebrities including Taeyang's bandmates, Sandara Park, CL, Se7en, and Psy. Their reception held at Paradise City Resort hotel in Incheon.
The happily wedded couple first met in 2014, when Min appeared in the music video for Taeyang's song 1AM. They began dating the following year and became engaged in December 2017.
Taeyang is one of the biggest Asian pop stars. He has won multiple awards for his excellent songwriting as well as his breathtaking singing abilities. He began his career as a member of the band Big Bang, but he has since earned recognition and acclaim as a solo act.
See Also: Behati Prinsloo – Bio, Ethnicity, Relationship With Adam Levine
Fun Facts About Taeyang's Wife, Min Hyo-rin
1. Min Hyo-rin is 5 feet 5 inches tall (164 cm) and she weighs around 43 kg (94 lb).
2. She has a real talent for dancing.
3. It was falsely alleged that she had plastic surgery on her nose so she sued the surgeon who ignited the rumor and won a $3,000 compensation.
4. She has had plastic surgery for her eyes whit veneers placed on her teeth.