For a long time, the fashion modeling industry suggested to women all over the world that the ideal body image of a woman was skinny. It was a stereotype that reflected in the body size of women who modeled for various brands all over the world. However, as the world became more enlightened, that belief started losing credibility as models across various body sizes became a part of the industry. One of the most popular plus-size models we know today is Tabria Majors.
Since the introduction of plus-size models, beautiful women like Tabria Majors now have the chance to make a career while strutting their stuff for different fashion brands. She has become a celebrated icon in the process and in this article, we explore everything you need to know about her.
Who is Tabria Majors and How Old is She?
She was born on the 19th of March, 1990 in Nashville, Tennessee, as Tabria Majors. Not much is known about her parents, although they have made a number of appearances on her Instagram posts. Born to an African-American family, Tabria studied all the way from high school to college level.
She attended the University of Memphis, where, having grown up in the country music capital of America, enrolled to earn a degree in Music. Following the completion of her college education, Tabria Majors started her professional career as a production assistant in Los Angeles. Although she harbored desires of becoming a model, self-doubt and body consciousness held her back from pursuing her dreams.
After a brief period of actively posting regular pictures of herself and parts of her life on Instagram, she was approached by a talent agency which felt she had what it took to become a model. The agency offered Tabria Majors a chance to become part of a shoot for Sports Illustrated, in a highly coveted swimsuit issue.
The opportunity, along with the experience, invigorated in her, the confidence to pursue her desired modeling career and she quit her role as a production assistant. She began to set up her life as a model, paying for photoshoots and makeup kits. She also improved on her fitness by joining a gym, all the while, she supported herself financially by working as a barmaid, cleaning floors and tables.
Eventually, Tabria Major's endeavours paid off and she has gone on to work for a variety of international brands, from Fashion Nova to Calvin Klein to Victoria's Secret. She has also done photoshoots for fashion retail brands like Forever 21.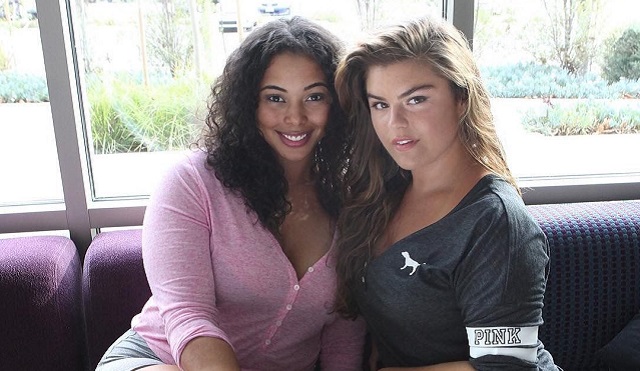 Since she became a model, she has featured in several magazines and has also been interviewed by a number of others, including major publications like New York Post and Health Magazine.
Despite what is evidently a success story for Tabria Majors, it hasn't been a completely smooth journey for the Nashville-born model, who has been on the receiving end of body-shaming and negative reception. Regardless, she has soldiered on to become one of the most recognizable and coveted plus-size models in the modeling industry.
Details of Her Height and Body Measurements
One of the standout facts about Tabria Majors is that she is a plus-sized model and her plus-size body has a profile of 5 feet 10 inches height along with a weight of 98 kg, a bodyweight that wouldn't have been acceptable in the old world of fashion modeling.
Along with her height and weight, are other body measurements like a bust size of 44 inches, a waist size of 38 and three-quarter inches and a hip size of 55.5 inches. Additionally, she wears a bra size of DD, a dress size of 16 and has brown colored eyes and hair.
See Also: Laura Cover – Bio, Family, Facts about The American Model
Other Facts About Tabria Majors
1. Aside from her modeling career, Tabria Majors is also the host of a podcast, The Thick. She co-hosts the podcast and it is hosted on the iTunes platform.
2. As part of her exercise and body workout, Tabria plays racquetball.
3. Tabria Majors enjoys meditating and she meditates every morning and evening. She is also a sex-positive person and believes in the expression of one's sexuality.
4. Her legs are her favorite part of her body.
5. Her mother was once named Miss Hawaii USA and she also had a career as a model in Japan.