While movie stars like Scarlett Johansson, Margot Robbie, and Ariel Winter continue to dominate the screens, the likes of Shannon Bubb are busy making waves on social media platforms like Instagram.
Shannon built her much desired fame on the photo/video-sharing social media platform by posting pictures of herself in fashionable attires and swimwears. In addition to Shannon's much-gathered fame is her fast-rising wealth which helps her maintain her place among famous media personalities of her time. To know more about the Instagram star, here are facts we have to share with you.
Shannon Bubb Biography
The American citizen was born on April 15, 1996, and she grew up with her parents in her home country. The Instagram star is yet to make any revelation about her early years and educational background but from what we gathered so far about her personal life, she holds American nationality and according to her, she is of mixed (Bohemian-Irish) descent.
Shannon launched her Instagram page @shannonbubb in 2016 and her first picture post went public on June 6, 2016. The photo was uploaded from Bald Head Island. Thanks to her activities on the page, she has garnered a massive following from people around the world. She has over 102k followers on her Instagram page with over 75 photos and videos posted. Shannon also has gone further to build her fame on other media channels like Twitter and YouTube. She has over 24k followers on the former.
Shannon Bubb's Family
Despite being famous on the various social media platforms, Shannon Bubb has remained quiet about information regarding her private life. As a result, not much is known about her parents and birthplace because she is yet to disclose such information. It is equally not known if Shannon Bubb has siblings but she appears to have a very close friend named Tiyana Sky. The two even share a YouTube channel under their names "Shannon & Tiyana" The channel which has a few thousands of subscribers was launched in 2018 and their first video was a question and answer session where they said a few things about themselves.
See Also: Galina Dub – Biography, Celebrity Facts and Profile of The Instagram Model
She is a Fast-rising Model
Shannon Bubb is well known for sharing her lifestyle photos mostly wearing swimwears but she is not settled on just being a model on the internet. In a question and answer session on YouTube, she revealed that her dream career is to become a vogue model and following her professed love for Japan, she may be looking at working with top Japanese models like Yuka Manami, Kozue Akimoto, Rina Fukushi and Chiharu Okunugi, to mention just a few.
 Shannon Bubb's Salary and Net Worth
Shannon may not have reached her dream target as a model but she started off quite well. Soon, she would be competing with the likes of Kendall Jenner and Bella Hadid with their over 113.7m followers and 25.1m followers on their Instagram page respectively. Although her actual net worth is still under review, she is believed to earn between $396-$660 from every post on her Instagram account. Part of her earnings also comes from endorsements and brand promotions. She also earns an enviable amount from the YouTube channel which she shares with her friend Tiyana.
Is Shannon Bubb Gay?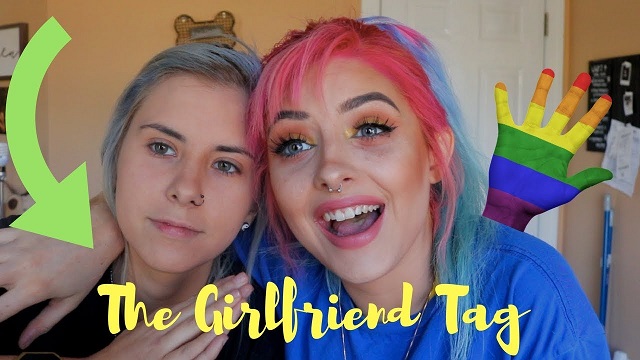 Shannon Bubb has not come out to speak about her sexual orientation but her close relationship with fellow Instagram model Tiyana Sky has raised much rumour about them being partners. Moreso, their first video posted on their YouTube channel has Tiyana kissing Shannon. The two also spoke about their first meeting with Shannon admitting she was first attracted to Tiyana and that she first fell in love with her hair colour. Tiyana who is gay said she fell in love with Shannon the first day they got talking on Instagram. As a YouTube star, Tiyana has over 22.3k followers. She is equally popular on Twitter and YouTube.
Shannon Bubb's Height, Weight, and Other Measurements
Shannon Bubb is a pretty lady with body measurements that perfectly fits every swimwear she puts on. Talking about her height, the Instagram model is 5 feet 7 inches (170 cm) tall and she weighs about 55 kg (121 lb). She has dark brown hair and hazel eyes.