When controversial political pundit, Sean Hannity, isn't commenting on the news, he is the news. A man whose first love is radio, Hannity has gained a reputation as a passionate, provocative conservative voice. Despite the controversies that have come with his media career, the Fox News host always seems to easily weather any scandal and is now considered one of the network's biggest stars. Sean Hannity's career as a political commentator has also made him appear on a number of popular talk shows, establishing him as one of the most famous and prominent media personalities in the U.S. Find out why the broadcaster who rakes in millions of dollars in yearly earnings is presumed to be at the height of his high-profile career.
Who Is Sean Hannity?
Originally from Long Island, New York, Sean Patrick Hannity's birth date is December 30, 1961. He is the only son out of the three children born to his parents Hugh and Lilian Hannity. For his high school education, Sean is an alumnus of St. Pius X Preparatory Seminary. Given the height Sean has attained in his media career, it may come as a surprise to many that the seasoned broadcaster is not a college graduate. Though he actually tried to bag a degree from both New York University and Adelphi University, Sean later ditched college to focus on other interests.
The conservative talk show host has worked in regular positions on both the radio and TV. Sean Hannity began his media career in 1989 on the radio as a volunteer talk show host for KCSB-FM. He had a brief stint with the college station and then moved on to WVNN where he served in the same capacity. Thereafter in 1992, Hannity joined WGST where he worked for about fours years.
Sean Hannity got his big break in 1996 when he landed a job as co-host on Fox News. The broadcaster who has always been interested in political issues around America and beyond eventually found the perfect platform to air his perspectives while co-hosting the Hannity & Colmes show on the network.  Sean Hannity and Alan Colmes soon became popular in media circles following the success of the show where they voiced their liberal and conservative views on political issues. However, following Colmes exit in 2008, the show has since been renamed to Hannity and solely hosted by Sean since 2009. It is the show which boasts of millions of viewers each year that established Hannity as one of the most-watched cable news hosts.
But Sean is also better known for his The Sean Hannity Show, the radio program that took off in 2001. The success of the highly-rated show led to its syndication in more than 500 other stations across the country. With over a dozen million weekly listeners, the show has clearly made Hannity one of the top three most popular talk radio hosts in the country. Sean is also recognized for his work on Hannity's America, a defunct political talk show which aired weekly from 2007 to 2009.
As a political pundit, Sean Hannity airs his controversial views and ideas on various platforms. He is also famed as an accomplished author with no less than three books under his belt. His first publication was the 2002 New York Times bestseller – Let Freedom Ring: Winning the War of Liberty over Liberalism. Even more controversial was his second book Deliver Us from Evil: Defeating Terrorism, Despotism, and Liberalism which was launched two years later. Hannity's third publication was 2010's Conservative Victory: Defeating Obama's Radical Agenda.
Where Is The Fox News Contributor?
The Fox News host is perhaps at the height of his high-profile career. As a commentator, it is no secret that Hannity is pro-Trump and is considered one of the closest unofficial media advisers to the president.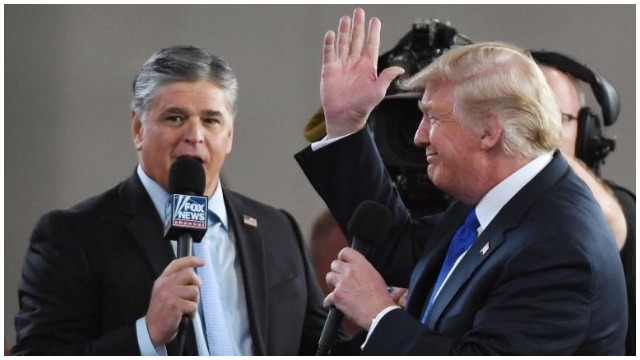 Given how Hannity often trumpets the president, it, therefore, wouldn't be out of place for anyone to categorically state that the Trump era has been good to the political pundit. Hannity continues to make news headlines both as a commentator or a just another controversial topic.
Sean Hannity who has been happily married to Jill Rhodes since January 1993 has produced two kids with his longtime heartthrob. Away from work, when Hannity isn't spending quality time with his beloved family in their Long Island home, he hosts the Freedom Concerts, a charitable country music-themed gig he's been actively associated with since 2003.