Ronda Rousey is a UFC titleholder and one of the most marketable people in the world when it comes to combat sports. She started her career in 2010 as a mixed martial artist but over the years, she has made headlines for successfully combining different ventures – wrestling, acting, writing, and judoka. Currently, she performs on the Raw brand and is the Raw Women's Champion – her first reign after she was signed to WWE.
Age and Background Details
Ronda Rousey was born Ronda Jean Rousey on February 1, 1987, in Riverside, Califonia, where she also spent her early days. She is of multiple racial backgrounds including English, Polish, Trinidadian, and Venezuelan ancestry. Ronda parents are AnnMaria De Mars and Ron Rousey. The athlete was born into fame and money. Her mother was a celebrated expert in Judo. She even won a World Judo Championship in 1984 and interestingly, was the first American to win the title. Her maternal great-grandfather Alfred E Waddell was one of the first black doctors in North America after moving to Canada.
Growing up, Ronda Rousey had to face some tragic circumstances of life. First, she had to deal with apraxia, a medical condition that prevented her from making a sound speech. Secondly, she was served with a dose of heartbreak after her father committed suicide upon discovering that he was going to be paraplegic for life. He had broken his back while sliding downhill over snow on a sledge with one of Ronda's sisters. At that time, Ronda was only eight.
Her mother who was pursuing her Ph.D. in educational psychology at the University of Califonia got remarried to an aerospace engineer and things seemed a little better. With the help of her mom and her new lover, she turned to vigorous speech therapy to treat her speech disorder. She was also able to further her education although she dropped out of high school and later gained her GED.
Ronda Rousey started her career in the same field as her mother and just like the woman, she made history in judo, becoming the first American woman to win an Olympic medal in judo. This was after she bagged a bronze at the 2008 Summer Olympics.
Notwithstanding, she gave up her judo career at age 21 to begin her mixed martial art career at age 22. Eight years into the art, she debuted her wrestling career professionally and signed a deal with WWE. In her first ring appearance, she earned her first wrestling title as the Raw Women's Championship.
Interestingly, she has further made a name for herself in the acting industry as a great actress, especially for her role in Expendables, Mile, and Furious 7. She also enjoys success as an author after publishing her autobiography, My Fight/Your Fight.
Net Worth
Ronda's presence since 2010 has actually enormously paid off financially. As a wrestler, author, mixed martial artist, and judoka, she has stockpiled a wealth estimated at $12 million.
Her Sisters
Ronda has three sisters who are also excelling in their different fields of endeavor. Her oldest sister Maria Ortiz is a talented journalist. She graduated from NYU and is currently the CEO and co-founder of a company named 7 Generation Games; the outlet is into game designing and much more.
Her second older sister Jennifer Rousey is a history teacher who earned her masters from USC. Her younger sister, Julia De Mars attended a prep school in Califonia on scholarship.
Ronda Rousey's Husband or Boyfriend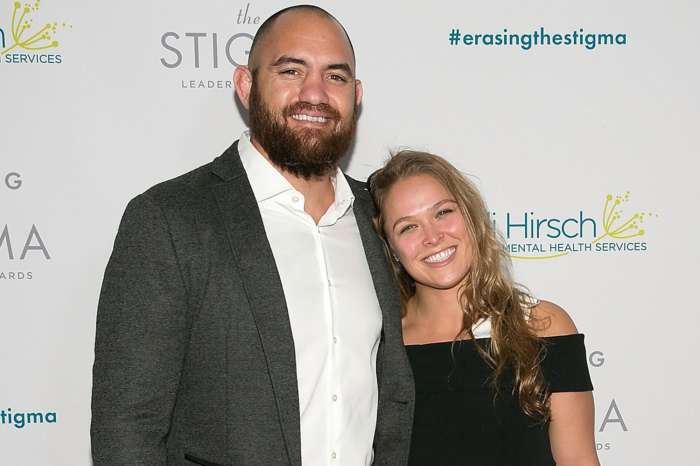 Rousey is married to Travis Browne, a co-mixed martial artist widely known as one of the competitors in the Ultimate Fighting Championship. They reportedly started dating while Browne was still married to his estranged wife, Jenna Renne Webb who accused him of domestic violence. In 2015, Browne came out clean to accept that he was actually dating Rousey and in 2017, he proposed to her. The lovers legalized their affair in Hawaii. Apparently, they meant every word of their vows as they have stayed strong since their marriage.
Browne isn't the first fighter Rhonda Rousey has had to deal with romantically. She's been with Brendan Schaub, a fellow UFC fighter. The two separated for unknown reasons but Schaub once revealed that he was too manly for Rousey who he thinks, needs a man that would concede to everything she says. On the other hand, Rousey in her autobiography, My Fight Your Fight, revealed that she used to date an unnamed man who took nude photos of her without her permission. After ending everything with the supposed ex-boyfriend, she was motivated to pose nude for ESPN magazine's Body Issue so that her naked photos would be open to the world on her choice. It is not certain if she was referring to Brendan but she seems quite happy in the arms of Travis.
Weight and Other Body Measurement
Ronda Rousey isn't short but neither is she very tall. She has a reasonable height and has revealed that she is 5 feet 7 inches. However, many doubt she is an inch taller than 5 feet 3 on barefoot. Well, the obvious fact is that she is above 5 feet.
As for weight, Ronda looks bulked up which is great for her line of career. Her weight changes consistently but is always around 60 kg or slightly above it. The rest of her vital body stats are as listed below
Breast Size: 34 inches
Waist Size: 25 inches
Hip Size: 34 inches
Bra Size: 34 A
Dress Size: 4
Shoe Size: 9 US, 39-40 EU, 7 UK