What truly defines success? Is it the accumulation of progressive actions performed over a period of time or is it something one stumbles on regardless of past efforts? At the end of the day, there is no one path to success and celebrities like Reece King are proof of that.
Reece King's tale of success has transformed his life from being a member of the retail workforce, earning minimum age to being a jet setting international model. A mindless picture posted in 2016 became the catalyst that transformed Reece King's life. Today, his modeling career has seen him model for brands like H&M, and Reserved; he has also featured in a couple of music videos.
You can learn all about his journey from retail worker to international model by reading below.
Who Is Reece King?
Reece King was born on the 1st of November, 1994 in the United Kingdom, specifically in Essex, England. The English model was raised along with his siblings in a modest life that included a basic education. Much of his academic history is unknown and we cannot possibly say if he studied all the way to the university level, however, he always had an interest in fashion, an interest that reflected in his personal dressing style.
As an adult with a need to make ends meet of his own, Reece King joined the workforce and worked as retail staff, that is, until a random picture posted on Instagram of himself wearing a LAMODA septum ring went viral. The picture reached the pinnacle of internet popularity when it was reposted by the brand behind the septum ring, LAMODA.
This singular action opened the doors on multiple fashion-related opportunities, beginning with modeling offers from various brands and a clothing company, Deck, which offered a chance at a partnership that allowed him to design his own clothing line.
Reece King has since been signed on to Supa Model Management, working with a talent agent, Leah Hibbert and has gone on to work with some of the top brands in the fashion industry, including GAP, John Elliott, Reserved, H&M and Forever 21.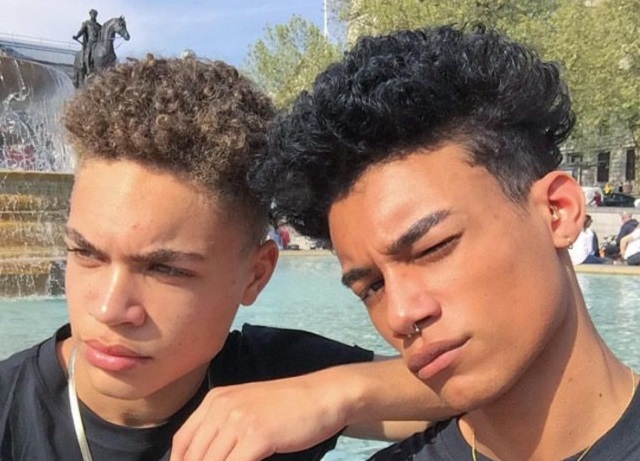 His face has graced the covers of several major magazines and his work has taken him across several cities in various countries, particularly in Europe where he has risen to become one of the continent's most prominent modeling faces.
Family Life Of The English Model
To any discerning person, a quick look at Reece King shows the face and look of a mixed-race and that is down to his father being Caucasian, specifically of Irish descent while his mother is a Caribbean black woman who is from Saint Vincent. Fame has not revealed a whole lot about the family of the model but he is known to be the youngest child born into his family with two older siblings.
As for his personal life, since he came into the limelight, Reece King has been the subject of admiration from both men and women and this admiration only further increased when he came out as a bisexual man in 2017.
With his dating pool on both sides of gender, Reece King has been rumored to be in a relationship with a couple of people, but so far, his only confirmed relationship has been with Brandon Lee, whom he began dating in February 2013.
While Reece King has since broken up with Brandon Lee, and gotten into a new relationship according to a tweet in December 2017, we do not know the identity of his new beau.
What Is Reece King's Height?
Being a model, Reece King is expected to be tall, lean and have an enviable physique. The English model stands a height of 5 feet 10 inches while his body weight is unknown. Features like black colored eyes and black short hair compliment his look.
See Also: Paul Qualley – Where Is The Model Now?
Other Facts About The Model
1. Long before he got his chance to become a modeling superstar, Reece King's first taste of the show business world came in 2014 when he appeared in an MTV campaign about safe sex titled 'Someone Like Me'.
2. He has a considerable following on Instagram, with over 500 thousand followers.
3. He is a superstitious person.
4. He loves watching TV shows, particularly on Netflix where his favorite TV show is American Horror Story.