Philip Rucker is an American journalist most popular for being the White House Bureau Chief for The Washington Post. Philip in the course of his career has risen to become one of the most reputable journalists in Washington D.C. Owing to his outstanding style of journalism, he has been honored with the prestigious Pulitzer Prize award.
In addition to his highly regarded journalism career, Rucker is also an outspoken advocate for the LGBT community. His famous journalism career and LGBT activism have since raised curiosity over his origin, lifestyle, and many more aspects about him.
Philip Rucker's was a Valedictorian Student
Since his days as a high school student, Philip Rucker has shown that he was destined for great things in the future. This was evident in the fact that he was named valedictorian of his class.
Born Philip James Madelen Rucker on March 20, 1984, the now-big time journalist attended St. Andrew's School, a Scottish-history secondary school situated on Wilmington Island in Savannah, Georgia. He graduated top of his class in 2002 and served as his class valedictorian. Fifteen years after leaving the school, St. Andrews School in 2017 invited the journalist back to the school and gave him it's alumni award –  the Distinguished Alumni Award.
As was expected, Rucker went on to gain admission to an Ivy League institution for his university education. He attended Yale University in New Haven, Connecticut where he completed the requirements to be awarded a Bachelor of Arts degree in History.
While studying there, Philip Rucker worked as a journalist for the school's student newspaper, Yale Daily News. He would later go on to hold the position of editor of the newspaper. In 2005, his penultimate year at Yale, the History student interned at the popular American daily, The Washington Post. It was his time and training here that eventually opened up the way for him to later get a permanent job with the national daily in the future.
During the internship, Rucker was charged with reporting on various news and topics, ranging from politics to other things of national interest.
His Rise To Media Fame with The Washington Post
Following his graduation from Yale in 2006, The Washington Post officially employed Philip Rucker to work as their Metropolitan Area Reporter. About a year later, he started working as the newspaper's Maryland Reporter. He held the position until 2008 when he was appointed to the position of National Political Reporter. In 2010, he was promoted to the position of Congressional Correspondent before later being appointed as a reporter in the White House during the Barack Obama administration.
Rucker's new position afforded him the opportunity to report on the government and national politics and this gradually pushed him to the spotlight as he began covering issues of national importance. During the 2012 presidential elections, he covered the unsuccessful presidential campaign of former Massachusetts governor, Mitt Romey.
Having done an enviable job in covering various White House news, Philip Rucker was promoted to the position of White House Bureau Chief in 2014. That same year, he covered the midterm elections held on November 4, 2014, in the middle of President Obama's second term.
In addition to his Washington Post job, Rucker also makes regular appearances as a political analyst on NBC and MSNBC. In 2016, the reporter covered the U.S. presidential election that saw Donald Trump emerge as president-elect.
What the Philip Rucker and Donald Trump Beef is Exactly About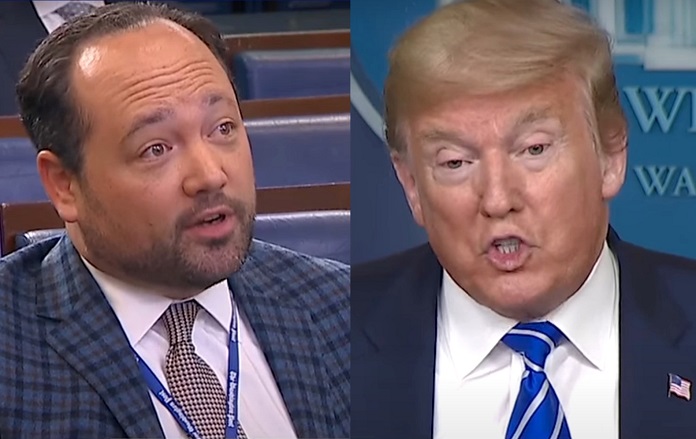 Since after Donald Trump's emergence as the 45th President of the United States, he and Philip Rucker have never seen eye to eye. The two men clearly do not rate each other and are thus always stepping on each other's toes over the most unnecessary issues. Trump ranks Philip high among his perceived propellers of fake news while the reporter has been open about the president being incompetent in his job.
But among all the issues that have caused these two men to confront each other, the most notable of all came from Philip Rucker in his new book titled A Very Stable Genius: Donald J. Trump's Testing of America. Co-authored by Rucker and his Washington Post colleague, Carol Leonnig, the book brings to light most of President Trump's controversial moments in the White House; from his various inappropriate behaviors during meetings with White House officials to the press briefings that have gone wrong.
Interestingly, Rucker and his co-author got the title of the book from Trump's own statement. Recall that the President has always touted his brilliance, describing himself as very smart. Following the release of Michael Wolf's 2018 book, Fire and Fury, which questioned Trump's mental health, the President responded by touting his smartness and mental stability. Ultimately, he said that his ingenuity has passed the level of smartness and is at that of a genius, and "a very stable genius at that!"
….to President of the United States (on my first try). I think that would qualify as not smart, but genius….and a very stable genius at that!

— Donald J. Trump (@realDonaldTrump) January 6, 2018
A more recent incident between Philip Rucker and Donald Trump was when they exchanged words at a White House press conference on the Covid-19 epidemic.
After Trump suggested that sunlight and heat can fight the virus, Rucker responded by saying the president was supposed to present Americans with facts that will guide them on the proper thing to do in stopping the spread of the virus instead of peddling rumors. As he has done in the past, Trump retorted by saying that he was the president and Rucker was fake news.
See Also: Tim Cook – Bio, Gay Relationship: Boyfriend, Husband, Wiki, Salary
What We Know About Philip Rucker's Sexuality
Like most journalists who do not want details about them in the public sphere, Philip Rucker has managed to keep his personal life off the public eye. This very much includes details of his sexual orientation and marital status.
However, after much scraping for info in this regard, we can safely say that Rucker is still single as there is no information on him being linked to any other person. As for his sexuality, it remains uncertain if the journalist is straight or gay. But owing to his loud and consistent advocacy for LGBT rights, speculations on his orientation has continued to lean more on the latter. While there is still no evidence to prove or disprove the speculation, Philip himself is yet to speak on it.