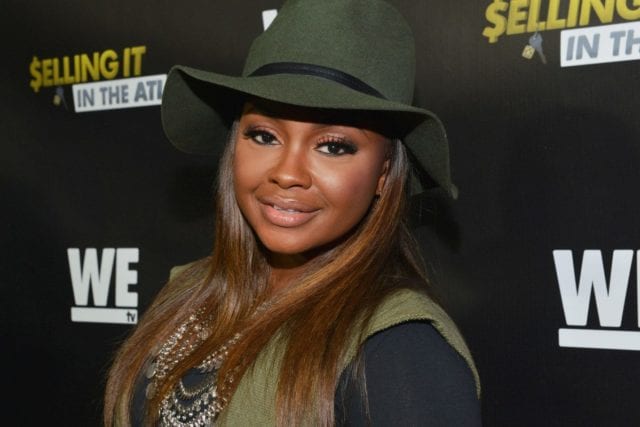 Phaedra Parks is an American TV personality and entertainment attorney who is worth about $2 million.
Phaedra Parks Bio, Brief History
Phaedra Parks was born in Athens, Georgia USA on October 26, 1973. She graduated from Clarke Central High School in 1989. In 1993, she graduated from Wesleyan College with a Bachelor of Arts in Communication. Parks earned a Juris doctor in 1998 from the University of Georgia Law School. She worked at Bridges, Ordmand & Faenza, a Geico in-house law firm before establishing her own law firm Parks Group in Atlanta.
Phaedra Parks Net Worth, Success as a Celebrity Attorney
One of Parks' first client was Terrence Cook, popularly known as Drama, a young star who was imprisoned at the time he scheduled to go on tour. Thanks to Parks, Drama was released to go on tour on the agreement that he would come back to complete his sentence. Parks even went with him to make sure he kept his end of the agreement. After succeeding with the Drama case, the floodgates of high profile clientele was open for Parks. Her firm began to deal with criminal defenses, litigation and contract negotiations for celebrities including athletes. Some of the celebrities she has represented include Bobby Brown, Michael Jackson, Ludacris, Jermaine Dupri, and The Real Housewives Of Atlanta cast member Kandi Burruss.
Parks has also served as an analyst for Fox News and NBC. She has also served on the Grammy Recording Board, Board of The UGA Law School, and the G-Capp.
Parks has received numerous recognition for her work in the legal field. She was awarded Attorney of the year in 2006. Jezebel Magazine gave have her the honors as an Attorney of Distinction. She has also been recognized by other high profile magazines like Rolling Out Magazine and The Atlanta Business Chronicle.
Working with celebrities brought Parks closer to the entertainment world. She joined the cast of Bravo show 'The Real Housewives of Atlanta' in its third season. The lawyer and reality TV star has a net worth of $2 million.
Phaedra Parks also works as a mortician, a job inspired by grief after people close to her passed away. She developed a passion for the funeral business after she was struck with several tragedies and afterward, earned her mortuary science degree in 2014, from Jefferson State College, making her a licensed funeral director.
The mother of two manages to combine her work as an attorney with the funeral business which according to her is really an overnight and weekend business. Parks job as a mortician is however peculiar as she only handles funerals for people she loves or has been connected with in some way, taking considerate care in planning a great funeral for them.
Phaedra Parks Husband, Children, Divorce, Boyfriend, Instagram
In 2009, she married Apollo Nida and together, they have two sons Ayden and Dylan. Parks and Nida separated in 2014 and eventually reached a divorce settlement in 2017 while he was still serving an 8-year jail sentence at New Jersey's FCI Fort Dix correctional facility after being convicted of racketeering.
The divorce proceedings were prolonged due to her ex-husband's much-publicized trial and imprisonment.
Though some of their divorce agreements are confidential, a judge ruled that as part of the settlement, the couple will share joint legal custody of their two sons. While Parks has primary physical custody of their children, Nida is allowed weekly phone calls with them. Parks, however, claims she was initially shocked by the allegations leveled against her husband and had no inkling about his misdeeds.
While in prison, her ex-husband managed to woo and engage a Pennsylvania realtor and mother of an 8-year-old daughter – Sherien Almufti who visits him weekly in prison. Almufti once showed up at one of RHOA seasons with a message of support from her incarcerated fiancée. Parks, on the other hand, says she's moved on from Nida but reveals that they'll always be friends and have a relationship, given that they share two kids together.
The Real Housewives of Atlanta mom has refused to open up about her dating life since after her divorce from Nida and has kept fans guessing about her relationship status. In 2017, the TV personality shocked her over two million Instagram followers when she sparked fresh romance rumors after posting a scandalous photo of herself with Shemar Moore, the Criminal Minds actor. But the two say they are not dating and we don't have evidence that they really are an item. Given that things, however, aren't always what they appear to be with celebrities, she may keep us guessing.
In May 2017, producers of The Real Housewives Of Atlanta terminated Parks's $1.3 million paychecks after she admitted to being the source of a 'date rape' rumor on the reunion episode of the hit reality series. Other sources, however, claim that the real reason Parks was fired from the show was the result of her unwillingness to show the true details of her personal life on camera. After her exit from RHOA, the lawyer, mortician, and former reality TV star, once again showed her versatility with all trades by venturing into the fashion industry after she signed a modeling contract with Wilhelmina Models that same year.