Pete Davidson is an accomplished comedian, actor, and television personality, known for his appearance in notable shows, including Saturday Night Live, Guy Code, Failosophy, and Wild 'n Out. The stand-up comedian has also made appearances on Comedy Underground with Dave Attell, Brooklyn Nine-Nine, Jimmy Kimmel Live! and Adam DeVine's House Party.
Pete Davidson's rapid rise to fame can be traced back to his appearance on the popular television show Saturday Night Live. The comic star's newly found success coupled with his handsome looks earned him a massive female fan base, which ultimately resulted in a string of high profile relationships.
List of All The Women Pete Davidson Has Dated
1. Carly Aquilino (2014 – 2015)
Davidson briefly dated fellow comedian Carly Aquilino for a year. Aquilino is also an actress, television personality, and television host. She is best known for being regularly featured on MTV's Girl Code series. Carly, alongside Nessa and Awkwafina, hosts the popular Girl Code Live show hosted on Snapchat. The duo started dating sometime in 2014 and ended barely a year later. The relationship was Pete's first-ever high profile relationship. Both celebrities have since moved on with their separate lives. However, Carly has not been in any public relationship since the split, but Davidson has been with several other ladies over the years.
2. Cazzie David (2016 – 2018)
In 2016, Pete Davidson started dating Cazzie David, and before getting into a relationship with the comedian, not much was known about Cazzie. It's safe to say that the relationship brought her into the limelight. However, David is now a renowned producer, director, and screenwriter. She is acclaimed for directing and producing highly rated shows like Eighty-Sixed and Half-Empty. Being a content creator, she is an editor for Graydon Carter's Air Mail and has provided content for Vogue magazine, Vanity Fair, Glamour, and Instyle.
Unfortunately, the relationship that showed so much promise ended in 2018. Neither Pete nor Cazzie have given us insight into what transpired throughout their relationship. However, the content creator's mom during an interview excused Davidson from any wrongdoing. Her mom went on to say that her daughter had moved on, and she is not even thinking about the comedian. According to her mom, Cazzie is focused on growing her career and accomplishing greater things.
3. Ariana Grande (May 2018 – October 2018)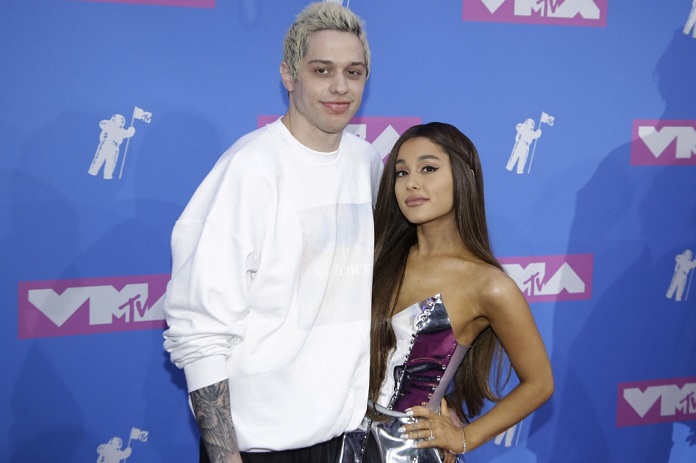 Ariana Grande is one of America's most prominent musicians and songwriters. She has a reputation for having a four-octave vocal range and the frequent use of the whistle register. Grande is a globally acclaimed singer with a large haul of awards and honors, including a Grammy Award, two Billboard Music Awards, three American Music Awards, and five MTV Video Music Awards. Ariana's prestige and acclaim made her relationship with the comedian a public spectacle.
The pair began dating sometime in May 2018 and got engaged less than a month later. Following their engagement, the couple moved in together, and each got a tattoo in commemoration of their love. Grande recorded and released a single titled Pete Davidson, which rocked the airwaves. The song was featured in her 2018 album titled Sweetener, and it's not the first time she is referencing Pete in her song. She also referred to him in Thank U, Next, which was released as the lead single of her 2019 album.
The entertainment media space was awash with news of their breakup in October 2018. Recall that Davidson had given the music icon a $100,000 engagement ring to seal their engagement. After their breakup, the couple admitted that the time was not right for their relationship to move to the next level. The Grammy award-winning musician has since moved on with Social House member, Mikey Foster.
4. Kate Beckinsale (January 2019 – April 2019)
Davidson steered off the dating life for a couple of months after breaking up with Ariana Grande. Towards the end of January 2019, Pete hooked up with widely acclaimed actress Kate Beckinsale. Beckinsale has also had her fair share of relationships. She dated a popular Welsh actor, Michael Sheen, for eight years.
After breaking up with Sheen in 2003, Beckinsale hooked up with Len Wiseman and they ended up getting married. The duo got divorced in 2019 following some irreconcilable differences. It was during this time that she got involved with the talented comedian. The obvious age difference between the two celebrities did not deter them from moving along with their relationship plans. However, their relationship was short-lived, and it ended abruptly after about four months.
5. Margaret Qualley (August 2019 – October 2019)
In August 2019, Davidson began dating one of Hollywood's most beautiful actresses- Sarah Margaret Qualley. Margaret who is also a model has starred in a lot of top television series and films. The 25-year old actress has even earned nominations at both the Emmy and Screen Actors Guild Awards. Qualley, the daughter of popular actress Andie MacDowell and Davidson had a short-lived romance.
Their relationship lasted for only a couple of months before they split up. The reason for their split was not made known to the general public. However, sources close to the pair revealed that the long distance between them caused the untimely death of their relationship. Irrespective of all that transpired between them, they are still close buddies.
6. Kaia Gerber (October 2019 – December 2019)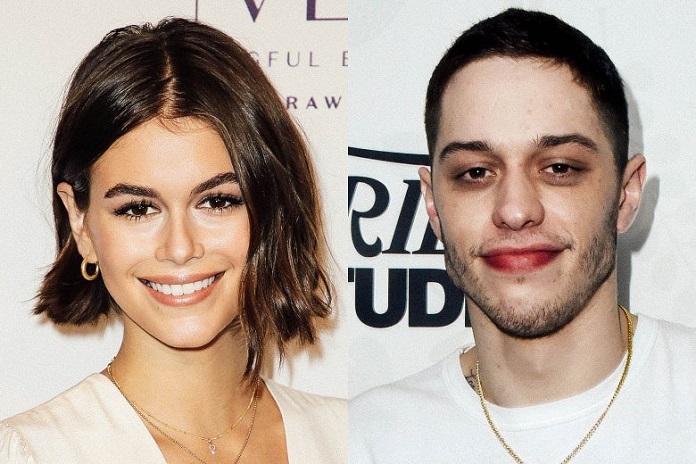 Davidson broke up with a model for another model named Kaia Gerber. The talented model and actress is the daughter of a celebrity couple- Rande Gerber and Cindy Crawford. Pete, not minding the 8-year gap between him and Kaia, asked her out and she obliged him. The duo started dating officially shortly after Gerber turned 18, and their relationship lasted for only three months, ending in the fall of 2019.
Davidson was reported to have ended the affair claiming Kaia was too young to be dragged down with his many problems and struggles. Reports have it that things began to turn sour in their relationship when Pete joked about seeking treatment for his mental health in an interview. However, according to sources close to the pair, they remain in good talking terms despite all that has happened. Since then, nothing much is known about Pete Davidson's latest relationship.