| Net Worth: | $60 million |
| --- | --- |
| Age/Date of Birth: | November 2, 1974 |
| Height: | 5 feet, 8 inches (1.73 m) |
| Ethnicity/Race: | African-American |
| Nationality: | American |
| Wife or Girlfriend: | Shantel Jackson |
| Parents: | Cornell Haynes and Rhonda Mack |
The name Nelly may not easily ring a bell for the present generation but for those who grew up in the 2000s, the man is simply one of the best things to emerge on the music scene. From Hot in Herre to Dilemma (an evergreen single featuring Kelly Rowland), the American rapper released several hit songs back to back and went on to scoop many accolades.
He also became one of the most talked-about celebrities out there, thanks to romantic liaisons with a bevvy of beautiful ladies, including talented musicians. Sadly, with the dawn of a new decade in the 2010s, Nelly's stock has steadily declined and he has majorly kept a low profile. His name has, however, been dragged into the news on several occasions as a result of unsavoury legal issues.
Before His Legal Woes, Nelly Was A Music Legend
Nelly commenced his music career in high school where he began rapping with a group he founded. They were known as 'The Lunatics'. The young man then signed with Universal Records in 1999 and released his solo debut album, Country Grammar, the following year. Impressively, it entered the Billboard 200 and earned him the respect of his label mates.
Subsequently, the rapper became the star and pride of his hometown, St Louis, and parlayed the success of his first album into his subsequent releases. His next four albums became hits as well, making it to the top 3 on the Billboard chart. Many of his singles made it to the top 20 while four made it to the number 1 spot.
To date, Nelly has released seven albums, sold over 21 million records, and won two Grammys for his music. The first was in 2003 for his number one hit Hot in Herre out of his sophomore album Nellyville (2002). The second was in 2004 for his hit song Dilemma, which featured Kelly Rowland. Dilemma, also from Nellyville, was hugely successful. It sold over 7.6 million records worldwide and was certified 6x multi-platinum in June 2003.
A Breakdown Of His Brushes With The Law
Nelly has largely maintained a clean reputation when compared to most rappers or hip hop stars. At the height of his popularity in the 2000s, there were no issues relating to drugs or other crimes. His legal woes only commenced after his fame waned, starting with an accusation of drug possession in 2015.
Felony Drug Charges
In April 2015, cops stopped the rapper's tour bus in Tennessee. The bus allegedly did not display the proper tickets and this caused the cops to conduct a further search which led to the discovery of meth, marijuana, and guns. The rapper was charged with possession of hemp and drug paraphernalia while a passenger on his bus, named Brian Jones, was arrested for possessing a handgun. Both men were put in Putnam County jail before their release on a $10,000 bail bond.
Relentless fights by Nelly's legal team led to a later assertion that the substances discovered were not related to meth. The rapper also maintained that the items were not his but rather belonged to his acquaintances. Some of these assertions were found to be true and the charges were reduced from felonies to misdemeanours, possession of drug paraphernalia and marijuana, which he then pled guilty to. He thus bagged a one-year probationary sentence which has since been expunged from his records as a result of the state's diversion program.
Allegations of Unpaid Taxes
Having successfully navigated his drug-related charges, Nelly breathed a sigh of relief for the next few months until he once again found himself on the wrong side of the law, this time with the IRS. The organization claimed that the Dilemma rapper owed the federal authorities about $2.4 million in taxes in August 2016 and thus imposed a lien on his property and assets. The St Louis native was also hit by a similar claim from the Missouri department of revenue which stated that he owed the state about $149,511 in back taxes.
Following the public airing of these allegations, the rapper revealed that he and his legal team were working around the clock to resolve same. His fans meanwhile swung into action by streaming his songs as much as possible so as to generate the exact amount of money needed to pay off the back taxes. On Spotify alone, the rapper's hit single, Hot in Herre, was streamed more than 300,000 times in a day as loyal fans sought to help him out of his predicament. It seems that their plan worked as there were no further reports of the rapper's assets or property being seized by the IRS.
Rape Allegation in the city of Seattle in October 2017
In this MeToo era, Nelly has been caught up in at least three accusations of sexual assault with the first coming in October 2017. After a tour stop in Auburn, Washington, a college student named Monique Greene alleged that the rapper had raped her on his tour bus and he was arrested. He, of course, denied the allegations and was later released. The police on their own part investigated and found probable cause of the assault. They, however, did not charge the rapper to court as they felt that the victim was not cooperative enough.
Following the collapse of the charge, Nelly stated that his relations with Greene were consensual and that it was greed that motivated her accusations. The lady did not take this lightly and filed a civil action for defamation against him. Nelly, on his own part, also filed his own action accusing the lady of trying to ruin his reputation. Both suits were eventually resolved by the two parties out of court in September 2018. Even though no specific details were given about the terms of the settlement, there is no doubt that some money must have exchanged hands. Monique meanwhile maintains her assertion that the rapper raped her.
Allegation of Sexual Assault in England in December 2017
After the settlement of the Monique Greene suit, one of the ladies who had testified in her favour filed a federal lawsuit against Nelly in the city of St Louis in November 2018. In her suit, the British lady alleged that rapper assaulted her during his concert at the Cliffs Pavilion in Essex in December 2017. According to the unnamed lady, she and some of her pals had approached the rapper backstage and asked to take some pictures after his show. He then took them into a dressing room before further escorting her alone into another room.
Once in this other room, the rapper began masturbating in front of her and forced her to perform oral sex on him for some time before she was able to run away. These weighty allegations were investigated by British authorities but no criminal charges were filed. This then forced the lady to institute the federal lawsuit. Nelly denied all the charges and in January 2019, made an application to the court to dismiss the suit against him. Since then, nothing more has been heard about the matter which means that either the court acceded to his request or he settled privately with the lady in question.
Unveiling Some Of The Rapper's Notable Romantic Liaisons
Nelly's success in the 2000s predictably brought him fame and fortune. It also made him quite popular with members of the opposite sex and he subsequently went on to accumulate a rich dating history, starting with video vixen-turned-NYT bestselling author, Karrine Steffans.
Steffans and the rapper are said to have dated in the year 2000 but it is much more likely to have been a fling and after that, he dated fellow rapper, Eve. This particular relationship reportedly lasted from February 2002 to April 2003.
His Decade-long Relationship with Singer, Ashanti
By 2004, Nelly had released Dilemma, his monster hit duet with Destiny Child's Kelly Rowland and many seized upon the chemistry they exhibited in the video to spread rumours of a romantic relationship between them. It, however, turned out to be false and that the rapper was actually dating singer, Ashanti. Ashanti needs no introduction – she is an award-winning singer, songwriter, dancer, model, and actress. Famous for songs such as What's Luv (with Fat Joe) and Always On Time (with Ja Rule), she made history as the first female artist to occupy the first two spots on the Billboard Hot 100 in 2002.
Ashanti and Nelly first ran into each other at a Grammy Awards press conference in January 2003. According to the singer, he asked for her autograph and she obliged him. He thereafter started asking for her number and she held out for a long time before giving it to him. Things proceeded quickly from this stage and the pair soon began a romance that would last for a decade. During this period, they maintained such a low profile that not many knew they were even dating.
They, however, made a few public appearances and even collaborated on a 2009 single titled Body on Me. The relationship witnessed some challenges, including rumours that the rapper had a fling with Canadian video vixen, Melyssa Ford, in 2006. Despite these rumours, the couple continued their private romance until they split in 2013. Since the split, the pair have avoided any mudslinging but Ashanti has revealed that there were trust issues involved and that she felt betrayed. The singer has also revealed in recent times that she has not had any form of contact with her ex since that breakup.
Forging Ahead with Shantel Jackson
Since things ended with Ashanti, Nelly has gone on to date actress, Lashontae Heckard. Currently, the St Louis native is going strong with Shantel Jackson, a model, fashion designer, and businesswoman. She first rose to fame as the girlfriend turned fiancée of the famous heavyweight boxer, Floyd Mayweather Jr. They later broke things off and the boxer has since accused her of recording their phone conversations to get some form of dirt on him. He has also alluded to the fact that she aborted their twin children while telling him that it was a miscarriage. Moving on from that unpleasant titbit, Shantel and Nelly first became an item in 2014, when they were spotted canoodling at a Miami Heat game.
They have remained together ever since and their romance has grown in leaps and bounds. The rapper has attributed this to the fact that they built a genuine friendship first before becoming lovers. Shantel also re-echoes these sentiments and fervently supports her man's career, joining him on tours. She also defended him after the wave of sexual assault allegations he faced. In a post on her Instagram page, she made it known that there were so many genuine accusations of sexual assault out there and urged those making false accusations against her man to stop as they were only causing distraction from these real claims.
A Doting Father To His Children And Relatives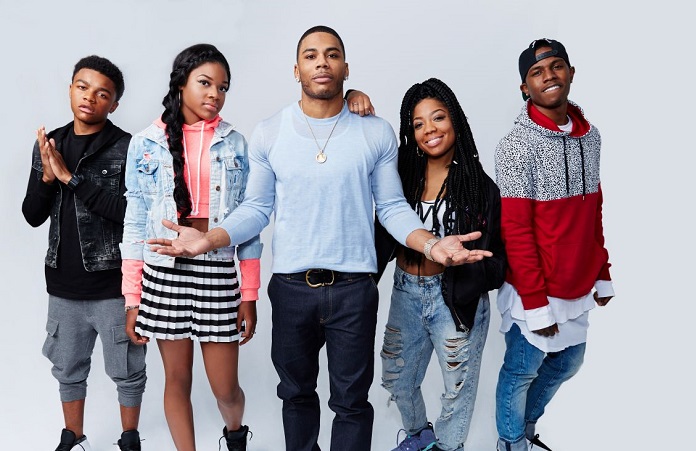 Nelly and Shantel do not have any kids as of yet but the rapper does have two children – daughter Chanelle and son, Cornell. Their mothers' identities have never been revealed but it is known that they are the product of two of the rapper's past relationships. The rapper is also the legal guardian of his late sister's two children – Shawn and Sydney. All four youngsters reside with him and in 2014, their lives became the focus of a BET reality TV series, Nellyville.
The series captures the rapper's struggles with juggling his music career as well as other enterprising pursuits whilst dealing with everything that comes up in the children's life. In the course of the show, it is revealed that Chanelle is majoring in business in college whilst coping with the death of her boyfriend. Cornell, on the other hand, plays high school football and hopes to make it to the NFL while Shawn and Sydney have dreams of becoming a rapper and model respectively.
See Also:  Who Are Jim Jones' (Rapper) Wife and Kids, What Is His Net Worth?
A Look At Some Of The Rapper's Recent Endeavours
Asides the BET show that has been mentioned above, Nelly can also be caught on the set of another reality TV series, The Platinum Life which is the brainchild of his girlfriend, Shantel, and it debuted on E! in 2017. The show captures the lives of the queens of the hip hop scene and Nelly is happy to go along on the ride as he is quite supportive of his lady's initiatives.
Another initiative that the rapper has debuted in recent times is his collaboration with the country music group, Georgia Florida Line. This collaboration has resulted in one single and in 2017, the rapper announced that he would be joining the duo on their smooth tour. The tour spanned five months and saw them play about 50 venues around the United States.
Since then, Nelly has continued touring solo but had to scrap some of his dates as a result of the 2020 Covid-19 pandemic lockdown. The rapper instead cheered up fans by participating in an Instagram live battle with fellow veteran, Ludacris. The Verzuz battle saw them entertain the online audience with a selection of their greatest hits before signing off with mutual praise for each other. The Verzuz battle was lunched by producers, Swizz Beat and Timbaland, and has featured acts such as Erykah Badu, Jill Scott, and Babyface.
Away from music, Nelly has two clothing lines, 'Vokal' and 'Apple Bottoms'. The former is a male clothing line while the latter is a female clothing line. He is a co-owner of NASCAR and Bobcats Basketball Holdings, LLC, which owns and operates the Charlotte Bobcats, an NBA team. He is also a co-owner of Pimp Juice, a drink that was inspired by his song with the same title. The rapper has equally signed to represent brands like Nike and Ford. All these have resulted in his net worth which is estimated at an impressive $60 million.
Profile Summary
First Name:
Cornell
Last Name:
Haynes Jr.
Also Known As:

Nelly
Sex/Gender:

Male
Profession:

Rapper, Singer, Songwriter, Entrepreneur, Occassional Actor
Famous For:
Nelly is famous as
the leader of the rap crew, St. Lunatics
Colleges/Universities Attended:

Not Available
Educational Qualifications:

Not Available
Religion:

Christianity
Birthday & Zodiac

Age/Date of Birth:

November 2, 1974
Zodiac Sign:
Scorpio
Birth Place:

Austin, Texas, U.S.
Nationality:
American
Ethnicity/Race:

African-American
Country of Residence:

The United States of America
Physical Attributes

Height:

5 feet, 8 inches (1.73 m)
Weight:

175 pounds
Eye Colour:

Dark Brown
Hair Color:

Black
Other Body Measurements:

Waist‎: ‎34 in (86 cm)
Bicep:16 in (41cm)
Chest‎: ‎45 in (114 cm)
Relationships

Marital Status:

Single
Spouse/Partner:

Shantel Jackson
Family and Relatives

Father:

Cornell Haynes
Mother:
Rhonda Mack
Children:

Chanelle Haynes (Daughter)
Cornell Haynes III (Son)
Siblings:
City Spud (Brothter)
City Spud (half-brother)

Other Relatives:

Shawn Thomas Jr. (Nephew)
Sidney Thomas (Niece)
Net Worth
$60 million
Estimated Net Worth:

$60 million
Salary:
$10 Million
Source of Wealth:

Music and Investments