Like most industries, there are different professions available in Hollywood. Whilst most people dream of being onscreen players, appearing in front of the camera, some have taken delight in working behind the screens, one of such people is Naomi Sablan, who has chosen to be a producer and has worked on projects like Ghosted, Other People, The Overnight, The Andy Milonakis Show, and a stint as a producer on Jimmy Kimmel Live!.
Naomi Sablan's fame, apart from her success as a producer, is further enhanced by her marriage to Adam Scott, a comedic actor who has made popular appearances in projects like Parks and Recreation, Party Down. Together, they have become one of the most admired couples in Hollywood, with Naomi Sablan holding down the fort behind the camera. Check out her biography and five key facts you need to know about her.
Naomi Sablan's Biography
A Google search of her name will most likely return as Naomi Scott, due to her marriage to Adam Scott but she was born as Naomi Sablan on the 8th of October, 1972 somewhere in America. As a result of her profession which sees her spend more time behind the camera than in front of it, there has been a dearth of information about her educational and childhood background.
However, following the completion of her academic journey and training, she began her professional career in production in 2001, as a unit manager for the film, Kissing Jessica Stein.
In 2003, she got a more enduring role as an associate producer for the show, Jimmy Kimmel Live! and she also worked as a segment producer. After gaining sufficient experience on Jimmy Kimmel Live!, Naomi Sablan headed over to The Andy Milonakis Show where she worked as a producer for sixteen episodes between 2005 and 2006.
As her career as a producer blossomed, Naomi Sablan expanded her resume beyond TV shows and into films, and produce her first full-length project, a special, Chrissy: Plain & Simple in 2007 before moving into movies with Alligator Boots in 2009 and The First A.D in 2011.
Since she and her husband established their production company, Gettin' Rad Productions in 2012, Naomi Sablan has been at the production helm of projects like the show, The Greatest Event in Television History, The Overnight, Other People and the show, Ghosted. Apart from her well-established career as a producer, she is also a writer and she has been credited with writing episodes of The Greatest Event in Television History.
Over the course of her career, Naomi Sablan has received recognition for her work and made it to the list of Top 10 Producers to Watch Out For by Variety Magazine in 2015. Her work, Other People, was also nominated for an Independent Spirit Award.
She Got Married to Adam Scott in 2005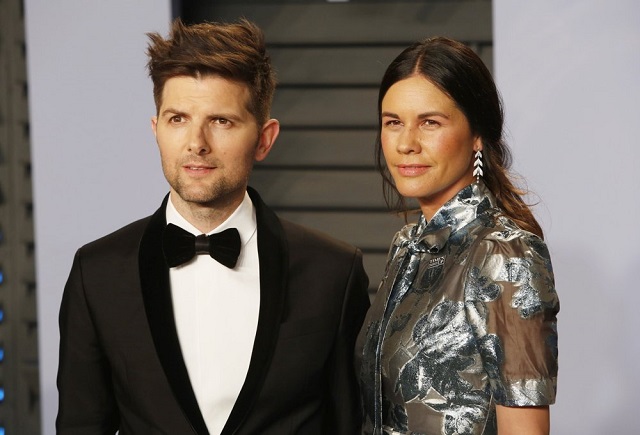 One thing that isn't particularly common in Hollywood is long marriages or relationships but Naomi Sablan and Adam Scott have been proving to be an exception since they got married in 2005. They have not only established a production company together, but they have also raised two children, a son and a daughter named, Graham and Frankie respectively. Their children were born in 2007 and 2009.
She and her Husband get Confused for other People
While her birth name is Naomi Sablan, her marriage to Adam Scott has renamed her Naomi Scott. This created some confusion especially because there was already an actress Naomi Scott in Holywood. The actress who is a British actress and singer has starred in films like Lemonade Mouth and Aladdin.
Her husband also shares a similar dilemma because of his name, which is the same as that of a popular professional golfer, Adam Scott.
Her Husband is a Podcaster
When Naomi Sablan's husband, Adam Scott is not in front of the camera, he is often in front of a microphone recording a podcast. He has a podcast in partnership with Scott Aukerman titled U Talkin' U2 To Me. The podcast was launched in February 2014. He also makes guest appearances on other podcasts like Kevin Pollak's Chat Show, How Did This Get Made? and a few others.
She is a Beautiful Woman
Naomi Sablan is a beautiful woman who is well accomplished as a mother, wife, and professional. Her physical beauty is evident on a body profile of a height of 5 feet 6 inches and additional features like light brown eyes and brown colored hair.
See Also: Sandy Wernick – Wife and Family of The American Film Producer
She is also an Actress
Naomi Sablan is primarily known for her roles as a producer for various projects but she has dabbled in front of the camera for a couple of projects as an actress, first in the 2001 film Kissing Jessica Stein and in 2011 in an episode of Sadie J as Clare.